Reflections and Advice:
1.) What do you think makes your school unique relative to other boarding schools?
Westtown has many unique aspects that separate it from other boarding schools. The 600 acre campus with a lake and farm, the discussion based classroom settings, and the school's Quaker philosophies and teachings are just a few. Westtown's large campus allows students to take advantage of many different outdoor activities and also offers students the chance to participate on the school's Ropes Course, work on the Mini-Farm, or explore the Arboretum. Additionally, the Work Program at Westtown is unique way in which Westtown students are able to give back to their community daily through a kitchen duty or Main Hall cleanup job. Westtown also does not have AP classes but has Advanced classes that allow teachers and students to focus on the learning experience and gaining new knowledge (as opposed to strictly preparing for a test).
2.) What was the best thing that happened to you in boarding school?
During my time at Westtown I really gained confidence in who I was as a student, athlete, and overall individual. I learned to voice my opinion and not be afraid to make mistakes, as well as work hard and not hesitate to ask for help. I learned about various cultures, ideas, and had experiences that I never would have been able to have had I not come to Westtown. I met my best friends here during my 4 years of boarding and Westtown will forever be a place that truly changed me.
3.) What might you have done differently during your boarding school experience?
I would have been less shy and self-conscious about being a new student. You don't need to be anxious about meeting new friends or how it's going to be. From the moment orientation starts, you'll feel welcomed and like a true part of the community. Westtown is an incredibly accepting community of individuals and the people here are amazing. Don't be afraid to meet new people and take risks, it will be worth it!
4.) What did you like most about your school?
I loved the community that Westtown offered. There are so many people here who genuinely care about you and want you to succeed. There are so many resources available, whether it be for academic help or just someone to talk to. Westtown students have a bond that is hard to describe, and you don't truly realize its importance until after graduation.
5.) Do you have any final words of wisdom for visiting or incoming students to your school?
Take a tour of the campus and ask lots of questions. All of the tour guides are enthusiastic and would love to talk to you about Westtown and their experience. While you are attending Westtown, explore the campus! Take advantage of the beautiful area Westtown is located in. Also don't be afraid to branch out and meet new people through sports and classes. Join a lot of clubs and get really involved to make the most of your time at Westtown. Hang out on South Lawn with friends and really appreciate the time you have here.
Academics:
1.) Describe the academics at your school - what did you like most about it?
I liked the vast amount of opportunities Westtown students had to take challenging classes that were engaging and interesting. There were many options and after the general required classes we were free to explore different subject matters. My favorite classes included Holocaust and Genocide and Religion & Social Change. The classes are small and discussion based, allowing students to really find their voice. The classes at Westtown made you excited to learn, and the teachers really do care about what they are teaching.
Athletics:
1.) Describe the athletics at your school - what did you like most about it?
The athletic program at Westtown is unique in that students have to participate in at least 1 competitive sport a year. For students who wanted more competition, they can be on a team every season for all 4 years. For those who are less competitive, the school offers a variety of options, such as Lifeguard Training, Morning Yoga, or Strength and Conditioning. Everyone is included in the program and the school spirit at games is really exciting and fun to be around. The coaches at all levels really care about the sport, but more importantly care about their athletes and the team aspect of the game. Westtown's large campus provides students with over 15 athletic fields, as well as an amazing athletic facility with and outdoor track facility.
Art, Music, and Theatre:
1.) Describe the arts program at your school - what did you like most about it?
The Visual Arts, Music, and Theatre program at Westtown is very diverse and all students are able to participate at a variety of levels. Photography, sculpture, acting, and digital media classes are just a few of the options students have. The Art Center has a brand new digital media studio, a beautiful theater, and a photography dark room amongst other things. There are ways for very artsy students go get involved in clubs, productions, and classes and there are ways for the less artsy students to enjoy the arts as well.
Extracurricular Opportunities:
1.) Describe the extracurriculars offered at your school - what did you like most about it?
There are tons of clubs and activities at Westtown. Students can participate in as many as they want, and if it doesn't exist, they are encouraged to create the club on their own. From Model UN and Rock Club to International Student Organization and Step Team, there are options for everyone. I liked that there were so many different clubs that always had an event or activity going on. The faculty are very supportive of the clubs and they are a great way to get involved on campus.
Dorm Life:
1.) Describe the dorm life in your school - what did you like most about it?
Dorm life was definitely one of my favorite parts of living at Westtown for four years. While I knew that living away from home would prepare me for college, Westtown dorm life was so much more than that. Students have one roommate and they live in a hall with almost all students who are in their same grade (or one above or below). Meetings, activities, study hall, and check-in all take place on the dorm. When it isn't academic hours, the dorm is a fun place to hang out with friends and relax. The dorm atmosphere is definitely fun and has a very strong sense of community. Faculty families live on dorm as well, providing students with an adult to ask questions to or raise concerns to. Additionally, student leaders work as proctors or prefects on the dorm helping keep the floors productive but also fun.
Dining:
1.) Describe the dining arrangements at your school.
The family style eating arrangements make meals an enjoyable and sociable experience. There are always different options for food, and often there is an option to eat vegetable grown on Westtown's own farm. While there is usually one main meal option, there is always salad available, as well as vegetarian and vegan options. Meals were always fun and a nice break from the busy day.
Social and Town Life:
1.) Describe the school's town and surrounding area.
Westtown has an awesome location because while it is secluded on its own beautiful campus, West Chester is only 10 minutes away. There are lots of restaurants, shops, and other fun places very close. Additionally, Philadelphia is not too far away and NYC and Washington D.C are frequent weekend trips for Westtown students. The school is always taking trips to get food in West Chester, and to see shows or walk around in Philadelphia or NYC.
2.) Describe the social life at your school - what did you like most about it?
The students at Westtown are incredibly accepting and like a family. They are supportive and caring and there really is never a dull moment when you're hanging out with your friends. I liked that there were different groups of friends, but everyone also enjoyed each other's company and there is a nice class bond that forms when you become upperclassmen at Westtown.
Daily Schedule:
Weekday
7:00 AM
Breakfast and prepare for class
10:00 AM
Collection and snack
Weekend
10:30 AM
Hang with Friends, Work on Projects or Homework
1:00 PM
Hang out with Friends
6:00 PM
Dinner and weekend workjob
7:00 PM
School Weekend trip to the mall
10:00 PM
Food with Friends
11:30 PM
Watch movie with friends
Westtown has a beautiful campus. It was beautiful and especially safe to walk around any time of day. Also the style of teaching is very hands on and has small classes, usually with. . .
Small Quaker school, tight group, not so much focused on strong academics as much as creating good individuals in society.. . .
Extremely beautiful campus. It is a Quaker boarding school with wonderful teachers. They require a senior project where students can travel the world. Also encourages volunteer work and has a campus farm. . .
Show more reviews (

41 reviews

)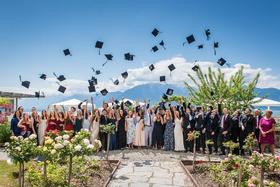 Nurturing Futures: A Journey through Boarding at Haut-Lac School in Switzerland
Nestled in the hills overlooking Lake Geneva in the French-speaking part of Switzerland lies an educational gem that embodies a unique blend of academic excellence, cultural richness and a profound sense of community. Founded over 30 years ago, Haut-Lac International Bilingual Day and Boarding School is now home to both 600 day students and a maximum of 30 boarders from around the world.
What To Wear at Your Job Interview
Navigating job interviews can be stressful, but knowing what to wear shouldn't be. Our comprehensive guide covers the essential dress code tips for men and women interviewing at boarding schools. Make your first impression count with style and professionalism.
Navigating the Modern Maze: Emerging Challenges for Boarding Schools
Explore the pressing challenges facing boarding schools, from marketing difficulties and rising insurance costs to facility maintenance and recruitment of competent trustees and teachers. This article delves into these complex issues and proposes innovative strategies to overcome them.