Reflections and Advice:
1.) What do you think makes your school unique relative to other boarding schools?
Emma Willard is truly a magical place where girls develop academic interests, become more self aware and form lifelong friendships. While an girls school isn't for everyone, it truly helps girls develop into unique, confident women in a way that other environments do not offer. Also, there are many traditions at the school which unite the community and bring the classes together- Revels, May Day, Spring Fling, Ring Week (are just a few).
2.) What was the best thing that happened to you in boarding school?
I developed a true love of the Spanish language which has carried me far in my professional career. Because of my teachers at Emma, I am now fluent and use my Spanish on a daily basis when I see patients. Emma also helped me develop my interest in Science and helped me decide to be premed in college and go to medical school and find a career that I am passionate about and enjoy every day.
3.) What might you have done differently during your boarding school experience?
I wouldn't have done anything differently. My advice to anyone attending boarding school is to be open to new things and try them out! Pick up a new sport, try a new art class, sign up for a dance class, try a new language and you never know where these new experiences may take you.
4.) What did you like most about your school?
The quality of the academics, the passion the teachers shared with us and most of all the lifelong friendships I formed. Emma truly helped shape me into the person and professional I am today.
5.) Do you have any final words of wisdom for visiting or incoming students to your school?
Take time to talk to the students at Emma and each place you visit. You will get a real feel for the place when you listen to what the students like/dislike about their school.
Academics:
1.) Describe the academics at your school - what did you like most about it?
The students and teachers at Emma truly love being there and the environment is challenging and inspiring. Students strive for excellence without being competitive with classmates. I not only attended the school for 4 years, but also returned to teach after college because I loved the community so much. I can truly say that the faculty love working at Emma as much as the students love being there!
Athletics:
1.) Describe the athletics at your school - what did you like most about it?
The athletic teams were competitive in our league and the teams were positive and encouraging. Our coaches were also our teachers and so they got to know us inside and outside the classroom. The girls truly care about one another and work together very well. While the varsity teams are more competitive, the JV teams offer a chance for girls who haven't developed such advanced skills the chance to participate and learn a new sport. I specifically remember going to the finals with our Field Hockey team and we had such incredible spirit and energy.
Art, Music, and Theatre:
1.) Describe the arts program at your school - what did you like most about it?
We were able to explore a wide variety of visual arts, music and theatre as part of our curriculum. I took drawing, weaving, pottery, played in the orchestra and sang in the choir. I still have pieces of art that I made during my time at Emma which I cherish.
Extracurricular Opportunities:
1.) Describe the extracurriculars offered at your school - what did you like most about it?
There were a wide range of extra-curricular activities available and if something wasn't already in place, we could work with the activities coordinator to make it happen.
Dorm Life:
1.) Describe the dorm life in your school - what did you like most about it?
The dorms were not only beautiful but also a positive, loving and fun environment. I truly bonded with a diverse group of girls on each hall where I lived. I am still in touch with my best friends 13 years after graduating because we had such a close bond!
Dining:
1.) Describe the dining arrangements at your school.
The food was very delicious and has even gotten better since I graduated. They serve a wide variety of food including excellent veggie options and a lot of local/seasonal foods.
Social and Town Life:
1.) Describe the school's town and surrounding area.
Troy is not the most appealing place to live (though it is improving), but we often spent time in Albany or the surrounding areas that have a lot going on! (example- Saratoga Performing Arts Center, Lake George). Also, we often had trips to NYC and Boston which were very fun.
2.) Describe the social life at your school - what did you like most about it?
I think the fact that we didn't spend as much time hanging out in Troy (besides going to a few favorite restaurants) meant that we formed closer bonds with each other and we truly had a lot of fun just hanging out on campus. We also had a wide variety of activities available to us on the weekends as well- trips to NYC/Boston, theater, shopping etc. We also had activities with other boys and co-ed schools.Also, since I graduated, downtown Troy has become much nicer and my guess is students go there more!
Daily Schedule:
Weekday
7:00 AM
Breakfast with friends and prepare for the day
12:00 PM
Lunch and activity group meetings
3:00 PM
Sports practice/games
6:00 PM
Rehearsal for choir or orchestra (certain days of the week)
9:00 PM
Hanging out in the dorms/watching favorite TV shows depending on the night of the week
10:00 PM
In our rooms with more time to study if needed
Weekend
9:00 AM
Breakfast with friends (often lasting more than 1 hour because we loved to sit and talk)
10:00 AM
Time to work out/play sports/work on art projects/catch up with family
2:00 PM
Studying for a few hours on a Saturday or Sunday
3:00 PM
Practice musical instrument
6:00 PM
Often going out to dinner or ordering out at times
8:00 PM
Watching movies/going out to the mall/hanging out with local friends
Emma Willard is especially good at facilitating discussion based classrooms using the Harkness Method. I am finding now that I am in college classes that are all large lectures that Emma Willard's teachers were especially. . .
Emma Willard's home on Mount Ida is in itself one of a kind. The moment you step on campus, you enter a different world of gray stone walls and unbridled passion. Emma Willard's small, close-knit. . .
One of my favorite parts about Emma Willard was the round table method of teaching. All humanities classes were taught around a round table, so that all of the students could see one another. Teachers. . .
Show more reviews (

6 reviews

)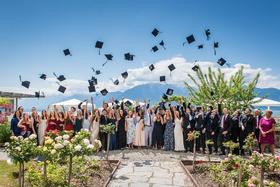 Nurturing Futures: A Journey through Boarding at Haut-Lac School in Switzerland
Nestled in the hills overlooking Lake Geneva in the French-speaking part of Switzerland lies an educational gem that embodies a unique blend of academic excellence, cultural richness and a profound sense of community. Founded over 30 years ago, Haut-Lac International Bilingual Day and Boarding School is now home to both 600 day students and a maximum of 30 boarders from around the world.
Navigating the Modern Maze: Emerging Challenges for Boarding Schools
Explore the pressing challenges facing boarding schools, from marketing difficulties and rising insurance costs to facility maintenance and recruitment of competent trustees and teachers. This article delves into these complex issues and proposes innovative strategies to overcome them.
What To Wear at Your Job Interview
Navigating job interviews can be stressful, but knowing what to wear shouldn't be. Our comprehensive guide covers the essential dress code tips for men and women interviewing at boarding schools. Make your first impression count with style and professionalism.