Reflections and Advice:
1.) What do you think makes your school unique relative to other boarding schools?
Two concrete things that set Thacher apart from other boarding schools are the Horse Program and the absence of drugs and alcohol.The Horse Program: At Thacher all freshmen learn to care for and ride a horse, which makes for a challenging but very rewarding first year. Since nearly all freshmen come in having never ridden a horse before, riding puts everyone on equal footing and fosters friendships that might not have happened otherwise. It's a highly celebrated part of the school because it's a lot of fun and makes for many happy memories. But learning to ride also comes with plenty of important challenges -- personally, I credit the horse program for teaching me lessons on patience, humility, and responsibility.Drug-Free Campus: Drugs and alcohol are simply not a part of Thacher's campus culture. Instead, the culture focuses on community and meaningful relationships among students as well as between students and faculty. It's part of the reason Thacher friendships last long after graduation.
2.) What was the best thing that happened to you in boarding school?
The Thacher experience is a process. Learning to get out of my comfort zone and to live by our honor code (honor, fairness, kindness, and truth) were the most important lessons I learned at school. The best thing to happen to me: the friends I made.
3.) What might you have done differently during your boarding school experience?
Get out of your comfort zone. My advice would be to try new things as soon as you get to campus and to continue to get out of your comfort zone until graduation day. You might never find another place with so much support for young people. At Thacher you can be fearless about failure.
4.) What did you like most about your school?
What really sets Thacher apart is the quality of the community. At Thacher you'll make life-long friendships with students and teachers. It's a place where everyone cares about the welfare of others and where everyone truly believes in the school.
5.) Do you have any final words of wisdom for visiting or incoming students to your school?
Visit campus in person because it's the only way to really understand the school. Respect your horse and start conversations at Formal Dinner.
Academics:
1.) Describe the academics at your school - what did you like most about it?
The faculty at Thacher are incredible. They are great teachers who hold students to high standards of academic achievement and integrity. But since they are available to help students in times of need, they help make sure schoolwork doesn't become overwhelming.Parents: rest assured that academics at Thacher prepare students to excel in college. And to do so without cheating or plagiarizing.
Athletics:
1.) Describe the athletics at your school - what did you like most about it?
Athletics have a big presence on campus. Of course, teams are limited by the school's small size, but Thacher students care a lot about sports.There's a place for athletes of all levels of ability, so athletic applicants should rest assured that they can take their game to the next level at Thacher and athletically inexperienced applicants should know they can explore, have fun, and get a lot better at sports during their time at Thacher.
Art, Music, and Theatre:
1.) Describe the arts program at your school - what did you like most about it?
The most underrated part of Thacher is the woodworking program. It's taught be a master artist in a fully supplied woodshop. Every student in the class ends up building an heirloom quality piece of furniture.Everyone is encouraged to participate in the arts at Thacher: freshmen take a year-long sampler of the visual and performing arts to explore a variety of art forms and after that can choose to be a part of the arts as much as they wish. Those who participate in the Jazz Ensemble, Chamber Singers, the theater, etc. always put on amazing performances for the rest of the school. As far as facilities go, the new Performing Arts Center is state-of-the-art.
Extracurricular Opportunities:
1.) Describe the extracurriculars offered at your school - what did you like most about it?
Extracurricular groups thrive at Thacher. And if a particular activity or interest isn't represented, any student can organize a club.
Dorm Life:
1.) Describe the dorm life in your school - what did you like most about it?
Many of the best Thacher memories happen in the dorms. Freshmen all live in singles. After that there's a mix of singles and doubles. One of the best parts of dorm life at Thacher are the prefects -- seniors who live with underclassmen. Prefects are more about being role-models and friends than just enforcing the rules. And nearly everyone wants to be a prefect since they adored their own prefects. It's a very positive part of the school culture.
Dining:
1.) Describe the dining arrangements at your school.
More and more the dining hall is incorporating local and organic foods into the menu. Also, they are very accommodating to people with individual dietary needs.
Social and Town Life:
1.) Describe the school's town and surrounding area.
Ojai is a small, earthy town. It's got plenty of good restaurants and interesting thrift shops. The bus to town runs on Wednesdays and Saturdays.
2.) Describe the social life at your school - what did you like most about it?
One of the great things about Thacher is that you're living with your friends in a very tight knit community. The head of school and his wife host Open House at their home every Saturday where everyone can squeeze in for a dance, movie, games, and fresh baked cookies. Also, a student group called the Indoor Committee organizes events ranging from dances to volleyball tournaments and Iron Chef.
Daily Schedule:
Weekday
10:45 AM
School assembly. I eat lunch outside and spend my free periods in the library
3:15 PM
Classes end, getting ready for sports
5:30 PM
Getting ready for formal
10:00 PM
Check-in, pizza munch-out with my prefectees
Weekend
6:00 PM
Dinner and campus activities
11:00 PM
Check-in, time in the dorm
11:45 PM
Wandering. I grab some cereal with other seniors in the dining hall.
1:00 AM
Wandering check-in for seniors, bed.
Thacher's community on campus is unlike any other, connections at the school go beyond merely knowing every student's name but having had interacted closely with everyone whether on a camping trip, in the dining hall. . .
You cannot mention Thacher without talking about the horse program; each freshman is required to take care of and ride a horse for the first year of high school. I rode all four years and. . .
One thing that makes Thacher unique are the opportunities to form close, meaningful relationships with teachers and its commitment to helping students grow personally as well as academically. Whether it's out in the Domelands wilderness. . .
Show more reviews (

23 reviews

)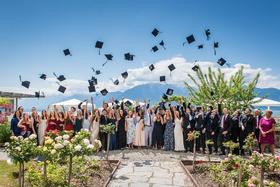 Nurturing Futures: A Journey through Boarding at Haut-Lac School in Switzerland
Nestled in the hills overlooking Lake Geneva in the French-speaking part of Switzerland lies an educational gem that embodies a unique blend of academic excellence, cultural richness and a profound sense of community. Founded over 30 years ago, Haut-Lac International Bilingual Day and Boarding School is now home to both 600 day students and a maximum of 30 boarders from around the world.
What To Wear at Your Job Interview
Navigating job interviews can be stressful, but knowing what to wear shouldn't be. Our comprehensive guide covers the essential dress code tips for men and women interviewing at boarding schools. Make your first impression count with style and professionalism.
Navigating the Modern Maze: Emerging Challenges for Boarding Schools
Explore the pressing challenges facing boarding schools, from marketing difficulties and rising insurance costs to facility maintenance and recruitment of competent trustees and teachers. This article delves into these complex issues and proposes innovative strategies to overcome them.