Reflections and Advice:
1.) What do you think makes your school unique relative to other boarding schools?
What makes Stoneleigh-Burnham unique is its incredibly small student body (no more than 160 students) and the fact that it's the only all-girl's school in New England to offer the International Baccalaureate program. Not only does the small student body offer an incredible support base, but also allows closer connections between students and faculty.
2.) What was the best thing that happened to you in boarding school?
I've surprised myself at how much I was able to achieve at Stoneleigh, especially in debate and public speaking. I remember feeling so crushed the first time I went to a debate and not getting any prizes despite the fact that my partner and I won all of our rounds. However, I slowly improved thanks to PB and my teammates, and moved on to win many prizes.
3.) What might you have done differently during your boarding school experience?
If I could change anything, I would have definitely come to Stoneleigh sooner! The reason I came to boarding school in the first place was because of the civil war in Syria. However, had I known that there was a school like Stoneleigh waiting for me somewhere in Massachusetts, I would have liked to attend starting from 7th grade. I don't feel like 2 years was enough to completely explore everything Stoneleigh has to offer. Don't waste your opportunities! Try to be as involved as possible.
4.) What did you like most about your school?
Overall, I love that Stoneleigh is a little bubble. It's an amazing place to be with great teachers, great people, and great things to do. Don't take it for granted. Very few schools are able to offer the support that Stoneleigh does. The friends you make here are friends for life!
5.) Do you have any final words of wisdom for visiting or incoming students to your school?
For incoming students, as I've said before, don't be afraid to try new things! Especially debate, even if English isn't your first language (it wasn't mine either). Also, make sure to spend lots of time in the reading room in the library. It's a beautiful room, especially when it's sunny outside.
Academics:
1.) Describe the academics at your school - what did you like most about it?
As a student who enrolled in the full International Baccalaureate diploma program, I can honestly say that the courses I took were extremely rewarding and helped me develop my reading, analytical, and problem solving skills. They were just challenging enough to always keep me on my toes, but not so difficult that I couldn't keep up in class and with my assignments. After looking over old assignments at the end of my senior year, I was amazed at just how much my writing had improved the two years I spent at Stoneleigh. There are also some amazing teachers at Stoneleigh that are always available to offer extra help should you need it. Since most teachers are very casual in class, asking students to call them by their first names, we often have extensive discussions in class and manage to share our experiences with others.
Athletics:
1.) Describe the athletics at your school - what did you like most about it?
While I was not a very athletic person to begin with, Stoneleigh's mandatory participation policy for sports allowed me to discover sports I actually enjoyed. For those of you who are not very athletically inclined, do not fear. There are a wide variety of sports to choose from. Dance and riding (Stoneleigh is famous for its equestrian program and is one of the only schools in the US to offer British Horse Society training) are offered all three terms for anyone who has a special interest in either. Soccer, cross country and volleyball are offered in the fall, skiing/snowboarding, skating, theatre and basketball (our basketball team is among the top three schools in New England!) are offered in the winter, and softball, lacrosse, golf and tennis are offered in the spring. We have great, knowledgeable coaches and nice facilities.
Art, Music, and Theatre:
1.) Describe the arts program at your school - what did you like most about it?
I was heavily involved in the Music and Theatre programs at Stoneleigh and had some of my best experiences there. Greg Snedeker, the instrumental director, is very knowledgeable about different instruments and musical pieces. I took IB Music and Chamber Music with him, both of which were extremely enjoyable. In Chamber, Greg often took our suggestions about which pieces we wanted to play and was very supportive throughout our learning process. We performed at almost every school concert as well as leaving campus for performances at the nearby church. In theatre, Kim Mancuso, our director who also teaches at MIT, and Meg Reilly, who teaches vocal ensemble groups as well as offering individual voice and piano lessons, were both supportive and fun in helping us learn our lines as well as expressing our characters. I found that while Stoneleigh raised my performance ability, it also allowed me to bond with my fellow musicians and actors.
Extracurricular Opportunities:
1.) Describe the extracurriculars offered at your school - what did you like most about it?
Stoneleigh has many extracurricular activities. If chances are that Stoneleigh doesn't have a club you wanted to join, you can start it yourself! Students often take the initiative in starting clubs and exhibit strong leadership. I was mostly involved in Debate Society, attending debate and public speaking tournaments, and even traveling to Canada to compete internationally! Head of Debate Society Paul Bassett is an excellent coach who has had years of experience coaching as well as judging. We had a very successful year, with Stoneleigh winning first place in three tournaments as well as having individuals win various prizes.
Dorm Life:
1.) Describe the dorm life in your school - what did you like most about it?
Dorm life is very comfortable. We have houseparents and RAs that are very accessible. The atmosphere is very open and friendly in the halls. Doors are usually left open, allowing circulation. Houseparents also often make baked goods and bring us ice cream! The rooms are reasonable, not too big and not too small, and all students, aside from RAs and seniors, should expect to have a roommate. Halls are separated based on grade level. Middle schoolers share a hall, 9th and 10th grades share a hall, and 11th and 12th graders share a hall. We also have Hooties on Mondays and Wednesdays, where you can go buy snacks if you're feeling hungry.
Dining:
1.) Describe the dining arrangements at your school.
Dining hall food was generally pretty good! There's a wide variety of choices for everyone, including vegans, those who can't eat gluten, and those with allergies. There are also paninis on most days if you don't like the food that's being served. There's a salad bar, a sandwich bar, and a hot food bar, as well as as variety of beverages such as fruit juice. There's usually ice-cream once or twice a week on the weekends and sometimes the dining hall surprises us with cookies and horse shaped bread!
Social and Town Life:
1.) Describe the school's town and surrounding area.
Although many people describe Stoneleigh as being "in the middle of nowhere," Greenfield actually has a lot of charming small corner restaurants and shops that often go unnoticed. There's a frozen yogurt store that Stoneleigh students frequent, great restaurants such as The Clay Oven (Indian food), Thai Blue Ginger (Thai food, and Hope and Olive, and vintage clothing stores as well as thrift stores. Since there are bikes on campus that students can use anytime, going to town only takes about 15 minutes, so there are a lot of choices on the weekends.
2.) Describe the social life at your school - what did you like most about it?
Students at Stoneleigh are very sociable. Cliques are pretty rare which means that everyone is friends with everyone. As a senior, I've often sat down to have lunch or dinner at a table filled completely with 8th graders or 9th graders. There are a lot of inter-grade friendships which I think is a very important for a developing community. The halls are always filled with laughter and everyone is extremely friendly.
Daily Schedule:
Weekday
11:00 PM
In rooms for juniors and seniors
Weekend
11:30 AM
Wake up to have brunch (which ends at 12)
1:00 PM
Go biking off campus to Greenfield to have lunch with friends
6:00 PM
Take the shuttle to a supermarket
8:00 PM
Movie night with pizza!
The reason I chose my school was because I am an equestrian and the barn at my high school was at the end of the driveway. The reason I stayed was because I found a. . .
What makes Stoneleigh-Burnham unique is its incredibly small student body (no more than 160 students) and the fact that it's the only all-girl's school in New England to offer the International Baccalaureate program. Not. . .
SBS truly has a community; a close knit space that allows any and everyone to grow however they please. The support I found in so many of the teachers, and on so many different occasions. . .
Show more reviews (

12 reviews

)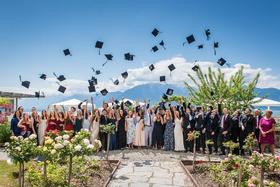 Nurturing Futures: A Journey through Boarding at Haut-Lac School in Switzerland
Nestled in the hills overlooking Lake Geneva in the French-speaking part of Switzerland lies an educational gem that embodies a unique blend of academic excellence, cultural richness and a profound sense of community. Founded over 30 years ago, Haut-Lac International Bilingual Day and Boarding School is now home to both 600 day students and a maximum of 30 boarders from around the world.
What To Wear at Your Job Interview
Navigating job interviews can be stressful, but knowing what to wear shouldn't be. Our comprehensive guide covers the essential dress code tips for men and women interviewing at boarding schools. Make your first impression count with style and professionalism.
Navigating the Modern Maze: Emerging Challenges for Boarding Schools
Explore the pressing challenges facing boarding schools, from marketing difficulties and rising insurance costs to facility maintenance and recruitment of competent trustees and teachers. This article delves into these complex issues and proposes innovative strategies to overcome them.