Reflections and Advice:
1.) What do you think makes your school unique relative to other boarding schools?
I believe what makes Webb a very special and distinguishable place to other schools is the Honor Code in action and the relationships one can make with the faculty and service staff. The Honor Code is vividly in action throughout the entire Webb campus. I always felt comfortable with leaving my belongings in any place and knowing that I would find them in the same fashion I left them. I also felt comfortable in leaving my door open many times as I would leave my room. The Honor Code created such a comfortable environment that I had to work to remember that I needed to keep my things with me at all times off the Webb campus. In terms of the faculty and service staff, Webb does an amazing job at recruiting not only amazing teachers but amazing people in general. Outside the classroom, I would find myself and some friends playing basketball or working out with some of my teachers and creating a real bond that is still existing strong even a year after I have graduated.
2.) What was the best thing that happened to you in boarding school?
I believe the best thing that has happened to me during my time at Webb was truly the amazing relationships that I have made. Relationships with friends and also faculty and service staff that I can hold onto for my lifetime. I would say that Webb is a place that when one walks in and truly makes an effort to grow in one's morals and knowledge, he/she will graduate a pioneer ready for college and the world.
3.) What might you have done differently during your boarding school experience?
I believe I would have tried to socialize more with the people outside my dorm during my freshman year. Boarding was an entirely new experience for me so I was not too adventurous but my sophomore year I was glad to be back and be more sociable. My advice would be to participate in many of the all-school activities and have conversations with the service staff for they are truly great people.
4.) What did you like most about your school?
To be honest, I loved everything about Webb. At some times, I struggled with the academics of course but overall, I am proud to say that I love Webb.
5.) Do you have any final words of wisdom for visiting or incoming students to your school?
Don't be afraid to explore Webb because there are many amazing things you could find if you only looked.
Academics:
1.) Describe the academics at your school - what did you like most about it?
In terms of academics, I really enjoyed the project-based learning opportunities throughout my career at Webb. These chances gave me a real opportunity to apply the things learned in class to accomplish a goal, which was exciting and fulfilling. For example, in my calculus class, we made hot air balloons out of tissue paper and designed them in a way that would help the balloon fly best. Another impressive thing I like about Webb academics was the effort to expand the teaching to fields like entrepreneurship. I took the 21 Century Think class my junior year and since that first entrepreneurship class, I believe I have found a true passion. Webb is always trying to introduce new opportunities that are "way beyond the standard".
Athletics:
1.) Describe the athletics at your school - what did you like most about it?
I loved the athletics at Webb. The mandatory participation was not a problem for me because I loved showing up to practices. The level of intensity and pressure from the coaches is definitely manageable as the coaches realize that there is more to life than just sports. With that in mind, sports at Webb provided me a great opportunity to grow in other areas of my life like discipline, hard work, courage, and amazing teamwork. This also would not be possible without the amazing faculty who also serve as coaches.
Art, Music, and Theatre:
1.) Describe the arts program at your school - what did you like most about it?
I believe that the Arts, Music and theatre are an amazing and creative part of Webb campus life. I myself did not participate in the arts because of my commitment to sports but if I had the time, I would have tried out for a play because they produce some state of the art performances with beautiful sets and stages.
Extracurricular Opportunities:
1.) Describe the extracurriculars offered at your school - what did you like most about it?
The extracurricular activities at Webb provided a significant opportunity for me to grow in leadership. Webb offers many clubs that people can join to eventually become the president and run the club. For me, I loved the Christian Club and soon became in charge and learned how to manage the club. Webb also has many leadership opportunities: prefect, honor committee, peer advisor, associated student body, student liaisons. So there are many different leadership positions available for everybody. As a prefect, I learned how to create a safe and close-friendship like environment in a dorm and help my residents with their respective struggles. What I think is really truly special about Webb is that the community provides opportunity for growth and a space for anything that one can wish to pursue. I was able to start Webb Appreciation Day with ease in the Webb community because the students and faculty are all accepting and embrace new ideas and opportunities to help and give back to others.
Dorm Life:
1.) Describe the dorm life in your school - what did you like most about it?
Dorm like was a great experience for me. I had the most fun time of my life so far with my brothers in the dorm. I was able to live with such unique people from all over the world and became life-long friends. The dorm provides a very friendly atmosphere for all people that one could not resist to love.
Dining:
1.) Describe the dining arrangements at your school.
The dining arrangements were satisfying and a unique experience to me. The dining hall does its best to provide unique and healthy foods that also taste delicious. I was actually able to work with the dining hall for formal dinners that were held twice a week. I believe formal dinners were a great opportunity to dress up and fellowship with fellow class mates from all grades. Formal dinners are one of the times when one feels the spirit of the whole community.
Social and Town Life:
1.) Describe the school's town and surrounding area.
Claremont village, Laverne, and Upland are only a taxi drive away and I truly had a great time with friends socializing in those areas. There are many things to do from eating, shopping and entertainment. It is great also that it is not far at all to purchase supplies needed.
2.) Describe the social life at your school - what did you like most about it?
The social life at Webb was great for me because at Webb there is only about 400 students, which meant that I could get to know a decent amount of the entire student body. I believe that the small size of Webb really granted me the opportunity to grow close and strong with many individuals than I would have at a larger school.
Daily Schedule:
Weekday
8:00 AM
have breakfast at dining hall
11:45 AM
lunch at dining hall
7:00 AM
homework after dinner
Weekend
10:00 AM
Wake up to eat breakfast
11:00 AM
Go find my buddies
12:00 PM
have lunch at Upland mall
4:00 PM
grab some jamba juice and dinner
6:00 PM
Sign back on campus
10:00 PM
hang out with friends in room
The Webb Schools is unique in many ways different than other boarding schools. One being that it is a boy's school and a girl's school on one shared campus. This allows the freshman and sophomore. . .
I think there was generally a good work-life balance, or more like study-life balance at Webb. The community was small enough that we would know most everybody, teachers cared tremendously for the students, sports were. . .
The classroom setting of a round table discussion instead of lecture based teaching. I believe it really puts the pressure on the student to understand what is going on in the class and bring an. . .
Show more reviews (

26 reviews

)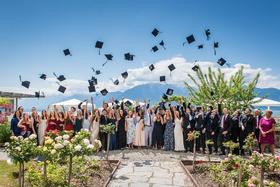 Nurturing Futures: A Journey through Boarding at Haut-Lac School in Switzerland
Nestled in the hills overlooking Lake Geneva in the French-speaking part of Switzerland lies an educational gem that embodies a unique blend of academic excellence, cultural richness and a profound sense of community. Founded over 30 years ago, Haut-Lac International Bilingual Day and Boarding School is now home to both 600 day students and a maximum of 30 boarders from around the world.
Navigating the Modern Maze: Emerging Challenges for Boarding Schools
Explore the pressing challenges facing boarding schools, from marketing difficulties and rising insurance costs to facility maintenance and recruitment of competent trustees and teachers. This article delves into these complex issues and proposes innovative strategies to overcome them.
What To Wear at Your Job Interview
Navigating job interviews can be stressful, but knowing what to wear shouldn't be. Our comprehensive guide covers the essential dress code tips for men and women interviewing at boarding schools. Make your first impression count with style and professionalism.