Reflections and Advice:
1.) What do you think makes your school unique relative to other boarding schools?
Two aspects unique to Webb would definitely be the Alf Museum and the Honor Code, which definitely made my Webb experience unlike anything I would ever have at a normal high school. Through the Alf Museum, I was able to go on several camping and fossil hunting trips to places like Barstow, CA and southern Utah, which were quite enjoyable. Later, I was able to write a research paper with Head Curator Dr. Don "Doc" Lofgren on anchitherine horses in North America, which are basically the ones that went extinct and later replaced by European horses brought over by the Spanish conquistadores. As far as the Honor Code, this played an important role in my development as a leader and continues to be a major part of who I am. Through my experience with the Honor Code as a student and later as an HC, I was able to develop my ethical reasoning skills, and these critical thinking skills continue to help me to this day.
2.) What was the best thing that happened to you in boarding school?
I was challenged in many ways at Webb - academically, athletically, socially. These are areas where I am still challenged at college, and I think that Webb prepared me mentally to face and overcome these challenges in college. I guess the best thing that happened to me is that I developed the outlook that my life will be a continuous uphill struggle, which was very humbling and motivating.
3.) What might you have done differently during your boarding school experience?
I would have been less concerned with what others thought of or expected of me, and I would have taken more risks. I was very strategic throughout my time at Webb as I had very specific goals in terms of where I wanted to be upon Webb graduation, but I would have definitely taken more risks if I could do it all over again. By this I mean trying new things like playing an instrument, going out for a play, running cross country, etc. I also would have focused on being more efficient - I procrastinated a lot in high school, and it took me a while to get over that habit...
4.) What did you like most about your school?
Overall, I liked the people that I met more than anything, and I still enjoy going back to visit friends.
5.) Do you have any final words of wisdom for visiting or incoming students to your school?
Work hard. You have an opportunity that most kids will only ever dream of. That said, don't spend all your time doing work, and don't waste your time with SAT programs like Elite. You will learn a lot outside of class and homework so learn to be efficient so that you can have these experiences and foster great relationships with people.
Academics:
1.) Describe the academics at your school - what did you like most about it?
The academic approaches at Webb vary depending on the subject, but the overall experience compares to that of a liberal arts colleges in terms of its interdisciplinary nature, implementation of technology, and focus on critical thinking. In my sophomore year, for example, there was a lot of overlap in the material we learned in Introduction to Literature (English) and Modern World History (History). In fact, the teachers of both subjects collaborated so that we would be able to relate the two courses, and learn in an interdisciplinary way. In Honors Biology class, our professor, probably inspired by Khan Academy and Edx courses, would have us watch recorded lectures for homework so we could participate in more hands-on work in class. This innovative, dynamic method was very engaging. Finally, I feel that each class at Webb at some point followed the Harkness discussion method, which in classes of 11-14 students helped us develop our interpersonal and critical thinking skills.
Athletics:
1.) Describe the athletics at your school - what did you like most about it?
The athletics program was relatively small at Webb compared to that of a public high school, which was honestly the only aspect that worried me as a freshman. However, the great thing about it is that we had a lot of options, and you could basically go out for any team if you were willing to dedicate yourself and work hard. In fact, I was able to start wrestling as a junior, which would be close to impossible at a normal high school, and I improved tremendously in 2 years. I now wrestle for the Varsity wrestling team at Harvard, which is one of the top, most challenging programs in the country. Without having the opportunity to begin wrestling at Webb, this would have been impossible.
Extracurricular Opportunities:
1.) Describe the extracurriculars offered at your school - what did you like most about it?
I enjoyed the extra-curricular activities because they afforded opportunities that I had never been exposed to. For example, I was able to attend debate camps and tournaments at the Claremont Colleges, I was able to travel to Spain and China, and I was able to go on Paleontology excavation trips to some of the coolest places in the Southwest. In the end, no matter what you do at Webb, if you do what you enjoy or even create from the ground up something that you are passionate about, you will truly grow as a leader.
Dorm Life:
1.) Describe the dorm life in your school - what did you like most about it?
The dorm life at Webb was great for me because I had a single all four years (something that I have yet to experience in college!) My favorite part was the room selection process, which was based on how well you performed on room checks throughout the year. During a daily room check conducted by a faculty member, you could either get a 'Gold Star', pass, or fail, and these ratings would contribute to your overall score. Those with the highest score would get the best room. Me, being a highly competitive person, would strive to have the highest ranking, and was always in the top 3. It was nice to be able to get to live wherever I desired, and it was a great incentive for keeping a clean space.
Dining:
1.) Describe the dining arrangements at your school.
The cafeteria was great, especially the staff because I was able to speak to them in my native language - Spanish. The food was fine, and you could even go in outside of meal times for sandwiches, fruit, frozen yogurt, milk, juice, and water. Overall, it was great, and probably better than the food here at Harvard.
Social and Town Life:
1.) Describe the school's town and surrounding area.
I like Claremont because it is an educated, affluent community. It is a very calm place to live, and a great place to raise a family. Also, there is relatively easy access to many nice natural and hilly areas, which were great for someone who enjoys running (another habit and hobby that I developed thanks to Webb). There a lot of cool places to go on Friday and Saturday nights like the La Verne movie theater, the "Village", laser tag, etc. My favorite places to get food were Santana's, 21 Choices, Bowl of Heaven, and Full of Life.
2.) Describe the social life at your school - what did you like most about it?
I honestly liked being able to know everyone - which was easy at a school with just 402 kids. I feel like I got to know most kids in each class as well as most faculty and staff. Not only was it nice to get to know these people, but it was nice to get to know them well.
The classroom setting of a round table discussion instead of lecture based teaching. I believe it really puts the pressure on the student to understand what is going on in the class and bring an. . .
Webb has a clear focus on community and it really shows. When you are a student you become best friends with the faculty and your fellow students, traversing the boundaries of what most schools can. . .
The Webb Schools is unique in many ways different than other boarding schools. One being that it is a boy's school and a girl's school on one shared campus. This allows the freshman and sophomore. . .
Show more reviews (

26 reviews

)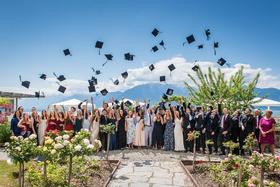 Nurturing Futures: A Journey through Boarding at Haut-Lac School in Switzerland
Nestled in the hills overlooking Lake Geneva in the French-speaking part of Switzerland lies an educational gem that embodies a unique blend of academic excellence, cultural richness and a profound sense of community. Founded over 30 years ago, Haut-Lac International Bilingual Day and Boarding School is now home to both 600 day students and a maximum of 30 boarders from around the world.
What To Wear at Your Job Interview
Navigating job interviews can be stressful, but knowing what to wear shouldn't be. Our comprehensive guide covers the essential dress code tips for men and women interviewing at boarding schools. Make your first impression count with style and professionalism.
Navigating the Modern Maze: Emerging Challenges for Boarding Schools
Explore the pressing challenges facing boarding schools, from marketing difficulties and rising insurance costs to facility maintenance and recruitment of competent trustees and teachers. This article delves into these complex issues and proposes innovative strategies to overcome them.