Reflections and Advice:
1.) What do you think makes your school unique relative to other boarding schools?
Blair isn't unique among boarding schools, and anyone who went to a mainstream boarding school who tries to tell you that theirs is different is full of it. What's unique about their school is that it's a boarding school and it's a privilege to study and live amongst your peers and teachers on beautiful campuses. The same is true for Blair and I am so grateful for the opportunity to have studied at such a beautiful school, to have competed with such great athletes, and to have learned from such wonderful teachers.
2.) What was the best thing that happened to you in boarding school?
Everything. Boarding school was such a privilege and a wonderful experience that I'll always be grateful for. I met lifelong friends and learned lifelong lessons and got into a college with peers who were far beyond my intellectual level.
3.) What might you have done differently during your boarding school experience?
Drink it in.
4.) What did you like most about your school?
That it was not affected. It was every person's boarding school. You didn't have to look any one way to fit in there.
5.) Do you have any final words of wisdom for visiting or incoming students to your school?
West hall, all the way.
Academics:
1.) Describe the academics at your school - what did you like most about it?
I learned. I learned how to learn and I learned how to live. I found out that I was really smart but I had to be pushed, and I was pushed. I got feedback, early and often and the message was received - I was smart but lazy and I needed to work hard to be successful. No message has ever had a more life changing impact.
Athletics:
1.) Describe the athletics at your school - what did you like most about it?
I was an athlete. 3 seasons. I had some coaches who were life changing and some who just coached games. Sports were a big part of my high school experience and I'm not sure what it would have been like if I hadn't been involved, although I know other people were more involved in things like the arts and theater. I loved being an athlete. There was never a question about it.
Art, Music, and Theatre:
1.) Describe the arts program at your school - what did you like most about it?
I really came into my own with visual arts my senior year. There were lots of opportunities to explore the arts, you just had to choose them. At Blair, I took theater, I played around in the ceramics studio, and I really embraced drawing.
Extracurricular Opportunities:
1.) Describe the extracurriculars offered at your school - what did you like most about it?
I totally dropped the ball here. I over committed to sports and didn't spend much time volunteering.
Dorm Life:
1.) Describe the dorm life in your school - what did you like most about it?
My dorm rooms were consistently awesome. Always on the guided tours for prospective students. As far as dorms go, Blair nails it.
Dining:
1.) Describe the dining arrangements at your school.
The food was great. My college has consistently been voted number 1 in the country for food and I still thought it paled in comparison to Blair. Formal dinners were not my favorite but in retrospect I understand why they were important.
Social and Town Life:
1.) Describe the school's town and surrounding area.
There's not much opportunity to take advantage of town, at least there wasn't in my experience. But it is a cute town and if you have the opportunity to get off campus, blairs town is beautiful and the Delaware water gap is gorgeous.
2.) Describe the social life at your school - what did you like most about it?
Again, it's all about maximizing your opportunities. With all of the time that is scheduled for classes, sports, formal dinners and study halls, you have to make the most of your free time.
Daily Schedule:
Weekday
Weekend
Blair's emphasis on community made it stand out. For me, that started on my tour, when everyone seemed to know everyone else as we walked around the 400-acre campus. The friendly atmosphere and. . .
Consistent with its relatively small student body as compared to many other boarding schools, Blair is a place that knows the value of both its community and the relationships cultivated therein. From the moment I. . .
The amazing student-faculty relationships definitely made Blair special for me; the faculty are not only your teachers but also your coaches and mentors and dorm-parents, and all of that inter-relatedness allows the students and faculty. . .
Show more reviews (

6 reviews

)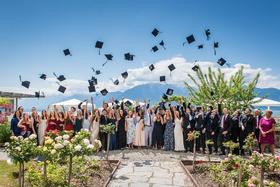 Nurturing Futures: A Journey through Boarding at Haut-Lac School in Switzerland
Nestled in the hills overlooking Lake Geneva in the French-speaking part of Switzerland lies an educational gem that embodies a unique blend of academic excellence, cultural richness and a profound sense of community. Founded over 30 years ago, Haut-Lac International Bilingual Day and Boarding School is now home to both 600 day students and a maximum of 30 boarders from around the world.
What To Wear at Your Job Interview
Navigating job interviews can be stressful, but knowing what to wear shouldn't be. Our comprehensive guide covers the essential dress code tips for men and women interviewing at boarding schools. Make your first impression count with style and professionalism.
Navigating the Modern Maze: Emerging Challenges for Boarding Schools
Explore the pressing challenges facing boarding schools, from marketing difficulties and rising insurance costs to facility maintenance and recruitment of competent trustees and teachers. This article delves into these complex issues and proposes innovative strategies to overcome them.