Reflections and Advice:
1.) What do you think makes your school unique relative to other boarding schools?
It is a very family oriented place. We're all living, working, and learning and a small space despite the acreage of the campus. Everything that happens at the school falls within a mile and a half radius of the heart of Main Hall. I can honestly say everyone cares deeply about each other there.
2.) What was the best thing that happened to you in boarding school?
I grew up. I'm independent and a self advocate. I know what I need and when I need it in order to best succeed. Westtown was an impactful experience and extremely supportive with every up and down a teenage goes through.
3.) What might you have done differently during your boarding school experience?
I wouldn't have done anything differently except for been excited rather than nervous on my first day.
4.) What did you like most about your school?
I got to be myself and find myself. No one got to define me and put me in a box, there's no mold for a Westtown student. We just are who we want to be.
5.) Do you have any final words of wisdom for visiting or incoming students to your school?
When you visit shadow a student, talk to them and their friends. You'll really get a feel for what it's like. Don't be afraid to ask questions, you'll always get an answer.
Academics:
1.) Describe the academics at your school - what did you like most about it?
The teachers really care about their students. At Westtown, you learn how to learn best for you and the teachers support that. The teachers want to know how to do their job better and not a single teacher wants anyone to ever fail, it's obvious.
Athletics:
1.) Describe the athletics at your school - what did you like most about it?
Athletics are required at Westtown, but there are tons of options. You're always working on better teamwork and individual performance, there's a balance between the two. Like everything else at Westtown the sports teams are your family. It's always fun to have your math teacher coach you soccer team or your biology teacher coach the lacrosse team because it's what they love. You get to know all about everyone through the smallest required activities, it's really cool.
Art, Music, and Theatre:
1.) Describe the arts program at your school - what did you like most about it?
I wasn't big into the arts and still am not. Arts are highly encouraged at Westtown and j have yet to hear a bad thing about them. The arts at Westtown are not only well participated in they're supported and admired by the student body that doesn't participate as well.
Extracurricular Opportunities:
1.) Describe the extracurriculars offered at your school - what did you like most about it?
Student leadership is highly sought after by everyone at Westtown. It's friendly competition that everyone wants to be a part of. While sometimes voting turns into more of a popularity contest, at the heart of it all students run Westtown and each kid who wants to be a student leader wants a better Westtown every day they wake up and they're getting better and better at it every year.
Dorm Life:
1.) Describe the dorm life in your school - what did you like most about it?
Like everything at Westtown is like a family. No one locks their doors, everyone trusts each other. Living with multiple dorm faculty is good as well. Having young teachers as dorm faculty is also amazing as they really give us great advice seeing as they weren't in high school too long ago either.
Dining:
1.) Describe the dining arrangements at your school.
The kitchen works hard to do their best. The staffs investment in each student is what is really incredible. They're always the first to strike up conversation and if you don't like something they're happy to help you find something you would enjoy!
Social and Town Life:
1.) Describe the school's town and surrounding area.
I wish we were able to get into Philadelphia more. Its proximity to us is unbelievable and there's a rich history and culture the school should take life advantage of.
2.) Describe the social life at your school - what did you like most about it?
It's easy. Everyone is there all the time and you have friends near and far. It's fun to bring an international student home for a weekend away and then go visit them during a holiday in their home country. They're always extremely welcoming to it as well.
Small Quaker school, tight group, not so much focused on strong academics as much as creating good individuals in society.. . .
Westtown has a beautiful campus. It was beautiful and especially safe to walk around any time of day. Also the style of teaching is very hands on and has small classes, usually with. . .
Two aspects of Westtown that stand out in particular are its sense of community, and the education driven towards social change. Its sense of community is in part due to the fact that Westtown is. . .
Show more reviews (

41 reviews

)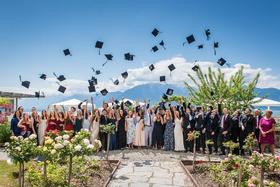 Nurturing Futures: A Journey through Boarding at Haut-Lac School in Switzerland
Nestled in the hills overlooking Lake Geneva in the French-speaking part of Switzerland lies an educational gem that embodies a unique blend of academic excellence, cultural richness and a profound sense of community. Founded over 30 years ago, Haut-Lac International Bilingual Day and Boarding School is now home to both 600 day students and a maximum of 30 boarders from around the world.
What To Wear at Your Job Interview
Navigating job interviews can be stressful, but knowing what to wear shouldn't be. Our comprehensive guide covers the essential dress code tips for men and women interviewing at boarding schools. Make your first impression count with style and professionalism.
Navigating the Modern Maze: Emerging Challenges for Boarding Schools
Explore the pressing challenges facing boarding schools, from marketing difficulties and rising insurance costs to facility maintenance and recruitment of competent trustees and teachers. This article delves into these complex issues and proposes innovative strategies to overcome them.