Reflections and Advice:
1.) What do you think makes your school unique relative to other boarding schools?
I attended Stoneleigh-Burnham School for 4 years. The combination of academics, extracurricular activities, and athletics far exceeded my expectations. SBS has a welcoming and diverse community, - exposing students to the meaning of community service and challenging students to be their best selves. The whole school participates in regular house-meetings to learn about on campus events and strengthen the sense of community. SBS has many traditions - including: Big Sister/Little Sister, Mountain Day, Spearth Day, 100 Nights to recognize seniors, Vespers, formal dinners.
2.) What was the best thing that happened to you in boarding school?
Attending SBS was one of the best decisions of my life. Instructors challenged me both academically and socially. SBS helped me identify my passion for studying history and politics. I also developed lifelong friendships and am proud to be an alumna.
3.) What might you have done differently during your boarding school experience?
I had a smooth transition from public school to boarding school. I would recommend joining extracurriculars in your first year.
4.) What did you like most about your school?
I loved house meetings, which brought the entire school together on a regular basis. I loved the sense of community and camaraderie among classmates. I felt supported by my classmates and instructors alike. Academics and extracurriculars challenged students to reach their full potential and contribute to their community.
5.) Do you have any final words of wisdom for visiting or incoming students to your school?
SBS is a unique campus and just recently renovated the student lounge.
Academics:
1.) Describe the academics at your school - what did you like most about it?
SBS has trimesters. My instructors challenged me academically and helped me develop my own voice. Instructors were always open to meeting with students for extra help if necessary. Instructors were very knowledgeable in their subject area. SBS has small class sizes. Class assignments included research papers, writing poetry, class presentations. SBS prepared me for college and I felt an advantage over my public school classmates.
Athletics:
1.) Describe the athletics at your school - what did you like most about it?
Each student is required to participate in athletics - ranging from Dance, team sports, to horseback riding. SBS has a renowned Equestrian program. I participated in Beginner and Advanced Dance and was very pleased with my instructors/fellow dancers.
Art, Music, and Theatre:
1.) Describe the arts program at your school - what did you like most about it?
SBS has a strong performing and visual arts program. Students can audition for the annual musical or play each winter. Course offerings include ceramics, photography, Yearbook, chorus, jazz band, dance.
Extracurricular Opportunities:
1.) Describe the extracurriculars offered at your school - what did you like most about it?
SBS offers a variety of extracurricular activities. Students are encouraged to be actively engaged in extracurricular to both contribute to their community and develop their leadership skills.
Dorm Life:
1.) Describe the dorm life in your school - what did you like most about it?
All first years are on the same floor, including day students. As upperclassmen, day students have rooms on "day student hall." Teachers serve as houseparents on each hall and are accessible to students. Since I was a day student, I very much appreciated having a room on campus.
Dining:
1.) Describe the dining arrangements at your school.
Every Wednesday was Donuts day. Students have assigned seating at occasional formal dinners (At these dinners, there is 1 faculty per table and 1 student server per table). There is always a salad bar in addition to the hot meal.
Social and Town Life:
1.) Describe the school's town and surrounding area.
SBS arranges weekend activities for students both on and off campus. Greenfield is a small town, with a traditional Main Street shopping area. The surrounding area has many historical and cultural institutions including, Yankee Candle flagship store, Historic Deerfield, Six Flags in Agawam, theaters.
2.) Describe the social life at your school - what did you like most about it?
Since SBS is a small school, I was able to develop strong friendships with my classmates and instructors. SBS is a very supportive environment encouraging all students to speak their mind and develop leadership/social skills.
The reason I chose my school was because I am an equestrian and the barn at my high school was at the end of the driveway. The reason I stayed was because I found a. . .
What makes Stoneleigh-Burnham unique is its incredibly small student body (no more than 160 students) and the fact that it's the only all-girl's school in New England to offer the International Baccalaureate program. Not. . .
SBS truly has a community; a close knit space that allows any and everyone to grow however they please. The support I found in so many of the teachers, and on so many different occasions. . .
Show more reviews (

12 reviews

)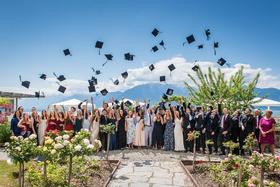 Nurturing Futures: A Journey through Boarding at Haut-Lac School in Switzerland
Nestled in the hills overlooking Lake Geneva in the French-speaking part of Switzerland lies an educational gem that embodies a unique blend of academic excellence, cultural richness and a profound sense of community. Founded over 30 years ago, Haut-Lac International Bilingual Day and Boarding School is now home to both 600 day students and a maximum of 30 boarders from around the world.
What To Wear at Your Job Interview
Navigating job interviews can be stressful, but knowing what to wear shouldn't be. Our comprehensive guide covers the essential dress code tips for men and women interviewing at boarding schools. Make your first impression count with style and professionalism.
Navigating the Modern Maze: Emerging Challenges for Boarding Schools
Explore the pressing challenges facing boarding schools, from marketing difficulties and rising insurance costs to facility maintenance and recruitment of competent trustees and teachers. This article delves into these complex issues and proposes innovative strategies to overcome them.