Reflections and Advice:
1.) What do you think makes your school unique relative to other boarding schools?
The Governor´s Academy was known as Governor Dummer Academy when I applied, and it was still known that way for part of my time as a student there. As such, my classmates and I were the last graduating class to be able to carry the name Governor Dummer Academy on our diplomas and the better sounding nickname "GDA" along with us. Many of the schools in the Independent School League (ISL) are old and established, but none so much as GDA. GDA boasts the longest tradition of education and as the "oldest boarding school in America" actually has a legacy that branches out into many other prestigious institutions. Samuel Phillips, founder of Phillips Academy, graduated from GDA. In regards to the other schools in the ISL, GDA is one of the two or three biggest campuses per population (in other words, the acre:student ratio). This makes most aspects of campus life amazing in the spring and fall, with the natural beauty and impressive landscaping work of the school contributing to every extracurricular, and many academic experiences. The larger space makes winters a bit less "snug" than it must be at the more confined campuses.
2.) What was the best thing that happened to you in boarding school?
On an interpersonal level, I met several people who I have kept in good touch with and hope to remain lifelong friends with. I was also able to keep moving despite some athletic disappointments and receive recognition for my effort and attitude. Academically, I was able to discover enjoyment in several areas of study which I went on to pursue either in college or beyond (History and Spanish, respectively) while also encountering those areas of study that I was either bad at or found boring (or both).
3.) What might you have done differently during your boarding school experience?
I would have kept better in touch with my parents and family during my time in boarding school. I would advise them to be ready to follow rules and have less freedom than a "typical" High School student would. However, I would also tell kids going to boarding school that the discipline and good studying habits one can gain from the experience will better position than in college and in the future than a "typical" High School experience would.
4.) What did you like most about your school?
I liked that the school tried really hard to be home to 360 students from some very unique circumstances.
5.) Do you have any final words of wisdom for visiting or incoming students to your school?
Try as many things as possible: a new sport, a new form of art or expression, a different class, a different friend group to eat with. Also, some leadership position (like being a dorm proctor) can REALLY help you out in the future in unexpected ways.
Academics:
1.) Describe the academics at your school - what did you like most about it?
The Spanish education I got for my first three years was quite good and (unexpectedly) ended up serving me quite well beyond college. The history thesis in Junior year and history electives I was able to take in Senior year helped direct me towards what I did and didn't enjoy with that area of study. In my experience, most teachers really knew their "stuff" and really cared about their student´s success.
Athletics:
1.) Describe the athletics at your school - what did you like most about it?
I was able to try many sports that I had never gotten into. Some coaches I had recognized leadership ability in me and others who weren´t the best athletes on a given team. Extracurricular activities ARE required, but one does not need to play a sport. Some sports (men´s lacrosse, women´s hockey) were powerhouses during my time, while other sports were mediocre or worse in league play. The quality of facilities was always good to great, but many schools have even more outrageous facilities.
Art, Music, and Theatre:
1.) Describe the arts program at your school - what did you like most about it?
My only exposure to visual arts/theatre was in a mandatory First-year class that cycled one through 4 areas of the school´s offering. I had film, theatre tech, and ceramics. All were fine but not something that created a life-long passion.
Extracurricular Opportunities:
1.) Describe the extracurriculars offered at your school - what did you like most about it?
The school hosted annual Special Olympics tournaments and occasional volunteering opportunities at a soup kitchen.
Dorm Life:
1.) Describe the dorm life in your school - what did you like most about it?
Dorm life is what sets apart the boarding from day student experience. Most of my peers and I made many great friends by living with one another in the dorms. At the same time, by Junior and Senior year most of us felt a lack of freedom, especially compared to day students.
Dining:
1.) Describe the dining arrangements at your school.
The dining hall had good quality food and I liked that they frequently had the same sorts of items at the salad bar. (Some might call it a lack of variety, but I can eat the same set of 3-5 things frequently, so it wasn´t a negative to me).
Social and Town Life:
1.) Describe the school's town and surrounding area.
I barely got to know the town or surrounding area. Day students and those who are friends with day students often get off campus and into Newburyport or elsewhere.
2.) Describe the social life at your school - what did you like most about it?
The social life was as good as one can expect with class sizes between 80 and 100 peers. If one has good friends, it´s great to see them every day, share many classes, and participate in extracurricular activities with them. However, if one does not have many friends or if one has trouble with certain individuals, the small community makes it pretty hard to meet new people and/or avoid those annoyances.
The Governor´s Academy was known as Governor Dummer Academy when I applied, and it was still known that way for part of my time as a student there. As such, my classmates and I. . .
One of the main things is that it has a block schedule, which makes it more like a college schedule while you are still in high school. Instead of having. . .
GDA has many unique experiences to offer its students. However, I would say that the best thing about this small school is the people. In the dorms you not only live with your classmates, but. . .
Show more reviews (

5 reviews

)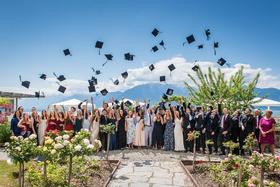 Nurturing Futures: A Journey through Boarding at Haut-Lac School in Switzerland
Nestled in the hills overlooking Lake Geneva in the French-speaking part of Switzerland lies an educational gem that embodies a unique blend of academic excellence, cultural richness and a profound sense of community. Founded over 30 years ago, Haut-Lac International Bilingual Day and Boarding School is now home to both 600 day students and a maximum of 30 boarders from around the world.
What To Wear at Your Job Interview
Navigating job interviews can be stressful, but knowing what to wear shouldn't be. Our comprehensive guide covers the essential dress code tips for men and women interviewing at boarding schools. Make your first impression count with style and professionalism.
Navigating the Modern Maze: Emerging Challenges for Boarding Schools
Explore the pressing challenges facing boarding schools, from marketing difficulties and rising insurance costs to facility maintenance and recruitment of competent trustees and teachers. This article delves into these complex issues and proposes innovative strategies to overcome them.