Reflections and Advice:
1.) What do you think makes your school unique relative to other boarding schools?
GDA has many unique experiences to offer its students. However, I would say that the best thing about this small school is the people. In the dorms you not only live with your classmates, but also your teachers and their families. Everything from babysitting their young children, to being welcomed into their homes for a late-night study snack, brings you closer to the people that surround you at GDA. Within the first week you know the names of all the faculty, their children, their dogs, and the students on campus. There is something very special about GDA, and it is truly a part of my family.
2.) What was the best thing that happened to you in boarding school?
The best thing that happened to me at boarding school was acquiring a new family. I know it sounds corny, but I can't imagine, even now, what my life would be like without the students, staff, and faculty at GDA. I know that they will be part of my life forever.I think a big culmination of my experiences at GDA came when I had the opportunity to host a Bone Marrow Donor Drive as part of the Senior Spring Term program. All of the planning and organizing that I had done through my years of community service finally came together as I did my first independent project. It was trying, but in the end I had an amazing feeling of accomplishment. There is nothing more rewarding than knowing that the hours of work you put into something could save lives. I guess I never imagined that so much was possible with dedication and the support of the community I was a part of.
3.) What might you have done differently during your boarding school experience?
I would not change a thing about my time at GDA, even the worst of my decisions and most trying situations taught me valuable lessons. The only advice I would give to incoming boarding school students (and they will hear it over and over again...) is not to pass up any opportunities. Get involved. What you get from boarding school is exactly equal to what you put in, so the possibilities are endless.
4.) What did you like most about your school?
The people. I know I have said it over and over again but at no other school will you find a dining hall staff willing to "cook like mom does," a bookstore employee who is as much a psychologist as anything else, or a dorm parent who will proudly dawn the "Best Friend" necklace you made for her.
5.) Do you have any final words of wisdom for visiting or incoming students to your school?
When you visit, talk to people. Don't be shy, everyone at GDA is very proud of our school and would be glad to share experiences with you. All of the students were once visitors too, and they truly want to share with you all that their school has to offer. Definitely go to the new student center, the reading rooms in the library, and the book store. While you're there, pick up one of the warm fresh cookies in the snack bar. Check out the freshman dorms (the ones that look like houses) to see the special environment they offer. Also, feel free to peek into some dorm rooms and classrooms, they say a lot about the students and classes.
Academics:
1.) Describe the academics at your school - what did you like most about it?
The academics at GDA are very demanding. The amount of homework can at times seem overwhelming, but there is always enough time if you manage things . Also, the faculty is VERY understanding, and communicate well with each other in regards to especially lengthy assignments. Also, the tutors that are available are excellent, and it is always harder to fail then to succeed-- everyone is looking out for you.The library staff is also extremely helpful, especially with research assignments and technical snafus in the computer lab. They are very knowledgeable and in good contact with the faculty in order to be better prepared to help you.Overall, my classes were all extremely engaging, and even my least favorite subjects were made enjoyable by the humorous teachers and hands on activities.
Athletics:
1.) Describe the athletics at your school - what did you like most about it?
I think the best part of the athletic program at GDA is that you can try anything. Devoted coaches help even the lowest level athletes reach their personal goals, and you can try just about every sport at some point during your four years. The teams offer a great way to meet people as a new student, and even throughout your years at GDA to socialize in different groups.
Art, Music, and Theatre:
1.) Describe the arts program at your school - what did you like most about it?
Visual arts, music, and theatre, are a part of everyone at GDA's experience. I was never a big participant in the arts, but I attend nearly every concert and play put on by our students. Supporting the aspirations of your friends and classmates makes the arts at GDA pretty popular. The students are very talented, and the performances are generally very well run. I truly enjoyed attending performances of all kinds.
Extracurricular Opportunities:
1.) Describe the extracurriculars offered at your school - what did you like most about it?
The best thing about the extra-curricular organizations at GDA is how easy it is to get involved. The students and faculty will back you up in any project you decide to pursue. There is no environment better suited for expanding your interests. There are clubs for almost any interest, and there is always room for more. Mr. Wier, our head of student activities, is always looking for more things to offer the student body. Often times, all it takes is a simple "what if" and before you know it your ideas become a reality.
Dorm Life:
1.) Describe the dorm life in your school - what did you like most about it?
The dorm life at GDA is amazing. Returning to the dorm after a night of studying at the library was one of my very favorite things. The girls in my dorm became so close, and every night when we checked in with the dorm parent on duty we all could just decompress after a long day. Snacks in the common room and taking in our favorite TV shows gave us all time to become a family. Everyone on the dorm teams (dorm parents and proctors) make it their top priority to give students individual attention as well as group bonding.As a freshman, you will most likely live in a double, which is a great first connection to have. As an upperclassman, you can request a single to have some extra space and alone time. In either case, there is never a dull moment in the dorms, and my best memories from my four years at GDA are as a result of my amazing dorm experiences.
Dining:
1.) Describe the dining arrangements at your school.
The GDA dining hall staff would go to the ends of the earth for their students. A few examples: I casually mentioned to a friend a type of cereal I missed, a dining hall staff member overheard and it was there the next week. A friend and I wanted to make an unusual dish as a joke for a commencement committee meeting, and, with the help of about 4 staff members, we had all the ingredients. The door to the kitchen is always open at meal times, and the staff members are there to help.The dining hall is open an hour before class for breakfast, at 11:00 until 1:00 for lunch, and from 5:00 to 7:00 for dinner. There is something for everyone including an ever-changing salad bar, cereal, many hot food options, and sandwich bar. There is also always fresh fruit and bagels for picky eaters. Suggestions are more than welcome, and the staff is always friendly and accommodating.
Social and Town Life:
1.) Describe the school's town and surrounding area.
The nearest town is Newburyport, and it includes some of the students favorite restaurants and shops. There are three trips a day each Saturday and Sunday run by the school vans and the faculty on duty that weekend. Places like "Not You Average Joes," "Andaman Thai," "Starbucks," and more make your shopping trips to town even more enjoyable. GDA is also a short five minute drive from the train station, which can take you directly into Boston for even more options. GDA may seem "in the middle of nowhere" at first, but there are actually many great off-campus options.
2.) Describe the social life at your school - what did you like most about it?
The fact that most of the students live together on campus provides a great deal of time for them to bond. Students see each other at their best and their worst, and as a result they become part of very honest and deep friendships. A good imagination doesn't hurt either-- some of the best times I had with my friends were spent just hanging out on the lawns or playing bocce ball over a cookout. Students all become very close within their groups of friends without getting too exclusive. Getting to know people through sports, clubs, and classes encourages students to socialize in many different circles.
Daily Schedule:
Weekday
7:45 AM
Morning meeting/ Chapel
3:00 PM
Afternoon Activity
Weekend
7:00 PM
Evening activities
The Governor´s Academy was known as Governor Dummer Academy when I applied, and it was still known that way for part of my time as a student there. As such, my classmates and I. . .
One of the main things is that it has a block schedule, which makes it more like a college schedule while you are still in high school. Instead of having. . .
GDA has many unique experiences to offer its students. However, I would say that the best thing about this small school is the people. In the dorms you not only live with your classmates, but. . .
Show more reviews (

5 reviews

)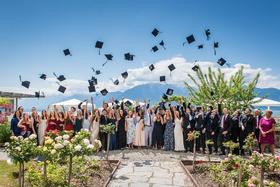 Nurturing Futures: A Journey through Boarding at Haut-Lac School in Switzerland
Nestled in the hills overlooking Lake Geneva in the French-speaking part of Switzerland lies an educational gem that embodies a unique blend of academic excellence, cultural richness and a profound sense of community. Founded over 30 years ago, Haut-Lac International Bilingual Day and Boarding School is now home to both 600 day students and a maximum of 30 boarders from around the world.
Navigating the Modern Maze: Emerging Challenges for Boarding Schools
Explore the pressing challenges facing boarding schools, from marketing difficulties and rising insurance costs to facility maintenance and recruitment of competent trustees and teachers. This article delves into these complex issues and proposes innovative strategies to overcome them.
What To Wear at Your Job Interview
Navigating job interviews can be stressful, but knowing what to wear shouldn't be. Our comprehensive guide covers the essential dress code tips for men and women interviewing at boarding schools. Make your first impression count with style and professionalism.