Reflections and Advice:
1.) What do you think makes your school unique relative to other boarding schools?
Ridley college for the most part was quite similar to most Canadian boarding schools. It did however set itself apart with its extremely diverse community, far more than any other boarding schools i've heard of and even more­so than my university. On top of the diversity of the student body, Ridley was also unique in that it was able to balance extremely rigorous academics, mandatory sport 5 times a week, mandatory volunteer service as well as involvement in the Cadet Corps, making both the students and the institution as a whole extremely well rounded. Because of the diversity of students and activities, everyone was able to find their niche.
2.) What was the best thing that happened to you in boarding school?
I met two of my best friends at the college. I definitely think I matured a lot being at boarding school. Although there were several rules to keep me in place, i felt independent and very in control of my own life. Because I was immersed in the school environment, i certainly think my intellectual development was stimulated much more quickly and that I was also able to broaden my horizons being exposed to everybody's diverse interests.
3.) What might you have done differently during your boarding school experience?
I would have talked to more people. I was certainly on the shy side when i first arrived at the college, but after 2 semesters I started to feel more comfortable and finally got to make real connections with the people around me. I certainly feel like I should have been more outgoing earlier on as I would have made more meaningful connections. I would advise kids going to boarding school not to be shy or anxious as everyone generally gets along pretty well because you have to spend all your time together.
4.) What did you like most about your school?
Above all else, what I loved the most about ridley was the people. For such a (relatively) small school there are so many different types of students, all interested in different things. I made friends with Hockey players who would train 4 hours a day and travel from Wednesday to Sunday nearly every other week, students on the robotics team who would pull all nighters in the workshop before world championships, an rowers who would wake up at 5:00 every morning to get out and practice. Everyone around me was extremely passionate about their interests and I loved that I was able to be constantly surrounded by such amazing people, and that's what made Ridley the most meaningful for me.
5.) Do you have any final words of wisdom for visiting or incoming students to your school?
Everyone will tell you that there are so many opportunities at Ridley, and there really are. What's truly difficult is actually going out and taking advantage of those opportunities. Ridley has so many mandatory activities that many students don't like to take part in the optional things or try something new. I implore you to go out to a random club meeting, I'm certain you'll find passionate students and teachers. If you are able to take hold of all the opportunities that Ridley has to offer, you will not have a more meaningful boarding school experience anywhere else.
Academics:
1.) Describe the academics at your school - what did you like most about it?
The academics at Ridley are absolutely world class. Ridley offers the full IB diploma program, the OSSD or a hybrid of both for upper school students. The teachers are all extremely knowledgeable for the most part, however most have very little experience teaching the IB as it was a relatively new program when I arrived. Furthermore, because Ridley runs two degree programs parallel to each other with the IB program being much smaller than OSSD, IB students were put under a lot of unnecessary pressure, and never really had enough time for their academics due to all the other mandatory activities. To put things in perspective, the IBO expects diploma students to have 50 hours of action over the 2 years of the program, however with Ridley's athletic program, most students have 50 hours within the first three months, and often have well over 200 by the end of the program.
Athletics:
1.) Describe the athletics at your school - what did you like most about it?
Ridley college is by far the most active school in Canada. There are a wide range of competitive sports as well as a "sports for life" program for the non­athletic students. As mentioned above, sports are mandatory 5 times a week, which in my opinion was absolutely preposterous, however as I was in the subset of about 10 students taking the most rigorous course load at the school, I understand that the average student is still able to balance sports with their academics, though many would prefer to spend that time on other extracurriculars.
Art, Music, and Theatre:
1.) Describe the arts program at your school - what did you like most about it?
Ridley had a vary strong theatre program, usually putting on a musical in the fall and a play in the spring. Both shows often won several regional awards, and Ridley had many students win individual awards for outstanding acting. Ridley also has extensive facilities for music, as well as a Jazz band and cadet band for students to participate in.
Extracurricular Opportunities:
1.) Describe the extracurriculars offered at your school - what did you like most about it?
At the college there were a wealth of extracurricular activities to choose from. Activities ranged from debate to curling, hockey to ACTA, and everything in-between. With over a hundred activities and sports to choose from, everyone always found more than a few extracurriculars that they passionately enjoyed. Even better was the fact that a new activity could very easily be created if your favorite past time did not already exist.
Dorm Life:
1.) Describe the dorm life in your school - what did you like most about it?
Ridley was separated into 5 guys houses and 4 girls houses. The house system wasn't any different from what I imagine you would find at most boarding schools. For me, the house felt like yet another of the many organizations I was part of at the college and was another avenue for me to develop a bond with a great group of guys. In many ways, the housing system is much like greek life (considering all positive connotations of the system, and not the inaccurate stereotypes perpetuated in modern cinema). Like fraternities and sororities, your housemates feel like your brothers and sisters. You compete in friendly competitions against other houses, and each house hosts several charity events annually.
Dining:
1.) Describe the dining arrangements at your school.
Ridley dining was catered by Chartwells and all meals are at the great hall. Breakfast was from 7:15 till around 9, lunch from 11:00 till 2 and dinner from 5 till 7:30. Outside of those times, there was really nothing else to eat on campus, which lead a lot of students to order takeout fairly often. To combat this, a late night study snack program was implemented around 3 times a week. Personally, I wasn't too fond of the food in the dining hall as they would often serve the same chicken and rice meal 6 times a week but give it a different name each time.
Social and Town Life:
1.) Describe the school's town and surrounding area.
St. Catharines is a small, quaint, old town. Ridley is right next to downtown St. Catharines, where there isn't much to do, aside from a couple art galleries and bougie restaurants. Since students are under an extremely rigorous schedule at Ridley, the few activities in St. Catharines are usually enough to satisfy people when they want to go out, however most students would rather remain on campus on the weekends.
2.) Describe the social life at your school - what did you like most about it?
Due to the diversity of the student body (with regards to both nationality and interests), its only natural for cliques to form. While social life at the college was a little clique-y, there was no sort of hierarchy or elitism – people just spent most of their time with people they had the most in common with. What I enjoyed most about the social scene was certainly the fluidity of the "cliques". While I spent time with my closest group of friends, I still felt like I was friends with loads and loads of people outside that group. The beauty of social life at the college lies in the fact that our connection as tigers transcended all our differences and allowed us to come together in a way I have yet to observe anywhere else.
School is a special time and place for everyone. It is where we make our first friends and the best of memories. This post on school quotes for kids will help you motivate your little. . .
It had a great sense of community on my first day I felt right at home. Everyone was really welcoming the teachers set out to make sure that we were all well included. The dorms. . .
For me, it was a great experience as a result of a combination of good teachers,mentors and athletics. I graduated 50 years ago and return at least every five years for a class reunion. there. . .
Show more reviews (

3 reviews

)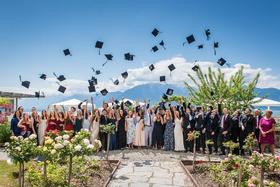 Nurturing Futures: A Journey through Boarding at Haut-Lac School in Switzerland
Nestled in the hills overlooking Lake Geneva in the French-speaking part of Switzerland lies an educational gem that embodies a unique blend of academic excellence, cultural richness and a profound sense of community. Founded over 30 years ago, Haut-Lac International Bilingual Day and Boarding School is now home to both 600 day students and a maximum of 30 boarders from around the world.
What To Wear at Your Job Interview
Navigating job interviews can be stressful, but knowing what to wear shouldn't be. Our comprehensive guide covers the essential dress code tips for men and women interviewing at boarding schools. Make your first impression count with style and professionalism.
Navigating the Modern Maze: Emerging Challenges for Boarding Schools
Explore the pressing challenges facing boarding schools, from marketing difficulties and rising insurance costs to facility maintenance and recruitment of competent trustees and teachers. This article delves into these complex issues and proposes innovative strategies to overcome them.