Reflections and Advice:
1.) What do you think makes your school unique relative to other boarding schools?
One aspect that is unique to Webb is that most teachers have homes on campus. That means that if you have any questions on homework or on an upcoming exam, they often make themselves available to students for extra help. Students can simply walk 2-5 minutes to the teacher's home and get the help they need.Because students and teachers both live on campus, there is a huge opportunity to develop close relationships with the teachers. I still keep in contact with coaches and a couple of my teachers even though I graduated more than 5 years ago. At Webb, teachers essentially become your parents on campus and often go out of their way to help make your experience better. They invite you over to their house to watch sports games on TV or occasionally invite you over to dinner to enjoy a nice home-cooked meal.
2.) What was the best thing that happened to you in boarding school?
Since I am an only child, going to Webb really taught me independence and helped me develop social and leadership skills. I made life-long friends with some of the teachers and enjoy catching up with them and meeting them for meals throughout the year. I believe that Webb helps students become more well-rounded by not only focusing on academics but also encouraging students to try out different sports, art, and extra-curricular activities. No matter who you are, you are bound to find at least one club or activity that you are interested in at Webb.
3.) What might you have done differently during your boarding school experience?
I would participate in as many activities as you can handle that the school offers. It is a great way to make new friends. Also, take advantage of the fact that teachers live on campus. This is advice not only to get extra help on homework or studying, but also to get to know teachers at a more personal level and to develop close relationships where you can rely on them for emotional support as well. The teachers at Webb are very friendly and love when students look to them for help and support. I would also take advantage of the van runs, as they are essentially free rides to the various places around Southern California. If you are new to the area, it can be a great way to explore for little to no cost.
4.) What did you like most about your school?
I loved the people at Webb. The friends I made there are still like brothers and sisters to me now. The teachers I became close to are still mentors that I go to for advice. Everyone at Webb is dedicated towards making your experience enjoyable, fulfilling, and full of learning and happiness. I felt that Webb encourages balance. Students are accepted into top-ranked colleges, not only because they are strong academically, but also because they are well-rounded in extracurricular interests.
5.) Do you have any final words of wisdom for visiting or incoming students to your school?
I would take advantage of the school's paleontology museum and the space observatory. Rarely do other schools have opportunities to work in a renowned museum or have a giant telescope costing hundreds of thousands of dollars to observe the stars.Appleby is the nicest dorm on campus for girls, although it is the farthest away from classes. It is situated between the classrooms and the sports gyms and fields though, so it could be a very good option for athletes.
Academics:
1.) Describe the academics at your school - what did you like most about it?
At Webb, classes are scheduled in a unique way, much like how college courses are scheduled. There are a maximum of 3 classes per day and each class is 80 minute long. I personally enjoyed this type of schedule because there is a break between each class block. For example, on Thursday, between the first and second class, there are advisory meetings where you meet with your advisor with a group of about 5 classmates to discuss how classes are going, how you are managing your time to fit in extracurricular activities, and more generally if you are happy. This break in between classes allows students to decompress after a class and have some time to rest before having to focus in the next class.
Athletics:
1.) Describe the athletics at your school - what did you like most about it?
Most athletics at Webb are not extremely competitive. Since our school has less then 100 students per graduating class, it can be difficult to find phenomenal athletes for every sport. This could be seen as a disadvantage of Webb, but there are also advantages. The sports teams at Webb are very inclusive. Oftentimes, freshmen come in not having any experience in water polo or soccer. They try out for the team and make the junior varsity roster for their first couple of years, but, with the help of dedicated coaches and inclusive teammates, most are able to rise to the varsity level by their third or fourth years. Students are encouraged to try out different sports and to find one that fits their skills.
Art, Music, and Theatre:
1.) Describe the arts program at your school - what did you like most about it?
The facilities for visual arts, music, and theatre at Webb are amazing. They just renovated the theatre and we also had a smaller black box theatre built a few years ago. Each year, Webb theatre students perform several plays that can widely vary. Students have inputs on what types of performances the group would work on. I personally did not participate in theatre, but played flute in the orchestra for 3 years. The teachers are very dedicated to helping individuals improve as well as helping the group as a whole. If you ever need one on one help, teachers make time available for you.
Extracurricular Opportunities:
1.) Describe the extracurriculars offered at your school - what did you like most about it?
There are so many extracurricular activities available at Webb through student-run clubs and community service organizations that I would have a hard time listing them all. Students are encouraged to start clubs that they are interested in and students are able to talk with faculty about any range of extracurricular activities they may be interested in. For example, students began a men's volleyball club during my first year at Webb. Eventually, that club grew large enough that Webb decided to start the very first official men's volleyball team at the school. Since then, it has become very popular and a fairly successful program. There is also a very popular community service council where students have the opportunity to lead a specific community service project such as Amnesty International, senior homes, or helping out at pet shelters. This provides students with leadership opportunities that can teach them a variety of useful skills as well as look good for college applications.
Dorm Life:
1.) Describe the dorm life in your school - what did you like most about it?
I loved dorm life at Webb. You are surrounded by your friends and pseudo-family. Each dorm is lead by at least 2 student resident assistants who are typically seniors and are there to help students if they are having academic, emotional, or adjustment difficulties to dorm life. Each dorm also has a Dorm Head who is a teacher that lives in a home adjoined to the dorm are right next door. Male teachers are in charge of the male dorms and female teachers are in charge of the female dorms. No dorms are co-ed. The teachers make sure that dorms are kept neat and tidy and that all the students are welcome to ask for help or advice if needed. Each student typically has one roommate. I really enjoyed having a roommate who essentially became a sister to me. By senior year, most students have the opportunity to apply for single rooms if they desire. The room selection process is by lottery, but also segmented by seniority. Rising seniors have priority, then rising juniors, and finally rising sophomores. When you first arrive, you are assigned a roommate, but after your first year you can have the option of choosing a roommate.
Dining:
1.) Describe the dining arrangements at your school.
Breakfast, lunch, and dinner is offered Monday through Friday at Webb. Brunch and dinner is offered on Saturdays and Sundays. I thought the food at Webb was pretty good. There are a wide variety of different cuisines offered as the main meals, but there are also the noodle bar, salad bar, soups, and sandwich bars available for students if they decide not to eat the main meals offered. The dining style at Webb is completely open, meaning that dining is included in the tuition, so there is no card swiping system. You simply enter the cafeteria and get in line for food. Cafeteria hours are 7:30-8:30 AM for breakfast, 11:00-1:00 PM for lunch, and 5:00-7:00 PM for dinner.
Social and Town Life:
1.) Describe the school's town and surrounding area.
Near Webb, there are several movie theaters, shopping malls, mountains, and beaches. Webb is located about 30 minutes from Mt. Baldy, which is great for hiking during warmer months and where students can enjoy the snow during the winter months. We are also located just 40 minutes from the closest beach so students that enjoy the ocean can easily access it. During weekends, Webb offers van runs where teachers drive students to pre-listed locations such as the movie theater, Target, or on longer trips to museums or the beach. One of the more popular places for students to go to is a place called The Claremont Village, which has many restaurants and shops. It is located 10 minutes from Webb.
2.) Describe the social life at your school - what did you like most about it?
The social life at Webb was very inclusive. It was not like typical high schools in movies where the seniors dominate campus and there are students who are bullied. The teachers at Webb really help to prevent bullying and most of the students themselves are kind and do not bully others. Since the school is small, students know almost all the other students. This creates a tight-knit community that often provides a second home for students who are far away from their families.
Daily Schedule:
Weekday
3:30 PM
Afternoon activity (sports practice)
Weekend
1:00 PM
Van runs to Target
6:00 PM
Van runs to movies
The classroom setting of a round table discussion instead of lecture based teaching. I believe it really puts the pressure on the student to understand what is going on in the class and bring an. . .
Webb has a clear focus on community and it really shows. When you are a student you become best friends with the faculty and your fellow students, traversing the boundaries of what most schools can. . .
The Webb Schools is unique in many ways different than other boarding schools. One being that it is a boy's school and a girl's school on one shared campus. This allows the freshman and sophomore. . .
Show more reviews (

26 reviews

)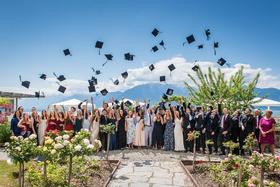 Nurturing Futures: A Journey through Boarding at Haut-Lac School in Switzerland
Nestled in the hills overlooking Lake Geneva in the French-speaking part of Switzerland lies an educational gem that embodies a unique blend of academic excellence, cultural richness and a profound sense of community. Founded over 30 years ago, Haut-Lac International Bilingual Day and Boarding School is now home to both 600 day students and a maximum of 30 boarders from around the world.
What To Wear at Your Job Interview
Navigating job interviews can be stressful, but knowing what to wear shouldn't be. Our comprehensive guide covers the essential dress code tips for men and women interviewing at boarding schools. Make your first impression count with style and professionalism.
Navigating the Modern Maze: Emerging Challenges for Boarding Schools
Explore the pressing challenges facing boarding schools, from marketing difficulties and rising insurance costs to facility maintenance and recruitment of competent trustees and teachers. This article delves into these complex issues and proposes innovative strategies to overcome them.