Reflections and Advice:
1.) What do you think makes your school unique relative to other boarding schools?
Westtown School is a Quaker boarding school located outside of Philadelphia, PA. While that itself doesn't make the school unique, (there are about 15 or so of similar type schools in the area) Westtown is like no other place on earth. The faculty, along with the picturesque setting, make it a place that can't be replicated anywhere else.The teachers at Westtown are so much more than just teachers. Besides the fact that you live with some of them, the faculty at Westtown really takes to heart that they're acting as your parental figure in a lot of cases. But they also seem to know when you need a friend. Year after year, Westtown hires teachers that are knowledgable, caring, fun, and really unique people. There hasn't been a teacher that I had that I don't remember distinctly, not only for the class they taught me, but for the life lessons I learned from them as well.The campus is 600 acres of the most beautiful, natural things you will ever see.
2.) What was the best thing that happened to you in boarding school?
Westtown shaped who I am today. It gave me the knowledge I needed to suceed, and the community support I needed to really find out who I was, and who I wanted to be. It wasn't 14 years of fun, games, and skipping through the flowers, that's for sure. But when I was challenged, I had the support to get through it, and when it was hard, I knew there were people there to support me.Westtown really gave me the tools to become who I am, and that's something that I know most people don't get in high school. I'm really grateful that I did.
3.) What might you have done differently during your boarding school experience?
There are a thousand things I would have done differently throughout my life, but the bottom line is that everything I saw, learned and felt at Westtown influenced who I am today. And who I am today is a happy, successful, well-adjusted college student. I like that, and if changing what I did at Westtown means changing who I am today, I wouldn't do it.
4.) What would you never want to change about your school?
The essence that is Westtown: the emphasis on community, the faculty that's simply amazing, the campus that is gorgeous, and the education that is never-ending. In a way, though it wasn't perfect, I wish it would stay exactly the way it was when I graduated, even though I know it won't. I just want the same Westtown to be there when I go back in 20 years to remember...
5.) What things could be improved about your school?
The biggest challenge I faced at Westtown was an adminstration that didn't want to change. It's not a perfect place, and it could use a lot of changes, but the fact that the headmaster never really listened to students was really a problem for me.
6.) Do you have any final words of wisdom for visiting or incoming students to your school?
The lake is a place on the Westtown campus that isn't utilized as much as it should be. It's serene, and gorgeous, and a place that you can really go to get away.Oh, and if you visit the campus, you'll fall in love with it. Be prepared for that...
Academics:
1.) What did you like best about your school's academics?
They really challenged you to think for yourself, and say what you think. They really set me up with a good base for college. I'm well versed and have an opinion in almost everything that comes up at college, and that could come up in my future. I don't remember a lot of what I learned my freshman year in college, but I can tell you book for book what I read freshman year in high school, because the teachers really made it about me. They really helped us to relate to what we were learning, and so it sticks with me to this day.
2.) What did you like least about the academics in your school?
That there weren't as many AP options as there could have been but since it's a small school, that was understandable.
Athletics:
1.) What did you like best about your school's athletics?
The sense that I really belonged. There is no "jock" crowd at Westtown, because everyone has to participate in athletics there. So, even though I chose the highest level of competition, I never felt excluded from any other aspects of the school life. There's also a lot of support from the students and faculty and school spirit is awesome at times.
2.) What did you like least about the athletics in your school?
The facilities are good, but they could be so much better. An all-weather track would really benefit so many programs. That, and the fact that the uniforms are brown and white. They are the school colors, so it isn't going to change, but man did it get boring...
Art, Music, and Theatre:
1.) What did you like best about your school's art program?
That so many students are involved. The plays are always amazing, and there's such variety and impressive depth to them. The other art facilities are amazing, and much better then most high school's are. In my case, they're better then my college's facilities. And it's open to everyone. It's totally okay for anyone to just go down to the clay room and play around at any time. Thats a freedom that definitely isn't offered everywhere.
2.) What did you like least about your school's art program?
There were almost too many options. I could have spent my whole high school career taking art classes and not taken all the ones I wanted to. It's hard to have such an amazing resource at your finger tips and not be able to access it as much as you want to.
Extracurricular Opportunities:
1.) What did you like most about the extracurricular activities offered at your school?
There is absolutely everything to chose from. There's chess, outing club, drama, philosophy, and absolutely everything in between. And if it doesn't exist, creating it is easy. All you need is the support of a faculty member, and at Westtown, that isn't hard to find. There are so many things to do that are offered by all the different clubs that sometimes you just had to miss something you wanted to do to be able to go to something else.
2.) What did you like least about the extracurricular activities offered at your school?
There just wasn't enough time for all of the clubs. The school offers limited time for them to meet and it's all at the same time. So, while there're a ton of options, being in all of them just wasn't possible. And that was rough, especially as the head of an organization that needed more members...
Dorm Life:
1.) What was the best thing about dorm life in your school?
Living with all my friends. Even though it was segregated by gender, it was still just awesome to have that time to see everyone I liked before I went to bed. And when I woke up, they were right there beside me. It's a constant support from the people who know you best, and you're never alone. You're growing up with other people who are going through the same things that you are. I could spend hours every weekend just sitting on my hall, watching movies, talking to other students, and hanging out with whatever faculty member was on duty. And, as a result of living away from home, my relationship with my parents got so much better. They didn't have to be the enforcers anymore, so I could really see them as parents, who could offer friendship and guidance when I needed it.
2.) What did you like least about dorm life?
The rigid schedule. I got used to it, but it would have been nice if there had been just a little more free time, and a little less forced on-dorm times.Also, privacy is hard to come by. There aren't many places you can go to be alone, which can be great, but at times, I really just wanted to be by myself, and I couldn't. That sucked. But fortunately, those times weren't too frequent.
Dining:
1.) What was the best thing about your dining arrangements?
The dining room was great. Every meal was sit-down, family style, and while sometimes I just wanted to eat and run, some of my favorite memories are meals that started as lunch, and ended as a 3 hour conversation around the table long after the food was eaten. The food wasn't the greatest ever, but there was alway a variety, and always something else to chose from. And the workers in the kitchen were always willing to get you something else if you didn't like what was out there. The focus was really on making sure everyone had enough to eat, and that it was a heatlhy meal. Westtown is also extremely supportive of vegetarians and vegans, and was so a long time before it became popular. It's awesome.
2.) What did you like least about your dining arrangements?
Food can always be improved. It would have been nice to have an alternative to the dining room, that served less-healthy food. Other than that, I never really had many complaints.
Social and Town Life:
1.) How welcome did you feel by the other students when you first arrived at the school
I was at Westtown from age 4 on, starting in Pre-K, but personally, I know that I tried my hardest to make absoluetly every new student feel welcome. Westtown really emphasizes community, and sooner or later, everyone becomes a part of that. There's no way around it, since you live with almost everyone in the school. Eventually, everyone finds where they fit in.
2.) Describe the level of diversity and integration of students in your school:
Westtown is one of the most diverse places on the planet, with one exception: everyone at the school is an amazingly talented, smart person. The students come from all different places, backgrounds and experiences, but the bottom line is that everyone can offer the community something, and everyone is welcome there, no matter what.
3.) Describe typical fun activities you did on a weekend:
Even though it sounds dumb, the thing I miss the most about Westtown on the weekends is being bored. There were always vans to South Street in Philly, or trips to Washington D.C., or a chance to go to the movies, but I had the most fun doing nothing. I'd whine and complain about how bored I was, and then find other people who were doing the same thing. As a result, I had multiple weekends where I'd sit for hours in the dining room or in the hallways, talking to people I wouldn't have otherwise known. I had the most enriching conversations all those Saturday afternoons when I thought I was doing nothing. That was where I got my real Westtown education.
4.) What was the town like?
There isn't a town near Westtown that you can reach by foot, though there were shopping centers that students often walked to. Cars aren't allowed on campus, so that hinders you a lot, but there are always vans on the weekend that could take you into Philly or into West Chester to do whatever you need to do. And day students could stop by and help you escape, as long as your parents gave you full driving permissions. You can do almost anything in Philly or West Chester, so there was never a problem thinking of something to do. The options are endless.
Daily Schedule:
Weekday
9:30 AM
Meeting For Worship
10:30 PM
On Dorm Time, 12:30 Lights Out
Weekend
10:00 AM
Lounge Around/Hang Out on Dorm
12:30 AM
Walk to Westtown Marketplace to Rent Movie/Grocery Shop
2:00 PM
Proctor in Library
4:00 PM
Go to Photography Lab to Develop Film
6:30 PM
Watch Movie on Dorm
9:30 PM
Take Mystery Desert Van into Town
11:00 PM
On Dorm, Lights Out at 1am
Westtown has a beautiful campus. It was beautiful and especially safe to walk around any time of day. Also the style of teaching is very hands on and has small classes, usually with. . .
Small Quaker school, tight group, not so much focused on strong academics as much as creating good individuals in society.. . .
Extremely beautiful campus. It is a Quaker boarding school with wonderful teachers. They require a senior project where students can travel the world. Also encourages volunteer work and has a campus farm. . .
Show more reviews (

41 reviews

)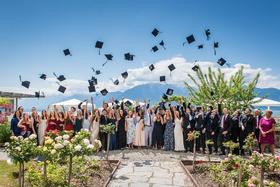 Nurturing Futures: A Journey through Boarding at Haut-Lac School in Switzerland
Nestled in the hills overlooking Lake Geneva in the French-speaking part of Switzerland lies an educational gem that embodies a unique blend of academic excellence, cultural richness and a profound sense of community. Founded over 30 years ago, Haut-Lac International Bilingual Day and Boarding School is now home to both 600 day students and a maximum of 30 boarders from around the world.
What To Wear at Your Job Interview
Navigating job interviews can be stressful, but knowing what to wear shouldn't be. Our comprehensive guide covers the essential dress code tips for men and women interviewing at boarding schools. Make your first impression count with style and professionalism.
Navigating the Modern Maze: Emerging Challenges for Boarding Schools
Explore the pressing challenges facing boarding schools, from marketing difficulties and rising insurance costs to facility maintenance and recruitment of competent trustees and teachers. This article delves into these complex issues and proposes innovative strategies to overcome them.