Reflections and Advice:
1.) What do you think makes your school unique relative to other boarding schools?
What was unique for me about my experience as a student at Delphian was that I was effectively taught some of the most important qualities in life that aren't always common to come across in today's world. Things like leadership, integrity, responsibility, care and tolerance. Basically I learned how to be a good person.A huge part of how Delphian achieved this is through the practical side of their program. While there was, of course, a strong focus on academics, there was also a very strong focus on actual doing and practical activities. Students were given jobs and projects around the school and outside of the school time and time again to really be able to learn from experience and have chances to fail and learn from failures how to succeed.
2.) What was the best thing that happened to you in boarding school?
To me the best thing that happened is that my viewpoint of life was formed in the 5 years that I was there. And the basic viewpoint is that I know I'm capable of creating a life that I want and that I'm responsible for my condition in life, not others. Not sure exactly how to successfully put it into words, but I realized that there's not really any good result from blaming others, but that I can handle things if I take action myself.
3.) What might you have done differently during your boarding school experience?
I would've appreciated the opportunity even more and worked to get even more out of it, but mostly I have no regrets and loved it!
4.) What did you like most about your school?
The lifelong friendships I created with people from all over the country and world.
5.) Do you have any final words of wisdom for visiting or incoming students to your school?
I'd say that if you're not happy with your current educational situation or some aspect of your life, then know that something can be done to fix it and there are people that will do anything they can to help you.
Academics:
1.) Describe the academics at your school - what did you like most about it?
I liked most that I could study at my own pace and that I was expected to evaluate the information for myself and try it out rather than just take what the teacher said without question.
Athletics:
1.) Describe the athletics at your school - what did you like most about it?
Athletics was a huge area of interest for me. Although a PE class was always required, I always did more than the requirement. I was always on a sports team, whatever was available. While I was in school we were never in the top of the league but we were never at the bottom either so we were decently competitive. I loved the team aspect and I was able to practice and learn how to work well with others through sports.
Art, Music, and Theatre:
1.) Describe the arts program at your school - what did you like most about it?
I participated in choir which was very fun. I wasn't very good but was able to greatly improve by the end and was given a chance despite lack of natural talent. I really enjoyed the drama productions I was able to be in (only two done per year) and I wish I had started earlier on those (I only participated my last two years).
Extracurricular Opportunities:
1.) Describe the extracurriculars offered at your school - what did you like most about it?
I loved most how much responsibility in the school the student council is given. So much trust and ownership was placed in the student's hands. I felt we were treated as adults and given real responsibilities. For example, students ran the dorms, students put on and ran weekend activities every weekend, students organized and participated in various volunteer activities in the local community, etc. The list goes on and on.
Dorm Life:
1.) Describe the dorm life in your school - what did you like most about it?
Dorm life was great. In my first year, I was very homesick, but I quickly got over that as I was kept busy. I always found it easy to get the roommate I had requested. Not much to say here, but I had no problems with the dorms.
Dining:
1.) Describe the dining arrangements at your school.
I'm not much of a food person, but the dining room was decent enough. Three meals a day were served with decent variety and snacks were available all the time (some for free and some more options for purchase).
Social and Town Life:
1.) Describe the school's town and surrounding area.
The school is in the middle of no where basically so I loved the beautiful country side views. The closest town wasn't the greatest, but we were often taken on trips to towns a little farther away that were really nice.
2.) Describe the social life at your school - what did you like most about it?
My favorite thing about it is that there were no clicks. There was definitely a wide variety of people with different interests, different cultural backgrounds, different beliefs, etc. but I felt I was able to be friends on some level with everyone there. This was really great for learning to appreciate and understand other cultures and viewpoints other than your own.
Daily Schedule:
Weekday
3:30 PM
first afternoon activity (many options)
4:30 PM
second afternoon activity (many options)
5:00 PM
third afternoon activity (many options)
7:30 PM
possible study hall
8:30 PM
possible student services
Weekend
11:00 AM
possible study hall or student services
2:30 PM
possible study hall
7:00 PM
weekend activity (large variety, sometimes off campus)
What made my school different from other boarding schools was that I was able to move through my program at my own pace. I didn't have to worry about catching up with my class because. . .
The fact that we study for real world application rather than just trying to spit things back out on an exam. This makes the education 10 times more valuable than any other school I have. . .
Here at the Delphian School, all the exams are done one-on-one, where the examiner will ensure that all the student's questions regarding the subject they just studied are solved and answered to satisfaction.The Delphian. . .
Show more reviews (

21 reviews

)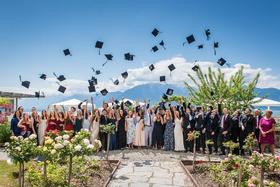 Nurturing Futures: A Journey through Boarding at Haut-Lac School in Switzerland
Nestled in the hills overlooking Lake Geneva in the French-speaking part of Switzerland lies an educational gem that embodies a unique blend of academic excellence, cultural richness and a profound sense of community. Founded over 30 years ago, Haut-Lac International Bilingual Day and Boarding School is now home to both 600 day students and a maximum of 30 boarders from around the world.
Navigating the Modern Maze: Emerging Challenges for Boarding Schools
Explore the pressing challenges facing boarding schools, from marketing difficulties and rising insurance costs to facility maintenance and recruitment of competent trustees and teachers. This article delves into these complex issues and proposes innovative strategies to overcome them.
What To Wear at Your Job Interview
Navigating job interviews can be stressful, but knowing what to wear shouldn't be. Our comprehensive guide covers the essential dress code tips for men and women interviewing at boarding schools. Make your first impression count with style and professionalism.