Reflections and Advice:
1.) What do you think makes your school unique relative to other boarding schools?
I thought it was very unique how my school would pair boarding students with families of day students who lived in the area and attended the school in order to give the boarding students opportunities to get out of the dorm and off campus for activities. I loved the campus as well, it had a very cool college like feel to it.
2.) What was the best thing that happened to you in boarding school?
My year at Darlington really made me come out of my shell and I was in an environment where I knew no one and had to establish myself and that really helped me grow as a person. I found theatre and acting there which has since become my number one passion and I may never have found it had I not signed up for the class to help me be more comfortable with being more extroverted and speaking in front of people versus the introverted shy person I was previously. I felt my academic ability held up despite coming from a public school education and I was proud of that because many of the students there had been in strong private school learning environments all of their lives. Athletically I could have been more committed to being a better athlete I think but the kids there were all very gifted athletes and students in general. The best thing that happened to me at boarding school was meeting all of the beautiful people there and the friends I made for sure.
3.) What might you have done differently during your boarding school experience?
My advice would be not to be afraid to open up and share your experiences with those there, I am certain you will find like-minded people one way or another as long as you are not afraid to let people in to your social circles. I can't think of much else I would've done differently outside of not being so shy to ask a girl out and that has nothing to do with school it just took me time to develop some confidence in that area.
4.) What did you like most about your school?
Overall I just really loved the people and the staff there, everyone was a caring individual who made you feel like you were home despite in my case being over 700 miles away from home. The people made you feel like you belonged and everyone had so many diverse and interesting backgrounds that it was mesmerizing to hear all of their stories. Many beautiful girls attended that school I feel like I fell in love at least 10 times in one year there. I have no complaints whatsoever about the school, I am thankful for the one year I spent there and I had the choice of returning for my senior year of high school but I decided not to because of my mom's financial status at the time I wanted to save the family money and finish up at public school and sometimes I wonder what would have happened had I returned for my senior year.
5.) Do you have any final words of wisdom for visiting or incoming students to your school?
Can't think of any favorite snacks at the snack bar, but the staff is so hospitable there they will treat you right and not be too strict as long as you make good choices while you're there. I encourage everyone to walk around the pond on campus and see the swans, definitely visit the gymnasium, see the courtyard and chapel as well. I was in Bergen House, but I believe the names have changed since I was there, but definitely get a dorm near the courtyard or pond so you have cool scenery, that would be my advice. Bergen House, the dorm I stayed in was right by the pond.
Academics:
1.) Describe the academics at your school - what did you like most about it?
The small classroom size was very helpful and every instructor I had was very knowledgeable and passionate about their subject and interests. I took a few AP classes that prepared me very well for the AP Test where I normally scored a 4/6 or better I believe. Many of the teachers there were very good at keeping my interest engaged in the classroom and there were rarely any disruptions by any of the students and if this ever occurred it was diffused quickly. As a boarding student there was an incentive to make good grades because our Houses or Dorms would compete against one another for a House Cup (much like Harry Potter) and the winner would be determined after each semester based on points in academic performance, philanthropy, disciplinary action and athletic performance. As a boarding student our house director had us do a mandatory study hour every night during the week where all doors had to be open to our rooms and time was to be devoted to our studies with no distractions from TV, video games, etc. There was a competitive environment but it pushed me to want to excel in the classroom and showed that I belong among this talented and privileged individuals.
Athletics:
1.) Describe the athletics at your school - what did you like most about it?
I thought form top to bottom our athletics program was very good especially for the size of the school (around 500 students). We competed against much larger schools at times and fared well. I think there was a sport there for everyone from equine riding to lacrosse to golf and CREW (rowing team). The facilities were top notch there was a new gymnasium completed not long after I got there with a large weight room, pool with diving boards for the dive team, volleyball court, basketball court and dining hall. All of my coaches were great individuals. There was no mandatory participation to be an athlete but all boarding students were required to join a club or sports team to encourage becoming a well rounded individual.
Art, Music, and Theatre:
1.) Describe the arts program at your school - what did you like most about it?
We had a great vocal teacher who helped me be more confident with singing. Our vocal teacher who led the Choir and Musical Theatre program would work hand in hand with our Theatre Director to produce each production. I know there was talk of updating the theatre space but I am not sure if that has happened yet. I felt the school was committed to making the arts program grow but it may not have been as high of a priority as the athletic programs. I found plenty of opportunities to get involved with the arts and it was competitive enough to where roles were not just handed out to whoever showed up, I got turned down a few times and that helped me grow as an actor with the audition process.
Extracurricular Opportunities:
1.) Describe the extracurriculars offered at your school - what did you like most about it?
I know there was a Habitat for Humanity club, a Beta Club and a Camp Counselor training program that a lot of people took part in. There was a club for Rock Band, Classical Music, Video Production, Yearbook, Chemistry Club, Drama Club, Spanish Club, French Club, Japanese Club, and even more I can't think of off the top of my head. We did have to go to Chapel every Wednesday and I remember after Hurricane Katrina hit the Gulf Area, our Headmaster helped fund a trip for volunteers who wanted to help in relief areas down there and I thought that was a real cool opportunity.
Dorm Life:
1.) Describe the dorm life in your school - what did you like most about it?
I enjoyed being able to still stay up and hang out with friends in our dorms on the weekends without having to give up our cell phones which we had to during mandatory study hour each night during the week. I used to get frustrated with having to be in the dorm by 11 pm each night on the weekends but I suppose that's reasonable considering I was a teenager. Night Passes and Weekend Passes were awarded for good behavior and each dorm student was allowed 1 Night Pass and 1 Weekend Pass each semester with the opportunity of earning more over time. Also we did not all just hang out in our dorm, we made efforts to go play sports with kids in other dorms and we always tried to make sure nobody was isolating themselves too often. There were guys from all over the world in my dorm and it was a great experience to learn about their cultures and backgrounds. We did have a personal fridge in our room and a community refrigerator in our day room, but you would have to be watchful and make sure no one stole your food. All rooms were created equal for the most part and there were opportunities to customize the rooms to an extent. 2nd, 3rd and 4th year students were able to pick their roommates but as a first year student you were assigned a random roommate and if you didn't get along the staff would try to see if a switch was possible. It was rare to see anyone switched from one dorm to another dorm unless there was a major problem, we did have one kid get kicked out of school for using drugs on campus and that was really the only major disciplinary problem I can recall besides a few petty fights.
Dining:
1.) Describe the dining arrangements at your school.
I felt our dining arrangements were good but the selection could be sparse on the weekends causing us dorm students to go out for food or order pizza. Our Lunch period would have two different halls serving lunch, one with healthier options and one with more junk food. Needless to say the junk food hall was more popular. The dining staff kept the variety up during the week but there was less staff on the weekends for us dorm students. There were no assigned seats at all and breakfast was optional but available for any student who got to school early or any early birds in the dorms. I can remember some dining options being tilapia, salisbury steak, gourmet burgers, a waffle maker, and a fountain drink dispenser with an assortment of fruit juices.
Social and Town Life:
1.) Describe the school's town and surrounding area.
Rome, Georgia was a small town but it had very scenic routes and everything was easy to find. Their old downtown area had some very unique architecture and cool dinging spots. Belmont College had a very nice sprawling campus to visit in the nearby area. There was also access to some local water spots where we could hang out by the lake. I remember it not being a very hilly area and we only saw snow once during the year I was there and the weather was always great.
2.) Describe the social life at your school - what did you like most about it?
Social life was interesting for a dorm student. There were plenty of opportunities to mingle and mix with the Day Students who lived in the local area, but most dorm students would stick together mostly because we fell under the same rules of being in by a certain curfew. The school hosted plenty of mixers, dances, homecomings, and prom for us to mix with everyone. We were all encouraged to socialize. Our dorms would have ice cream socials where the Guy Dorms and Girl Dorms would come together and we would be able to meet them and get to know them. I have fond memories of the friends and people I met during my time there.
Daily Schedule:
Weekday
7:00 PM
study hall for one hour
Weekend
11:00 PM
curfew time to return to dorm.
We had mandatory after school activities that really pushed me out of my shell as a typically introverted person. I carried varsity letters in baseball with a state championship as a manager and it. . .
I think that Darlington's Extracurricular Programs and our facilities make the school unique relative to other schools. . .
A great "old ivy" type of Boarding School. Was once all male - I was in the last class of Darlington men. Now is coed. I can't imagine going to school and living with girls. . .
Show more reviews (

8 reviews

)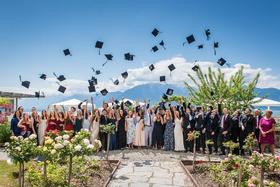 Nurturing Futures: A Journey through Boarding at Haut-Lac School in Switzerland
Nestled in the hills overlooking Lake Geneva in the French-speaking part of Switzerland lies an educational gem that embodies a unique blend of academic excellence, cultural richness and a profound sense of community. Founded over 30 years ago, Haut-Lac International Bilingual Day and Boarding School is now home to both 600 day students and a maximum of 30 boarders from around the world.
What To Wear at Your Job Interview
Navigating job interviews can be stressful, but knowing what to wear shouldn't be. Our comprehensive guide covers the essential dress code tips for men and women interviewing at boarding schools. Make your first impression count with style and professionalism.
Navigating the Modern Maze: Emerging Challenges for Boarding Schools
Explore the pressing challenges facing boarding schools, from marketing difficulties and rising insurance costs to facility maintenance and recruitment of competent trustees and teachers. This article delves into these complex issues and proposes innovative strategies to overcome them.