Proctor Academy - Review #1
About the Author:

College Enrolled
Montana State University
Home Town, State (Country)
Southington, CT
Years Attended Boarding School
2
Activities During Boarding School
I came to Proctor mainly to ski race and go abroad. I was a captain on the Eastern Ski Team, and we had (have) our own ski hill on campus with our own Maintenance staff, we were offered state of the art training 6 days a week. We also got to travel to the French Alps for preseason skiing, the Chilean Alps for summer racing, and many different parts of the USA for racing. Proctor allowed me to get the optimum training and coaching to be able to race in college. I also was involved in Soccer, Lacrosse, Cycling, Guiding Tours, was a Dorm Leader, and was voted by my class to be a part of student leadership. I participated in the two week summer service trip to Cambodia with Proctor, and it was the most eye opening experience of my life. We taught english, built homes, experienced the culture, and traveled Southeast Asia. That following fall, I went on Ocean Classroom with Proctor for the fall semester. I lived on a 136 foot historic wooden schooner (sailboat) with 20 other proctor students and 7 crew members. We studied Marine Science, Maritime Literature, Maritime History, and Navigational Seamanship. We traveled from Glouchester, MA, down the coast to the Carolinas, and then crossed the ocean to St. Croix, USVI where we spent three weeks exploring.
Review

Description

Montana State University

Proctor is unique in way too many ways to describe, but I will name a few. First, you get the opportunity to go abroad in high school! A four year student can have the opportunity. . .

Queen's University

Called teachers by their first names. Had 5 unique abroad programs including Mountain Classroom, Ocean Classroom, Proctor en Segovia, Costa Rica and Euro. Also had learning skills. More of an experiential learning school. . .

Saint Michael's College

Proctor's use of experiential learning really sets it apart from other boarding schools. I took wildlife science and forestry, and we were out in the field many days. As well, I participated in Proctor's Ocean. . .

Endicott

Not a strict dress code, Call faculty members by first name.. . .

Loyola University New Orleans

The two factors that made my experience at Proctor Academy so unique were the incredibly high quality recording studio, and travel abroad programs. As a musician, the recording studio set Proctor apart from all. . .

Show more reviews

(4

reviews)
April 20, 2018
Actually, there is no secret to getting your child into boarding school. Just a lot of hard work and a heavy commitment of time.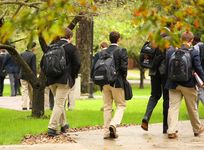 March 22, 2018
Some cynics think single-sex education is old-fashioned. The Kiski School shows how educating boys in a single-sex school is successful.
March 08, 2018
The wide range of fine academic, athletic, and other facilities found in boarding schools underscores the determination of schools to provide the very best for their students.