Reflections and Advice:
1.) What do you think makes your school unique relative to other boarding schools?
Always had small class sizes (15 max). All desks were large round tables or long rectangular tables in the shape of a U which promotes conversation. Called teachers by their first name and many of them were our dorm parents. No uniforms - very relaxed dress code.
2.) What was the best thing that happened to you in boarding school?
I made friends. I improved my academics. I loved everyone there. I am from California so moving to New Hampshire for 4 years had its difficulties but I could never wait to go back after each break. I consider my high school years as my college years. (College wasn't as fun, unfortunately).I took risks - I did ocean classroom and sailing from Mass to Puerto Rico was the most amazing experience.Proctor gave me self-confidence. I never had much before then.It was one of the best choices I have ever made in my life. I wouldn't change it for the world.
3.) What might you have done differently during your boarding school experience?
Not sure what I would have done differently. Maybe try to fit in more fun things? Proctor gives you so many choices of activities and things to do that you really can't fit it all in.I really don't have many regrets during those 4 years. I really lived it large!
4.) What did you like most about your school?
During my time at Proctor, I loved the small community. I guess I just needed to be noticed and appreciated and that is what I got.I think the school has changed over the years but I don't think the caring has changed. The dedication that the teachers and staff have for their jobs and the students is endless.What I didn't mention is that this school is also geared towards those who have some learning disabilities. You can have periods were you go do a "guided study hall" I guess you can call it. And there are tutors and staff there to help with any work you have problems with. You can do it one on one or do it as a group. I don't have any learning disabilities but I did it for the first year or so and just having the extra help and guidance helped give me the confidence that I wasn't "stupid". Didn't need it later in high school. No judgment from anyone if you did it too. It wasn't for "stupid kids" or anything.
5.) Do you have any final words of wisdom for visiting or incoming students to your school?
The campus is beautiful. The students who are accepted are great kids. The teachers care. If you want a fun environment and less strict than most New England boarding schools, Proctor is a great place to be.Go take your tour and ask ALL the questions. I started being a tour guide my first year! I loved Proctor that much that I was always happy to share it with new prospective students. (Also an option to do as volunteer work)
Academics:
1.) Describe the academics at your school - what did you like most about it?
Academics are taught by teachers who love the subject. Because many of them are dorm parents and living with you, you already have a connection with them. They will take the time in class to make sure EVERYONE understand or set up a time to work outside of class. There are also office hours for all the teachers. I loved school before I attended but I was a very average student and failing the subjects that were just too difficult. When I started going to Proctor, I was an A and B student and on effort honor roll throughout my time there. The teachers genuinely care about you. They make the effort to see how each of the students are doing in their classes. At the end of the term when the grades come out, each teacher writes a paragraph or two about how the student is doing and it proves they really pay attention. None of mine seemed generic like they copy and pasted names. I excel in an environment where teachers show they care for you and that they will go out of their way to help you because they really want you to succeed. My academic life improved 10-fold. Diversity is huge. All races, all types of "money". Scholarship students. To be honest, for me, I could care less about any of it. We didn't know who was what or where they came from if they didn't tell you and the majority of us had better things to focus on. Workload is adequate for high school - or at least when I was there. You've got study hall 2 hours a day after dinner/before bedtime and always enough time (or at least I did) to complete all homework and projects. It was a very fair environment.
Athletics:
1.) Describe the athletics at your school - what did you like most about it?
Athletics is required. You have to do at least 2 team sports a year and can choose a third team sport or something else "non-team" for one term. I always did soccer and dance for team and I think I did theater production for the third term - set building maybe? It's been a while! I enjoyed it. I love soccer but with my asthma, it was difficult and I had many, many attacks but my coaches (Sue and Sarah and Doug!) were always around to calm me down and get my breathing under control. Once again, the teacher connection was strong. Sue was my advisor and I did project period quilting with Sue and Sarah). I was very close with both of them and trusted them to take care of me!! For the sports I did, I was always happy with them and had a lot of fun. I will say that boarding school athletics can be intense...Very very competitive!! I wouldn't call myself a super competitive person but I had fun all the same. The different sports and activities were immense - soccer, ice hockey, lacrosse, field hockey, snowboard, skiing, ski patrol, dance, football, golf, theater, theater production, and so many others I didn't get a chance to try.
Art, Music, and Theatre:
1.) Describe the arts program at your school - what did you like most about it?
The theater program is AMAZING. I'd say the arts programs could match up to our sports programs. We had students in theater I would have never guessed would do it. There is no judgment against these "theater people" and always loved! (Just saying in a high school environment, it can get dicey but "arts kids" really didn't have any problems that I know of.)I wouldn't call myself someone who enjoys being on stage - or at least I get ridiculous stage fright but I danced a few musicals and as before, did theater production and helped build sets. I did some dance performances which was a lot of fun. There is just so much talent.I didn't play an instrument (well I did self study guitar for an elective), but band was always really good when they played for the school and their studio is awesome! All arts/music/theater etc teachers definitely overly love their jobs so they definitely try to make you love it too which wasn't a problem for me.
Extracurricular Opportunities:
1.) Describe the extracurriculars offered at your school - what did you like most about it?
There was a lot of activities available. To be honest, everyone just did it all. Some students were actually more involved than others but for the most part, you just did it all either because you had to or it was there to do! Good green program - they ram into you about conservation and it was a huge part of the school atmosphere. A lot of activities surrounded that theme. You have to do a certain amount of volunteer work to graduate so it can be as simple as cleaning white boards for a term or going down the street to work at the elementary school..whatever floats your boat.
Dorm Life:
1.) Describe the dorm life in your school - what did you like most about it?
Dorm life. I enjoyed it a lot! You really start your family there. You do have to learn how to live with others but you get used to it.Dorm parents always had something going on for the dorm whether it be nacho night, game night, movie Sunday. Of course you don't have to join if you wanted to do something else, but it was nice chance for those who may have nothing to do or short on friends for the weekend etc.Dorm parents were always important to me. I was always so close to them - they ARE your parents away from home. They take care of you day and night.I believe the rules got more strict about opposite sex in the dorms but you're in high school - it's fine.
Dining:
1.) Describe the dining arrangements at your school.
The kitchen staff was the best. I was there when Edna was and she loved everyone. She made the best cookies and waffles. They all love the students and would come out and talk to us and really made connections with us.They were open to suggestions on food and I believe there was always lots of options for picky eaters (ME), vegetarians, food allergies etc. Full salad bar. I believe their food is pretty healthy but there was always dessert and some comfort food choices.During my time there, I think the change to healthier food happened. We noticed the nightly tray of french fries happened less and less...There are dining hours but they are appropriately timed (except if you got out of class early before lunch and had to wait.) The only time I had problems was getting out of bed on Sundays and making it to Brunch.. don't know if that has changed.They have built a new dining hall since my time there so there might be different options and more food ideas but I assume their food is still good!
Social and Town Life:
1.) Describe the school's town and surrounding area.
Not much town around Proctor. Just the little town of Andover. I don't know if anything else has popped up but we had the little convenience store across the street and the pizza place which was about a 10 minute walk from campus.On weekend, you could sign up to go to the mall in Manchester if you wanted to but sign up early!
2.) Describe the social life at your school - what did you like most about it?
Because Proctor is a really small school - about 350 or so and less on campus because a bunch of students are always away doing ocean or mountain classroom, Spain, France, Costa Rica, and whatever else they've probably added.You basically knew everyone and sure, there are groups the students formed to as any high school (preps, theater, jocks, etc.) I talked to EVERYONE and mostly got along with everyone. When I was on ocean classroom, you had students from each part of school and there were only like 25 of you so you formed these "non-kosher" relationships. Prep with a loner??? YES.The one thing you do have to watch out for - at least here - is that yes, we were a small boarding school in the middle of nowhere with a bunch of teenagers trying to find things to do so the rumors that when around were absolutely ridiculous! I mean, nobody was left out! Before Proctor, I had my very small group of friends but otherwise unknown. At Proctor, I loved everyone but when it came my turn for a rumor, it had to be the best. I don't remember what it was but I remember just staring at the person who told me and laughed til I cried. I'm talking these rumors were just out of this world. You just laugh until the next one comes out. Never bothered me to the point I had problems and I wasn't mortifyingly affected by it. It's high school.
Proctor is a unique school due to the experiential learning model. This includes a variety of off-campus programs including programs in Spain, France, Costa Rica, and Ocean classroom and mountain classroom. Proctor also owns over. . .
The off-campus programs that Proctor has to offer make it particularly unique in relation to other boarding schools. I was lucky enough to participate in Ocean Classroom, which is an off-campus program where we sail. . .
Proctor is unique in way too many ways to describe, but I will name a few. First, you get the opportunity to go abroad in high school! A four year student can have the opportunity. . .
Show more reviews (

9 reviews

)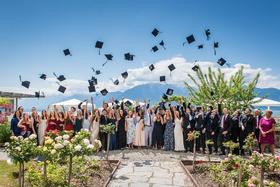 Nurturing Futures: A Journey through Boarding at Haut-Lac School in Switzerland
Nestled in the hills overlooking Lake Geneva in the French-speaking part of Switzerland lies an educational gem that embodies a unique blend of academic excellence, cultural richness and a profound sense of community. Founded over 30 years ago, Haut-Lac International Bilingual Day and Boarding School is now home to both 600 day students and a maximum of 30 boarders from around the world.
What To Wear at Your Job Interview
Navigating job interviews can be stressful, but knowing what to wear shouldn't be. Our comprehensive guide covers the essential dress code tips for men and women interviewing at boarding schools. Make your first impression count with style and professionalism.
Navigating the Modern Maze: Emerging Challenges for Boarding Schools
Explore the pressing challenges facing boarding schools, from marketing difficulties and rising insurance costs to facility maintenance and recruitment of competent trustees and teachers. This article delves into these complex issues and proposes innovative strategies to overcome them.