Reflections and Advice:
1.) What do you think makes your school unique relative to other boarding schools?
A Quaker education Emphasis on applied spiritual values and social justice Education in current areas like climate change, clean energy and LGBT rights.
2.) What was the best thing that happened to you in boarding school?
Although I am not a Quaker, I have absorbed social values that have remained with me throughout my life. They influenced me in my career as a college professor, they shaped my activities as a social activist, and they have had a powerful influence on my role as a husband and a father. Besides my Mom and Dad, it was my Westtown education that has helped to love and care for people. My wife and I have had 42 wonderful years together, and we are both active in our churches. Now that I am retired, the spiritual values that I obtained from Westtown have helped to pass through the changes in my later life.
3.) What might you have done differently during your boarding school experience?
I think I would have taken more advantage of the extracurricular activities.My advice is that you don't adequately appreciate the constructive influences of your family and your school until you have later challenges in life.
4.) What did you like most about your school?
Aside from my parents, it was the most important single formative experience in my life.
5.) Do you have any final words of wisdom for visiting or incoming students to your school?
Westtown has changed significantly in the past 60 years, and it currently offers even more than when I was there. Try to appreciate as much as you can, and try to take advantage of as much as you can, and recognize that joy and sorrow are both vital parts of life. But the most important thing that a school like Westtown can leave you with is a strong intellect, and a strong sense of character.
Academics:
1.) Describe the academics at your school - what did you like most about it?
teachers encouraged class discussions (Teacher Agnes Finnie)in-depth reading and class projects (Master Tom Brown)school-sponsored programs that supported classroom work (Master Al Hay)
Athletics:
1.) Describe the athletics at your school - what did you like most about it?
Emphasis on soccer; no football
Art, Music, and Theatre:
1.) Describe the arts program at your school - what did you like most about it?
I did not participate much in these activities, but they were very extensive.
Extracurricular Opportunities:
1.) Describe the extracurriculars offered at your school - what did you like most about it?
We had winter activities like maple syrup making, and social justice projects like Weekend Work Camp
Dorm Life:
1.) Describe the dorm life in your school - what did you like most about it?
Students interacted with each other in a democratic sense of community.
Dining:
1.) Describe the dining arrangements at your school.
Dining room tables were supervised by a teacher who facilitated discussion. Table seating was rotated regularly. Boys and girls interacted.
Social and Town Life:
1.) Describe the school's town and surrounding area.
We didn't go into town very much, and I didn't mind.
2.) Describe the social life at your school - what did you like most about it?
I was not a very social person at this point.
Daily Schedule:
Weekday
Weekend
Small Quaker school, tight group, not so much focused on strong academics as much as creating good individuals in society.. . .
Westtown has a beautiful campus. It was beautiful and especially safe to walk around any time of day. Also the style of teaching is very hands on and has small classes, usually with. . .
Two aspects of Westtown that stand out in particular are its sense of community, and the education driven towards social change. Its sense of community is in part due to the fact that Westtown is. . .
Show more reviews (

41 reviews

)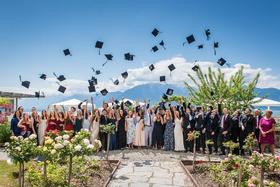 Nurturing Futures: A Journey through Boarding at Haut-Lac School in Switzerland
Nestled in the hills overlooking Lake Geneva in the French-speaking part of Switzerland lies an educational gem that embodies a unique blend of academic excellence, cultural richness and a profound sense of community. Founded over 30 years ago, Haut-Lac International Bilingual Day and Boarding School is now home to both 600 day students and a maximum of 30 boarders from around the world.
Navigating the Modern Maze: Emerging Challenges for Boarding Schools
Explore the pressing challenges facing boarding schools, from marketing difficulties and rising insurance costs to facility maintenance and recruitment of competent trustees and teachers. This article delves into these complex issues and proposes innovative strategies to overcome them.
What To Wear at Your Job Interview
Navigating job interviews can be stressful, but knowing what to wear shouldn't be. Our comprehensive guide covers the essential dress code tips for men and women interviewing at boarding schools. Make your first impression count with style and professionalism.