Reflections and Advice:
1.) What do you think makes your school unique relative to other boarding schools?
I'm sure that the fact that Westtown School is a Quaker school influenced my experience there to a very high degree. There was this strong sense of community all over the place, with frequent events like "Community Dinner", student talent shows and, of course, Meeting for Worship. The school's spirit was very much reflected in its faculty: teachers were not only there to teach, but also to support us and to be our parents.I think it was also because of its Quaker spirit, that there were this very strong values about tolerance and caring in this community. Coming from abroad (Spain), I remember how impressive it was to me the diversity there was at Westtown School in so many different ways (race, sexual orientation and identity, nationality...), and how used to these differences and how to deal with them everyone at Westtown was. Thanks to that, I quickly got adapted and made friends at Westtown, it's like everyone knew how to make people welcome there.
2.) What was the best thing that happened to you in boarding school?
Attending to a boarding school changed the way I see things in many different ways and gave me a sense of responsibility that I think any boarding student understands. Most importantly, it gave me a sense of independence, which I think is really needed if you're going to college.Before boarding school I had never done my own laundry. I had never gone out to buy things I needed in my daily life like toothpaste or shower gel. I didn't know how to iron a shirt either before my year at Westtown. These are all simple tasks I learned there I think they're important in any adult life.
3.) What might you have done differently during your boarding school experience?
I would highly encourage any kid going to a boarding school to go there with an open mind and no fear, since they¡re probably going to find very different people and they'll have to understand that this is not necessarily something bad but something to celebrate and take advantage of to learn new things.If I could change one thing about my experience at boarding school, that would be not to close myself up to other people once I've made a few friends. Especially at the beginning of the year. There was a lot of great people to meet at my school, and some of them were discovered at the end of the year because I was so immersed in this clique I just didn't look outside.
4.) What did you like most about your school?
In one word that would be tolerance and caring. I will never forget how I was welcomed there and the way I was said good bye as well. I felt like my non-american culture and my personality overall had left a mark and made a contribution there. To exemplify that: when I left, on of my friends made me an album of our friend group memories of the year, this album started with sentence written on the first page: It wasn't a year in a lifetime, but a whole life in a year. That's the way I felt there.
5.) Do you have any final words of wisdom for visiting or incoming students to your school?
Westtown school has a very beautiful campus, if you want to get the most out of it, make sure you sign up for Cross Country or just go hiking around every once in a while if you find time, it's worth it. Also, don't be scared to be whoever you want to be there, there's a group of friends waiting for you there.
Academics:
1.) Describe the academics at your school - what did you like most about it?
What most impressed me about academics at Westtown was the huge variety of courses that were offered, compared to what I had been offered in my home country, Spain, before. It felt like you could start choosing your future even before getting into college, and get an insight of what each field of studying was about before actually committing to it.As I said, the fact that it was a Quaker School really made a difference in the School's curriculum, offering courses like "Schooled in Diversity", a social dynamics course where we'd focus on the understanding of the margins-centre social dynamic and how to solve issues like micro-aggressions at schools and other communities.I really liked the fact that everyone in the classroom was invited to participate at pretty much any moment during the class, as teachers encouraged us to and let us know that our contributions were very useful.
Athletics:
1.) Describe the athletics at your school - what did you like most about it?
Sports in general was a pretty big deal for Westtown School: it was mandatory to choose one to sign up for in each season, except if you were a senior, in which case you would only need to do sports in two seasons. No matter what you signed up for, sports were no joke there: I signed up for Cross Country for the fall even though I hadn't done it before. Despite that, I was pushed to get the best out of me, improving my PR by 5 minutes from the beginning to the end of the season.I think that what was very remarkable about sports at Westtown was the sense of unit within every sports team. Captains really focused on making us all feel good and contributing to the team. For instance, after any major swim meet, the captain invited us to his house to have some snacks. The whole swim team really felt like family to me.
Art, Music, and Theatre:
1.) Describe the arts program at your school - what did you like most about it?
Even though I didn't participate in any Visual Arts or Music program, it seemed very impressive to me how developed this program was. Students at Westtown School really had taken advantage of their talents. Several plays, school musicals, dance recitals and concerts were organized throughout the year (about one of any of these events every couple weeks). This program was enriched with the from time to time collaboration of artists from the outside (music performances from alumni, or even from orchestral groups from abroad). It was all very interesting and I could see there was a lot of work behind. I think it was especially remarkable the way students felt supported by their classmates when the were up on stage: we'd really cheer with all of our energy.
Extracurricular Opportunities:
1.) Describe the extracurriculars offered at your school - what did you like most about it?
In my opinion, extracurricular activities in general was a key factor to Westtown School's quality of education. We (the students) were given the choice to try anything we felt interested in in the afternoons and the weekends - the array of extracurricular activities was immense, not only regarding sports but also any other passion a student may have: technology, arts...In my case, I signed up for robotics, since I really enjoy programming and technology in general. I was so amazed by this program since this was something I would never had the chance to do back where I live in Spain. My school there was a day School and had no extracurriculars whatsoever, and all of a sudden, I was at Westtown and I was offered so many things to do it was hard for me to decide. I really liked the extracurricular experience at Westtown and it helped choose the career path I've followed.
Dorm Life:
1.) Describe the dorm life in your school - what did you like most about it?
Dorm life is what made possible for me to make the closest friends I've ever had in my life at Westtown. Since I got to see my classmates at pretty much every moment during the day, it was hard not to start bonding and seeing them as my family (especially since I was living abroad and my actual family was very far away). I can say I've known people at Westtown more deeply than any other friend I'd made before: we'd tell each other anything. There was a feeling of trust and brotherhood.Of course, it wasn't all good: precisely because I had to spend the whole day with the same people, it was hard not to have any "drama" every once in a while. It was never anything too bad, tho it was surely caused by the fact the we had to cohabit in the same building during the whole year.
Dining:
1.) Describe the dining arrangements at your school.
Dining arrangements at my School was pretty informal most of the days: we'd sit in any table we wanted, following an almost non-existant dress code and have any food we wanted from different bars (main courses bar, salad bar, pasta bar...). It was hard not to find anything you liked, though I have to say food's good taste wasn't at all Westtown's specialty.That was dinner for most of the days. However, every Wednesday we'd have what it's called Community Dinner, a dinner arranged for the whole boarding student body to bond. This dinner had a more restrictive dress code and tables were as well prepared more carefully (with flowers and such). We'd sit a bit more mixed than the rest of the days: it wasn't about sitting with our closest friends but about talking to other people as well. I really liked community dinner because of that. Every community dinner concluded with a talent show from either a teacher or a student: playing a song, reading a poem, telling some jokes...
Social and Town Life:
1.) Describe the school's town and surrounding area.
Westtown School was very close to West Chester, a town that could sometimes feel small but which had much to offer if you went every once in a while like me: lots of places to have dinner or brunch at, a couple of movie theatres... I really liked it since it completed the whole "American culture experience for me".Nonetheless, many of the times I'd go out I wouldn't go to West Chester but to other places around that had more to offer, like the mall (King of Prussia), restaurants around, the wood, the house of some friends or even Philadelphia, which I loved to visit.However, all this happened during the weekend, since it was very hard to find some free time at Westtown School during the week.
2.) Describe the social life at your school - what did you like most about it?
As I said before, what I most liked about social life at Westtown is what makes this school more outstanding: the diversity of its people (no matter if part of the faculty or the student body), and the way people there understood this diversity and treated it like something to celebrate and embrace.I felt very supported at Westtown from the moment I got in: I was asked by one of my current friends to sit on a table with him the very first day, and I was introduced to all my dorm mates the first evening I spent there as well. Everyone I met was eager to show me the campus and what was cool about Westtown and what wasn't so much (like food or the fact that the fire alarm tended to randomly go off in the middle of the night sometimes).To sum up, it really took me no effort to get adjusted to Westtown, even though I came from another country and I barely knew anything about the American culture.
Small Quaker school, tight group, not so much focused on strong academics as much as creating good individuals in society.. . .
Westtown has a beautiful campus. It was beautiful and especially safe to walk around any time of day. Also the style of teaching is very hands on and has small classes, usually with. . .
Two aspects of Westtown that stand out in particular are its sense of community, and the education driven towards social change. Its sense of community is in part due to the fact that Westtown is. . .
Show more reviews (

41 reviews

)
Mastering the Boarding School Selection Process: A 5-Step Guide
Discover the ultimate 5-step guide to choosing the perfect boarding school for your child. Explore essential factors, such as academics, campus facilities, extracurricular activities, and more. Make an informed decision to provide your child with an enriching and transformative educational experience. Read now!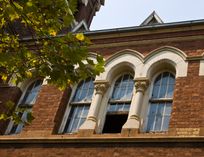 5 Founders and Their Boarding Schools
What prompts somebody to start a boarding school? The motives range from idealism to munificence right on through to capitalism. The common thread seems to be ample capital and a vision of what education can do.