Reflections and Advice:
1.) What do you think makes your school unique relative to other boarding schools?
Westtown's Quaker values are central to the school. Students are treated as members of the community, creating an atmosphere of mutual respect. An example of this is Work Program, a system where all students contribute to cleaning the dorms, serving food, and washing dishes. In addition to emphasizing that we lived in a collaborative community, my experiences in Work Program gave me a greater understanding and respect for kitchen and cleaning staff inside and outside of Westtown. Westtown also has an Opinion Board where any student can post something for the whole community to read and consider as long as they sign their name. Westtown's campus is also very special. Over 600 acres provides students with space to explore, including multiple forests and creeks, a lake that is used for canoeing, picnics, and wildlife spotting, a hidden swamp behind the tennis courts, a mini farm, an arboretum, and a farm stand that sell fresh produce, ice cream, and more. Being able to access quiet and natural spaces makes it possible to take a break from academics and socializing which is essential when everyone lives and works on the same campus.
2.) What was the best thing that happened to you in boarding school?
I joined the Ropes Course/Outdoor Leadership program mainly because I was ready to try something other than soccer and lacrosse and I had friends in the program. That casual decision ended up being one of the best decisions of my life. OL shaped my way of thinking, helped me face my fears, and taught me that I am a leader. I take what I learned there into everything I do and I am braver, stronger, and a better leader because of it.
3.) What might you have done differently during your boarding school experience?
In my final year at Westtown, I tried a lot of new things, interacted more, and ended up finding new skills and new friends. So what I would do differently now would be branching out earlier! My advice, then, is to be open to new experiences and seek out new connections.
4.) What did you like most about your school?
Westtown has a community. Living in that community and being a part of it is a valuable experience that I've never found anywhere else. Even though I have moved on now, the lessons I learned and the people I met will always be a part of who I am.
5.) Do you have any final words of wisdom for visiting or incoming students to your school?
Explore the campus! I particularly love the lake and the tennis court swamp. If it's warm outside, walk to Pete's Produce and get some food to eat on the way back!
Academics:
1.) Describe the academics at your school - what did you like most about it?
The teachers are passionate about their subjects and about teaching. Small classes and the Quaker sense of respect made it possible to develop lasting relationships with teachers. I learned a lot of information, but I also learned ways of thinking and approaching issues and understanding people. Nonviolence and Social Justice with Kevin Eppler is a class that shaped how I want to live my life. Everybody at Westtown works hard - you have to - but the time is not wasted. I got something out of every class.
Athletics:
1.) Describe the athletics at your school - what did you like most about it?
Athletics are open to everyone; while not everyone made the varsity team, if you want to play you will not be turned away. There is a wide range of people playing, from people who want to take sports very seriously and people who just want to have fun.
Art, Music, and Theatre:
1.) Describe the arts program at your school - what did you like most about it?
With such a small school, there are plenty of opportunities to try out a new role in a production. I got involved in tech by chance, but liked it so much that I continued taking on new and bigger roles throughout my time at Westtown. We have a nice theater and scene shop to use and the designers have been getting more and more creative with sets and props. Being in the plays or the musical is offered in the afternoons as an alternative to playing a sport, which makes the time commitment manageable. Playing in Symphonic Band was a great experience for me at Westtown. The band director, Robert Frazier, is a fantastic person who makes practice times fun and entertaining. We also had the chance to compete in the Music in the Parks event every year, which involved performing for the judges in the mornings and then spending the rest of the day at a local amusement park.
Extracurricular Opportunities:
1.) Describe the extracurriculars offered at your school - what did you like most about it?
There are a variety of different afternoon options, including sports, theater, ropes course, gardening, community service, and more. It is required to participate in one each season, which lead me to try new things and find some that I really loved. Clubs were also very present and a lot of people started new clubs if what they wanted didn't exist yet.
Dorm Life:
1.) Describe the dorm life in your school - what did you like most about it?
The room lottery is well organized and I was happy with my rooms both years that I boarded. Living with a roommate and having to stay on top of things like food and laundry was great preparation for college. There was some flexibility in how the rooms were arranged, and people brought couches and decorations to personalize the spaces. Some rooms had loft beds and some had bunk beds.
Dining:
1.) Describe the dining arrangements at your school.
The dining hall has a decent number of options; there's always a main dish, a vegetarian option, a pasta bar, and a salad bar, as well as peanut butter and jelly and fruit. The people who work there are friendly and helpful. The kitchen staff try very hard to listen to student concerns and make changes where they can.
Social and Town Life:
1.) Describe the school's town and surrounding area.
Without a car, you can walk to Pete's Produce or Wawa. With a car, West Chester is very close and offers a lot of stores and restaurants. Westtown organizes trips on the weekends to get off campus, including rock climbing, sports games, service, and more.
2.) Describe the social life at your school - what did you like most about it?
Everyone is on campus, so it is easy to run into people and end up hanging out or knock on somebody's door and go for a walk. I spent a lot of time walking around campus and talking to people, which is a great way to get to know somebody on a personal level. I am still close with a lot of my Westtown friends because the connection was deep enough to last. I went to Westtown for 13 years, so I have some friends whom I have known for that entire time and some that I only met in my last couple of years. The presence of international students also added a lot of diversity of backgrounds and perspectives to the community.
Daily Schedule:
Weekday
4:00 AM
Afternoon activity: sports, theater, etc
Weekend
10:00 AM
Breakfast/homework
2:00 PM
Hiking/exploring the campus with friends
9:00 PM
Dessert/hanging out with friends
12:00 PM
Homework/relaxing
Westtown has a beautiful campus. It was beautiful and especially safe to walk around any time of day. Also the style of teaching is very hands on and has small classes, usually with. . .
Small Quaker school, tight group, not so much focused on strong academics as much as creating good individuals in society.. . .
Extremely beautiful campus. It is a Quaker boarding school with wonderful teachers. They require a senior project where students can travel the world. Also encourages volunteer work and has a campus farm. . .
Show more reviews (

41 reviews

)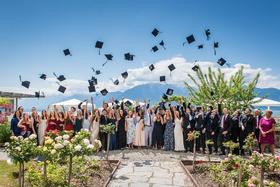 Nurturing Futures: A Journey through Boarding at Haut-Lac School in Switzerland
Nestled in the hills overlooking Lake Geneva in the French-speaking part of Switzerland lies an educational gem that embodies a unique blend of academic excellence, cultural richness and a profound sense of community. Founded over 30 years ago, Haut-Lac International Bilingual Day and Boarding School is now home to both 600 day students and a maximum of 30 boarders from around the world.
What To Wear at Your Job Interview
Navigating job interviews can be stressful, but knowing what to wear shouldn't be. Our comprehensive guide covers the essential dress code tips for men and women interviewing at boarding schools. Make your first impression count with style and professionalism.
Navigating the Modern Maze: Emerging Challenges for Boarding Schools
Explore the pressing challenges facing boarding schools, from marketing difficulties and rising insurance costs to facility maintenance and recruitment of competent trustees and teachers. This article delves into these complex issues and proposes innovative strategies to overcome them.