Reflections and Advice:
1.) What do you think makes your school unique relative to other boarding schools?
I like how the school lets us choose our own classes and activities. The advisors we get are really helpful as well, because they not only tell us to focus on our classes, but also our sport events. I really appreciate weekly advisor meetings because we usually talk about our weekly events, progresses and so.
2.) What was the best thing that happened to you in boarding school?
I loved my boarding school experience because I became more independent. Since my high school's setup is a lot like those of liberal art colleges, so the students got a feel of what college life is at a young age (those who choose to board understand even more). Since high school is a preparatory period for college life, WT did really well on preparing students mentally and physically. We were challenged constantly on academics and creativity. The school wants to develop our interests, which really prepared me for college.
3.) What might you have done differently during your boarding school experience?
I would not have done anything different, because I really enjoyed my time. My advice for kids going to boarding school is to be open but also be careful. Since people at the school range from 14-18, it can be hard to have self control--and that is something you need to practice.
4.) What did you like most about your school?
I liked everything. I really miss high school. There is not a single thing to point out, you just have to experience yourself.
5.) Do you have any final words of wisdom for visiting or incoming students to your school?
Be adventurous, be open, be creative, be observant, be grateful and be respectful.
Academics:
1.) Describe the academics at your school - what did you like most about it?
All the teachers are very supportive of us, and they encourage us to speak of our minds. If we don't do well in the class, they will help us voluntarily after class so that we understand the concepts. The material is challenging, yet totally manageable if we do the assignments. The homework assignments also don't take too much time, and the review sessions are insightful. Since there is no ranking in the school, there is rarely any competition academically. Many classes are offered, but I wish there are more business classes for those who are interested in business (i.e. accounting, finance). WT is a STEM focused school because it offered many science and technology classes, but not as many liberal art classes.
Athletics:
1.) Describe the athletics at your school - what did you like most about it?
I love how we can choose whatever we want to do. But if you do choose the sports you want to do, you have to stick with it. The only sport that our school doesn't have is football because it is too much of a violent sport. Other than that, we have almost all the sports that normal private schools provide. The environment is competitive but only when competing with other school and during tryouts. Even during tryouts, people among the team support each other. The coaches are always there to cheer for us.
Art, Music, and Theatre:
1.) Describe the arts program at your school - what did you like most about it?
I think this is a great area. I am not too familiar with it since I didn't participate too much. However, what I do know is that the teachers in these areas always encourage creativity. The shows are always inspiring, which reflects students' and teachers' ability.
Extracurricular Opportunities:
1.) Describe the extracurriculars offered at your school - what did you like most about it?
Our school requires 40 hours of volunteer work, and also weekly work on campus. The jobs rotate every two weeks, so that every student gets to do at least one different at the school. This is a great way of running the school because we get to really experience the school life.
Dorm Life:
1.) Describe the dorm life in your school - what did you like most about it?
Dorm life is great. There are strict rules, but everyone on the floor is friendly. The freshmen live off the main campus near the tennis courts. Then sophomores, juniors and seniors all live in the main building where the dining hall and the classrooms are. The selection process is quite fair because it is based on a lottery system. Roommates get a number, which indicates the order they can pick the room they want. Food is almost always available in dorms because the teachers live on campus with us, so they sometimes prepare food for us.
Dining:
1.) Describe the dining arrangements at your school.
I like how the staff are all very friendly. I used to work and help in the kitchen, so I know how difficult it is to prepare food for the entire school. Some students complain about the food sometimes, but the kitchen already what they can do at best. The school dinner is usually buffet style except Thursday. Thursday is usually family style, which we were served food by the serving team on job that day. All students have to attend and sign in to dinner on Thursday. The hours are reasonable-breakfast starts 7am, recess is around 10am, lunch is around 12/1pm, dining is usually open before/during sports time, dinner is usually around 5:15pm, and it is opened all the way to 9pm.
Social and Town Life:
1.) Describe the school's town and surrounding area.
There is no town life near us, because we are in the mountains. The closest town is west chester. There is something else nearby, but I can't remember.
2.) Describe the social life at your school - what did you like most about it?
Social life is really chill. It is a lot more lenient nowadays because girls and boys and hang out together. I don't think that was a thing 20-30 years ago. There are no strict rules in terms of interactions among boys and girls, but even if there are, I doubt people follow it.
Small Quaker school, tight group, not so much focused on strong academics as much as creating good individuals in society.. . .
Westtown has a beautiful campus. It was beautiful and especially safe to walk around any time of day. Also the style of teaching is very hands on and has small classes, usually with. . .
Two aspects of Westtown that stand out in particular are its sense of community, and the education driven towards social change. Its sense of community is in part due to the fact that Westtown is. . .
Show more reviews (

41 reviews

)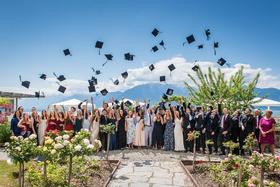 Nurturing Futures: A Journey through Boarding at Haut-Lac School in Switzerland
Nestled in the hills overlooking Lake Geneva in the French-speaking part of Switzerland lies an educational gem that embodies a unique blend of academic excellence, cultural richness and a profound sense of community. Founded over 30 years ago, Haut-Lac International Bilingual Day and Boarding School is now home to both 600 day students and a maximum of 30 boarders from around the world.
What To Wear at Your Job Interview
Navigating job interviews can be stressful, but knowing what to wear shouldn't be. Our comprehensive guide covers the essential dress code tips for men and women interviewing at boarding schools. Make your first impression count with style and professionalism.
Navigating the Modern Maze: Emerging Challenges for Boarding Schools
Explore the pressing challenges facing boarding schools, from marketing difficulties and rising insurance costs to facility maintenance and recruitment of competent trustees and teachers. This article delves into these complex issues and proposes innovative strategies to overcome them.