Reflections and Advice:
1.) What do you think makes your school unique relative to other boarding schools?
The campus, at least in 2001, was set up so you could be in either a dormitory-style building, or a more intimate farm-house settings with as few as 4 other students. The "dorms" had at least one faculty family living in the attached apartment. The campus had so many spaces accessibly to students at any hour, even on the weekends, which made finding places to congregate really easy. The campus is/was a bit of a null spot when it came to cell signal, so hanging out on your phone wasn't really an option. As a result, messages were left on white boards on your bedroom door, or you were running into the dining hall saying "Hey, was Becka here already?" because you had to track people down, or be where you said you would be on time. Your family could only reach you at night in the dorms on the shared phone, which was also kind of nice. I really liked the atmosphere and the intimacy of having only 400 students living there at one time; I knew nearly everyone's name by 3 weeks in. One last neat aspect was a long lunch period during the school day when I was there. It doubled as extra-help time with teachers so you didn't give up your lunch to get additional tutoring. If you didn't need the time for help, you enjoyed being able to soak up the sun, or chat with friends, and sort of reset before the second half of the day.
2.) What was the best thing that happened to you in boarding school?
I figured out who I wanted to be. My parents were in the middle of a nasty divorce and there was substance abuse at home. I had no one to talk to who didn't already know my business in my community. I got to start fresh and not be defined by what my family was going through. I was free to pretend I had confidence, to be a nerd, to openly read and like Harry Potter and all of my friends did too. It was so freeing to not know anyone. Someday, I hope to give back to this school in a big way, because instead of feeling like I didn't have parents in high-school, I felt like I had 20 pair too many. I felt like the structure and the expectations put on me, allowed me to really explore my academic and artistic potential.
3.) What might you have done differently during your boarding school experience?
I would not have given into peer pressure when it comes to sex. I had never kissed a boy when I had gotten to school, and even when I was a senior, I was shocked how many freshmen would come to school boasting about their exploits already. I would advise you to do it because you want to, not because you feel you should have already. And everyone lies about that stuff. It's not important and it says nothing about who you are.
4.) What did you like most about your school?
The strong sense of community. I couldn't wait to go back "home" for the following year's graduation and see everyone.
5.) Do you have any final words of wisdom for visiting or incoming students to your school?
Take a good luck at that hill, because you will be walking up and down it all year long, in rain, snow, and ice. You may think its tough getting used to 6 day school weeks, but you get half-days for two of them, and there is not enough to do around here to fill up a two-day weekend. In the long run, you get out 3 weeks before your home friends, you get three-week vacations on holidays, and you go to school after labor day. Its worth it!
Academics:
1.) Describe the academics at your school - what did you like most about it?
I liked that I was held accountable for my grades. I well and truly sucked at waking up on time, doing my homework properly and on time, and just... caring about how I performed. After my first semester, I still had to attend a day-time study hall period, while everyone else got a free period. I had to go to mandatory supervised evening study hall at the top of the hill (I lived at the bottom), while my roommates got to stay in our room supervised. There were serious incentives to keeping your GPA up, including dress-down days at the end of the trimesters. I learned pretty quickly to make use of the extra help sessions. In my school, it was not cool to be a slacker - being smart, being athletic, being good at theater or music, being funny, being nice... all of these things could make you popular. It wasn't like the school I had come from. There were no "nerds."
Athletics:
1.) Describe the athletics at your school - what did you like most about it?
That a sport was mandatory during the year. I will never forget when I was captain of JV soccer, and a freshman girl, lets call her Mary, was placed on our team as a manager. She was easily 6 feet tall and over 225lbs. You could tell she had no confidence, and felt she could never be the athlete - just the support staff. Well by the end of the season she was playing my position for 2nd string. She came back the next year as a player and was at it teaching the new girls from Korea, who had never played organized sports. It was just such a great atmosphere in the JV girls teams. And because of the mandatory sports, girls that may have been picked on, or lacked confidence, had the opportunity to make friends with older girls, or really popular girls they wouldn't have approached. As far as athletics for college, I'm the wrong girl to ask. For me it was recreational and social.
Art, Music, and Theatre:
1.) Describe the arts program at your school - what did you like most about it?
Our arts program had far surpassed anything I had ever seen before. Our director had us doing plays that were beyond our years, that swapped between serious and comedic every year. In the fall was a play, the winter was a musical, and spring was Shakespeare in the outdoor amphitheater. The WHOLE SCHOOL shows up for every event, and its not mandatory. The seasonal concerts are packed because everyone wants to hear their friends do a cover of Incubus or OAR. Galleries occur every month for local artists, but student artist's work is displayed as it is created, all year long. Everyone becomes an artist of some kind there, because its so inclusive. Are you injured and can't ski for your winter sport? Come do pottery this season. Do you want to be in the musical? No problem, coach will let you go to rehearsal instead of practice. Just... really cool.
Extracurricular Opportunities:
1.) Describe the extracurriculars offered at your school - what did you like most about it?
I didn't do much with this aspect of my school. There was just not enough time in the day to add more to my plate. The school did do "Mountain Day" every fall, when the who school would hike Cardigan mountain and do a photo-op at the top. They would also assign us to different community tasks sometimes, like painting the elementary school's fence, or clearing fallen trees at the bird sanctuary. I never minded.
Dorm Life:
1.) Describe the dorm life in your school - what did you like most about it?
Living with my friends. We had a VCR with only a copy of the Exorcist. I swear to God it was watched about 30 times in just that one year. I liked that if you were bored you could just go visit your friends room and watch Harry Potter on her laptop or listen to music. I liked the rules regarding visits by the opposite sex - as you get older, the rules relax. But as a freshman you can always hang out in common spaces like the student center. I liked the dorm parents too - they were on rotation, so sometimes your math teacher was your supervisor that night, and sometimes it was your soccer coach. There was no room selection - you just put a request for the dorm you'd like, but you didn't know where they put you until move-in day when you collected your key. It was like Christmas.
Dining:
1.) Describe the dining arrangements at your school.
The dining hall was awesome. We had a soft-serve machine. Formal dinners always kind of hated (twice per week at assigned tables), but looking back it afforded me the chance to eat with boys I though were cute that I never would have gotten to sit with. I know, I know. As an aside, I also got a job paying 6.50/hr cleaning dishes in the cafeteria with 3 other friends. We got to skip formal dinner for "work" for the last two years, plus we made spending money which was always awesome.
Social and Town Life:
1.) Describe the school's town and surrounding area.
Honestly, aside from movie trips or Walmart trips, boarders didn't venture the 20 miles to town. The school is isolated, but then again, that's what makes it safe and fun. The campus itself was full of wooded trails and water features. There was a gas-station at the edge of campus that sold hot wings and cookie dough. Everything else we wanted to snack on was available at the town store at the center of campus.
2.) Describe the social life at your school - what did you like most about it?
It was encouraged. There was so much free time built into the school day for tutoring time and teacher meetings, that we always had time to spend with our friends. The campus had many buildings with couches and sitting areas so you never really spent time in the dorms except at night.
At KUA students are encouraged to explore themselves through other means of learning for example exploring a specific scholar program or receiving a Cullman Scholarship. During my time at KUA, I dived into both ends. . .
I feel like the sense of community is like no other at KUA. I graduated nearly 4 years ago, yet I am still in daily contact with at least 15-20 students from my school. It. . .
What is really unique about KUA is that the school keeps the student size relatively small; thus, you can always feel like you're at home. Everyone knows each other and every faculty knows every student's. . .
Show more reviews (

3 reviews

)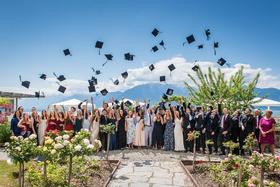 Nurturing Futures: A Journey through Boarding at Haut-Lac School in Switzerland
Nestled in the hills overlooking Lake Geneva in the French-speaking part of Switzerland lies an educational gem that embodies a unique blend of academic excellence, cultural richness and a profound sense of community. Founded over 30 years ago, Haut-Lac International Bilingual Day and Boarding School is now home to both 600 day students and a maximum of 30 boarders from around the world.
What To Wear at Your Job Interview
Navigating job interviews can be stressful, but knowing what to wear shouldn't be. Our comprehensive guide covers the essential dress code tips for men and women interviewing at boarding schools. Make your first impression count with style and professionalism.
Navigating the Modern Maze: Emerging Challenges for Boarding Schools
Explore the pressing challenges facing boarding schools, from marketing difficulties and rising insurance costs to facility maintenance and recruitment of competent trustees and teachers. This article delves into these complex issues and proposes innovative strategies to overcome them.