Reflections and Advice:
1.) What do you think makes your school unique relative to other boarding schools?
The care and attention I received at darlington was amazing. There was no time to be home sick! The day students embraced me as a local and in addition to advanced studies, I learned how to be independent I'm a safe and nurturing environment!
2.) What was the best thing that happened to you in boarding school?
I learned about me as a person. I learned how to get along with people I liked and those I didn't. Sharing responsibility and supporting friends were instilled in me and carried me in to adulthood.
3.) What might you have done differently during your boarding school experience?
I would have gone all four years instead of two. If you truly desire to be successful, boarding school opens many doors and is an experience not to be missed.
4.) What did you like most about your school?
I was a legacy student but my dad had been a day student, not a dorm student. The traditions are longstanding at darlington and we now we both share them--very cool!
5.) Do you have any final words of wisdom for visiting or incoming students to your school?
Just be you! There's a natural direction for anyone at darlington. .. find your people and know that you will probably still be friends for years to come!
Academics:
1.) Describe the academics at your school - what did you like most about it?
Moving from public school to the high standards at darlington was scary. I learned how to study and felt more prepared for college. The advisors and teaching staff made sure I always had help of I needed it and gave me stretch assignments when needed.
Athletics:
1.) Describe the athletics at your school - what did you like most about it?
I like watching them all! I wasn't very athletic myself so they kindly allowed me to participate in other ways. The team spirit and camaraderie were inspiring. I still go back for games as often as I can!
Art, Music, and Theatre:
1.) Describe the arts program at your school - what did you like most about it?
Staff was qualified and pushed us to do our best. My experience with the band and theatre showed quality instruction and talented teachers.
Extracurricular Opportunities:
1.) Describe the extracurriculars offered at your school - what did you like most about it?
Loved being on yearbook staff! There were a wide choice of options to choose from and it was hard to pick just one!
Dorm Life:
1.) Describe the dorm life in your school - what did you like most about it?
Our dorm mom's and dad's were great. They allowed us our own time to grow but we're very supportive if we preferred just hanging out with them. Being an RA gave me great leadership experience and readied me for college.
Dining:
1.) Describe the dining arrangements at your school.
I knew my food was well balanced. School dietitian was around at every meal. Lots of choices and tasty!
Social and Town Life:
1.) Describe the school's town and surrounding area.
Rome is a great town with some fun things to do. It's also close enough to Atlanta or Chattanooga for a quick trip to bigger malls or chain restaurants. We all had a sponsor family which gave us another chance to have that family nearby even if our real family wasn't.
2.) Describe the social life at your school - what did you like most about it?
We always had things going on. Weekends had choices of trips or events and the staff encouraged impromptu outdoor games or gatherings. Birthdays celebrations were special too!
We had mandatory after school activities that really pushed me out of my shell as a typically introverted person. I carried varsity letters in baseball with a state championship as a manager and it. . .
I think that Darlington's Extracurricular Programs and our facilities make the school unique relative to other schools. . .
A great "old ivy" type of Boarding School. Was once all male - I was in the last class of Darlington men. Now is coed. I can't imagine going to school and living with girls. . .
Show more reviews (

8 reviews

)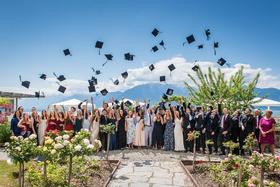 Nurturing Futures: A Journey through Boarding at Haut-Lac School in Switzerland
Nestled in the hills overlooking Lake Geneva in the French-speaking part of Switzerland lies an educational gem that embodies a unique blend of academic excellence, cultural richness and a profound sense of community. Founded over 30 years ago, Haut-Lac International Bilingual Day and Boarding School is now home to both 600 day students and a maximum of 30 boarders from around the world.
What To Wear at Your Job Interview
Navigating job interviews can be stressful, but knowing what to wear shouldn't be. Our comprehensive guide covers the essential dress code tips for men and women interviewing at boarding schools. Make your first impression count with style and professionalism.
Navigating the Modern Maze: Emerging Challenges for Boarding Schools
Explore the pressing challenges facing boarding schools, from marketing difficulties and rising insurance costs to facility maintenance and recruitment of competent trustees and teachers. This article delves into these complex issues and proposes innovative strategies to overcome them.