Reflections and Advice:
1.) What do you think makes your school unique relative to other boarding schools?
This school is grounded in making their students thoughtful, socially aware, kind, able to think critically, be outstanding and productive citizens. High expectations and help to get there.
2.) What was the best thing that happened to you in boarding school?
I grew up and gained confidence in myself and also became self-disciplined enough to succeed professionally in the world and make a huge difference in many lives as a caring competent nurse-midwife, delivering close to 3000 babies.
3.) What might you have done differently during your boarding school experience?
I was very shy and I took a long time to realize that these fellow students were kind, caring, and in a way, as close as my family. We still stay in close touch and look forward to our yearly alumni day.
4.) What did you like most about your school?
The fact that it was a quality Quaker school, not teaching us dogma, but critical thinking skills and helping to shape our characters.
5.) Do you have any final words of wisdom for visiting or incoming students to your school?
It is competitive, so if you get in, you can be assured of a caring thoughtful community and rigorous academic standards that help build character and skills to take you successfully through your life. It also eased the teenage angst and anger and rebellion I felt with my home life, and boarding at the school improved my relationships with my family. I really cannot say enough good about this school.
Academics:
1.) Describe the academics at your school - what did you like most about it?
Very high expectations. I could not be lazy. Striving for achievement because of the difference we can make in the world if we are both competent and kind.
Athletics:
1.) Describe the athletics at your school - what did you like most about it?
I was on the archery team. Loved it. Liked tennis. Did not so much love field hockey or lacross. I understand the boys basketball team is world class now. Track and field, soccer,baseball were all popular and competitive.
Art, Music, and Theatre:
1.) Describe the arts program at your school - what did you like most about it?
This has produced world class artists, actors, singers.
Extracurricular Opportunities:
1.) Describe the extracurriculars offered at your school - what did you like most about it?
Tutoring disadvantaged local kids. I particularly liked the Religious Life Committee (Quaker). Westtown sent a few buses of well chaperoned students to the famous March on Washington where Martin Luther King Jr. gave his famous, "I Have A Dream" speech.
Dorm Life:
1.) Describe the dorm life in your school - what did you like most about it?
It was great! I did not have my parents yelling at me to clean my bedroom or do chores. I did have chores assigned to me by the school, but I was happy to do them as it contributed to school life. I had good roommates and never had any problems with anyone on my dorm. I made wonderful friends who are still close.
Dining:
1.) Describe the dining arrangements at your school.
There is a dining room that serves very good food. They are socially conscious and green at this school. The food is good and there is plenty. Plenty for vegans, gluten free, special diets, etc. When I was there, it was assigned seating which changed each month so we would see a diversity of faculty and students. A faculty member sat at each table and ensured that all of us practiced exquisite manners. The leftovers went to a local pig farm, where the pigs dined well.
Social and Town Life:
1.) Describe the school's town and surrounding area.
It was in a rural community, now it is very suburban. The nearest town is West Chester, a couple of miles away which is rated as one of the best college towns in the US.
2.) Describe the social life at your school - what did you like most about it?
We had dances, gatherings of all sorts, movie nights, speakers, famous and semi-famous alumni who spoke, sang danced or gave us talents. Thought provoking speakers who spoke on social, political, religious issues. David Eisenhower and Julie Nixon came to a movie night, as Susie Eisenhower was a student there. Her Grandfather Dwight Eisenhower came to the school in his helicopter and I remember speaking to him and shaking his hand.
Small Quaker school, tight group, not so much focused on strong academics as much as creating good individuals in society.. . .
Westtown has a beautiful campus. It was beautiful and especially safe to walk around any time of day. Also the style of teaching is very hands on and has small classes, usually with. . .
Two aspects of Westtown that stand out in particular are its sense of community, and the education driven towards social change. Its sense of community is in part due to the fact that Westtown is. . .
Show more reviews (

41 reviews

)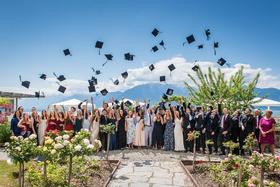 Nurturing Futures: A Journey through Boarding at Haut-Lac School in Switzerland
Nestled in the hills overlooking Lake Geneva in the French-speaking part of Switzerland lies an educational gem that embodies a unique blend of academic excellence, cultural richness and a profound sense of community. Founded over 30 years ago, Haut-Lac International Bilingual Day and Boarding School is now home to both 600 day students and a maximum of 30 boarders from around the world.
Navigating the Modern Maze: Emerging Challenges for Boarding Schools
Explore the pressing challenges facing boarding schools, from marketing difficulties and rising insurance costs to facility maintenance and recruitment of competent trustees and teachers. This article delves into these complex issues and proposes innovative strategies to overcome them.
What To Wear at Your Job Interview
Navigating job interviews can be stressful, but knowing what to wear shouldn't be. Our comprehensive guide covers the essential dress code tips for men and women interviewing at boarding schools. Make your first impression count with style and professionalism.