Reflections and Advice:
1.) What do you think makes your school unique relative to other boarding schools?
Westtown was like a big family. Every student had a work job (chore) which must be performed daily and your dorm room was like home. Everyone was on the honor system and you felt safe when in your room and when on the school's campus. I loves those aspects of campus life which taught you mutual responsibility and respect.
2.) What was the best thing that happened to you in boarding school?
I appreciated meeting people from all over the country/world and sharing a common experience. Westtown is a Quaker school, and for this Baptist girl, the exposure to a different way of Worship was an eye opener for me. I loved the history of Quakerism and to this day appreciate all they have contributed to our nation's history. Westtown was a part of the Underground Railroad and seeing where they hid runaway slaves in the basement of the school's main building was truly history come alive for me.
3.) What might you have done differently during your boarding school experience?
I would not have done anything differently. Westtown was a wonderful experience.
4.) What did you like most about your school?
The world that it exposed me to and the requirement that I experience many things, from work jobs, to reading about the world (Newsweek, Time and The Atlantic were required reading) to the opportunity to participate in the arts. Westtown was a wonderful place for me and I can't imagine any student would not excel there.
5.) Do you have any final words of wisdom for visiting or incoming students to your school?
Ask questions of current student. They will let you know what a fantastic place Westtown is.
Academics:
1.) Describe the academics at your school - what did you like most about it?
Before arriving at Westtown, I earned A's at my public school with almost no effort, but I found I actually had to study to achieve the same grades at Westtown. This was a challenge for me and I appreciate that in that it prepared me well for college. And for the first time, I appreciated history which was taught beautifully by my American History teacher.
Athletics:
1.) Describe the athletics at your school - what did you like most about it?
I had always been a physically athletic person, and I liked that sports was mandatory. I learned to swim as a child, so being on the swim team was a natural. But I had never played field hockey or lacrosse and learned to love both in my three years at Westtown. I left with a Varsity letter in Lacrosse and a JV letter in Field Hockey.
Art, Music, and Theatre:
1.) Describe the arts program at your school - what did you like most about it?
I loved that even though I was extremely shy I was able to participate by being a member of the chorus and also behind the scenes in makeup and set building.
Extracurricular Opportunities:
1.) Describe the extracurriculars offered at your school - what did you like most about it?
Again, there was never a time of day where there was not some activity you could take part in. From sports to theater and chorus, things like pottery. I'm sure there is more diversification since I was a student many decades ago.
Dorm Life:
1.) Describe the dorm life in your school - what did you like most about it?
I liked the family atmosphere. No locks on dorm rooms and the element of mutual respect that existed.
Dining:
1.) Describe the dining arrangements at your school.
Again, the family atmosphere. Meals were required and meals were served family style at assigned tables which rotated every three weeks. You got to know many more students that way which ensured students did not just keep to their own cliques.
Social and Town Life:
1.) Describe the school's town and surrounding area.
Westtown is about 5 miles outside West Chester and the isolation was good for focus. I do know the area has grown and expanded since I was there so what it was like 40 years ago is probably not relevant today.
2.) Describe the social life at your school - what did you like most about it?
Again, probably not relevant today as I was a student 40 years ago.
Small Quaker school, tight group, not so much focused on strong academics as much as creating good individuals in society.. . .
Westtown has a beautiful campus. It was beautiful and especially safe to walk around any time of day. Also the style of teaching is very hands on and has small classes, usually with. . .
Two aspects of Westtown that stand out in particular are its sense of community, and the education driven towards social change. Its sense of community is in part due to the fact that Westtown is. . .
Show more reviews (

41 reviews

)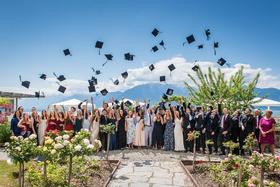 Nurturing Futures: A Journey through Boarding at Haut-Lac School in Switzerland
Nestled in the hills overlooking Lake Geneva in the French-speaking part of Switzerland lies an educational gem that embodies a unique blend of academic excellence, cultural richness and a profound sense of community. Founded over 30 years ago, Haut-Lac International Bilingual Day and Boarding School is now home to both 600 day students and a maximum of 30 boarders from around the world.
What To Wear at Your Job Interview
Navigating job interviews can be stressful, but knowing what to wear shouldn't be. Our comprehensive guide covers the essential dress code tips for men and women interviewing at boarding schools. Make your first impression count with style and professionalism.
Navigating the Modern Maze: Emerging Challenges for Boarding Schools
Explore the pressing challenges facing boarding schools, from marketing difficulties and rising insurance costs to facility maintenance and recruitment of competent trustees and teachers. This article delves into these complex issues and proposes innovative strategies to overcome them.