Reflections and Advice:
1.) What do you think makes your school unique relative to other boarding schools?
The horse department at Thacher is both unique and outstanding. Unique because the school strives to keep the cowboy culture alive with over 100 horses and a fully outfitted western riding center. It is outstanding because this program teaches students responsibility, cooperation, and ultimately offers a life-long bond between man and beast.
2.) What was the best thing that happened to you in boarding school?
I have learned so much responsibility and independence through my experiences at Thacher.
3.) What might you have done differently during your boarding school experience?
Don't be afraid to reach out for help. The faculty and staff are there to help you learn and grow- use them!
4.) What did you like most about your school?
How unique a school it is. I always thought I would end up at a big high school with lockers and bells, but the reality was so much better.
5.) Do you have any final words of wisdom for visiting or incoming students to your school?
Buy cake mix from the student store- it's a great and quick way to do something for a friend who has a birthday! And you can get eggs and oil from the dining hall.
Academics:
1.) Describe the academics at your school - what did you like most about it?
The most impactful and important part of Thacher academics is the teachers. Nearly all teachers live on campus and are always willing to have you over to their house to help you edit an essay, craft a hypothesis, or work through a particularly challenging calculus problem. They are also extremely understanding of personal issues and offer individual help for students who may learn in specific ways.
Athletics:
1.) Describe the athletics at your school - what did you like most about it?
I enjoyed that you can choose riding as a sport. I competed on teams and worked individually with my horse every afternoon for 4 years.
Art, Music, and Theatre:
1.) Describe the arts program at your school - what did you like most about it?
The chamber singers choral group that I sang in sang in many concerts and competitions all over Southern California. We also toured to Italy and Cuba, singing with local choirs, in churches, and with music schools.
Extracurricular Opportunities:
1.) Describe the extracurriculars offered at your school - what did you like most about it?
Very large variety of extra curricular activities- community service, sports, horseback riding, camping program.
Dorm Life:
1.) Describe the dorm life in your school - what did you like most about it?
You bond so much with your dorm mates- they become your family. Also, having dorm heads is like having a built in mom or dad while you're away from school.
Dining:
1.) Describe the dining arrangements at your school.
Fresh fruit for breakfast every morning, local and organic options for all meals, food grown at the school.
Social and Town Life:
1.) Describe the school's town and surrounding area.
Town buses offer the opportunity to go into town 3 times a week to shop, get lunch, go to the farmers market, or just hang out with friends.
2.) Describe the social life at your school - what did you like most about it?
Events every weekend night and social time every school night.
Thacher's community on campus is unlike any other, connections at the school go beyond merely knowing every student's name but having had interacted closely with everyone whether on a camping trip, in the dining hall. . .
You cannot mention Thacher without talking about the horse program; each freshman is required to take care of and ride a horse for the first year of high school. I rode all four years and. . .
One thing that makes Thacher unique are the opportunities to form close, meaningful relationships with teachers and its commitment to helping students grow personally as well as academically. Whether it's out in the Domelands wilderness. . .
Show more reviews (

23 reviews

)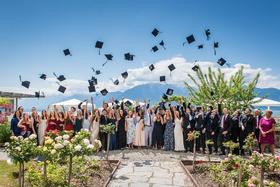 Nurturing Futures: A Journey through Boarding at Haut-Lac School in Switzerland
Nestled in the hills overlooking Lake Geneva in the French-speaking part of Switzerland lies an educational gem that embodies a unique blend of academic excellence, cultural richness and a profound sense of community. Founded over 30 years ago, Haut-Lac International Bilingual Day and Boarding School is now home to both 600 day students and a maximum of 30 boarders from around the world.
What To Wear at Your Job Interview
Navigating job interviews can be stressful, but knowing what to wear shouldn't be. Our comprehensive guide covers the essential dress code tips for men and women interviewing at boarding schools. Make your first impression count with style and professionalism.
Navigating the Modern Maze: Emerging Challenges for Boarding Schools
Explore the pressing challenges facing boarding schools, from marketing difficulties and rising insurance costs to facility maintenance and recruitment of competent trustees and teachers. This article delves into these complex issues and proposes innovative strategies to overcome them.