Reflections and Advice:
1.) What do you think makes your school unique relative to other boarding schools?
The tight knit community is a really rare quality at high schools in general but especially boarding schools. The relationships with teachers and students is so close and the fact that there is very few drugs and alcohol eliminates secrecy between administration between students. The aspect of riding, although not a central part of every students life after their first year, is a central part of the schools culture and western roots. There are endless opportunities for camping, community service, and although this could be seen as a negative, trying new sports. Thacher is not know for its athletics, however this allows students opportunity to do sports for fun with friends and those experiences have been some of my favorite.
2.) What was the best thing that happened to you in boarding school?
The best thing that happened to me was becoming senior class president and really taking control of my senior year in a unique way. Although I was always social and outgoing I never saw myself as a leader and Thacher I can say made me into one which is really special.
3.) What might you have done differently during your boarding school experience?
I would have been more open minded and become friends with more different types of people because Senior year I became friends with so many people I should have earlier. I would just say that Thacher is what you make of it. It offers to many opportunities and you can get through it, but you will have so many regrets if you don't take what it has to offer.
4.) What did you like most about your school?
What I liked most about my school was the genuine friendships I made that have gotten me through so much. The close relationships with teachers and the overall memories the school provided me with that I will remember and tell forever.
5.) Do you have any final words of wisdom for visiting or incoming students to your school?
My favorite place on campus is the observatory because you can see the entire city and the valley as a whole. When you are a junior or senior try to be in Sespe because it was just built and is by far the nicest dorm on campus.
Academics:
1.) Describe the academics at your school - what did you like most about it?
I loved the small classroom environment and the round table discussions. I also enjoyed the opportunity to chose your classes with age because although you were required to take a history course you could choose which history that would be. The faculty is definitely lacking diversity which the school is fully aware of and trying desperately to change. The workload at times was crazy specifically junior year if you decide to take a lot of AP courses.
Athletics:
1.) Describe the athletics at your school - what did you like most about it?
I loved the athletic programs at my school for the most part because it was so fun. If you made the Varsity team there was still a competitive nature, but without questions academics always came first and therefore the coaches were really flexible. Some of my favorite memories were playing JV Volleyball where no one knew what they were doing but since I was with all my friends it was so fun.
Art, Music, and Theatre:
1.) Describe the arts program at your school - what did you like most about it?
I wasn't too involved in the theater aspect of the school because I was really invested in sports. I was in one musical production of high school musical that was directed by students and was one of the most hilarious things i have done at Thacher. I had such a fun time and it was really relaxed but it also wasn't an official school production.
Extracurricular Opportunities:
1.) Describe the extracurriculars offered at your school - what did you like most about it?
The school offers a lot of independence with its clubs and organization while still being very supportive both financially and emotionally. The school helped me tremendously with events to promote the clubs I was apart of along with the event planning committee I was a part of. I did community service all of my years at Thacher and I can't think of a student who didn't particpate for at least one trimester. The school makes the timing really convenient and a choice at what service you want to do. You also get to chose the times you do the service which means that you can really plan your own day.
Dorm Life:
1.) Describe the dorm life in your school - what did you like most about it?
The female dorms at this school are unbelievable. They are all relatively new and are amazing to live in. A tremendous amount of washers and dryers, bathrooms on every floor and showers. Heaters are in every room and installed fans in some. The insulation is amazing for the most part and therefore you can keep your room fairly clean. The dorms are divided by grade and gender expect for juniors and seniors which are combined. In all the underclassman dorms there are prefects aka seniors that live in the dorm who are their proctors and check them in at night and act as a support system. My prefect my freshman year was amazing and we still talk all the time. Freshman year everyone gets a single and then you can chose whether you want a roommate ( and who that is) or a single.
Dining:
1.) Describe the dining arrangements at your school.
Our school has amazing food and the people who work in our kitchen are so accomidating to dietary restrictions and overall so willing to help make foods for events. Literally if you email the head of the dining hall asking for fresh cookies or ingredients for a cake or something he will respond within a day and almost always say yes. I am vegan and they would make me personal meals almost every night, they would ask me what I wanted and what foods I liked. The one annoying thing which they are trying to fix is that on the weekends after 1:30 the dining hall closes until dinner and as someone who snacks that was really difficult. During the week there is always a salad bar, a berry bar (during breakfast), a bagel/toast bar, a soup, and a panini bar. On the weekends there is also a waffle machine. A benefit that all freshman enjoy is the ice cream machine which is open at all hours everyday.
Social and Town Life:
1.) Describe the school's town and surrounding area.
The town of Ojai is really cute has a lot of good food and stores. It is also really close to Santa Barbara and Ventura and there is a bus that you can take. There are buses throughout the weekend and on Wednesday to take you to town and if not you can ask pretty much any teacher to take you and they will because its so close. There is also Uber incase you want to go into town for dinner. Only day students can drive and they can't drive boarders so that's why it is not super convenient to go to town all the time. I found myself busy enough that I only really went on the weekends to get food.
2.) Describe the social life at your school - what did you like most about it?
The social life a this school is one of my least favorite aspects and also my favorite because it is so small. This means that everybody knows everybody's personal information. I have made friends that I know I will talk to for the rest of my life without a doubt. Although I personally am extremely social, I did see kids who didn't go out as much still have a strong social life in the dorm. There are really strong relationships between boys and girls in the class. However, there were also kids who struggled socially because they were allowed to go into their friends rooms because they were girls or visa versa. You can only go into the common room where the kitchen is with the opposite gender and I have heard of few people that would sneak people into rooms its just not the culture. Which brings up the issue of the gender at Thacher which is that Thacher doesn't have experience with transgender students and is traditionally in the way it looks at gender. The environment is very liberal however the institutions age makes it traditional which can cause conflict between the students and administration. For example, the dress code raised a lot of questions about gender and challenge the school to update its current methods.
Thacher's community on campus is unlike any other, connections at the school go beyond merely knowing every student's name but having had interacted closely with everyone whether on a camping trip, in the dining hall. . .
You cannot mention Thacher without talking about the horse program; each freshman is required to take care of and ride a horse for the first year of high school. I rode all four years and. . .
One thing that makes Thacher unique are the opportunities to form close, meaningful relationships with teachers and its commitment to helping students grow personally as well as academically. Whether it's out in the Domelands wilderness. . .
Show more reviews (

23 reviews

)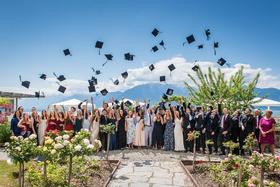 Nurturing Futures: A Journey through Boarding at Haut-Lac School in Switzerland
Nestled in the hills overlooking Lake Geneva in the French-speaking part of Switzerland lies an educational gem that embodies a unique blend of academic excellence, cultural richness and a profound sense of community. Founded over 30 years ago, Haut-Lac International Bilingual Day and Boarding School is now home to both 600 day students and a maximum of 30 boarders from around the world.
What To Wear at Your Job Interview
Navigating job interviews can be stressful, but knowing what to wear shouldn't be. Our comprehensive guide covers the essential dress code tips for men and women interviewing at boarding schools. Make your first impression count with style and professionalism.
Navigating the Modern Maze: Emerging Challenges for Boarding Schools
Explore the pressing challenges facing boarding schools, from marketing difficulties and rising insurance costs to facility maintenance and recruitment of competent trustees and teachers. This article delves into these complex issues and proposes innovative strategies to overcome them.