The Thacher School - Review #1
About the Author:

College Enrolled
Pitzer College
Home Town, State (Country)
Bend, OR
Years Attended Boarding School
1
Activities During Boarding School
Varsity LAX, Varsity Basketball, JV Volleyball, Riding, Spring Sing ( musical), Spectrum Club (LGBTQ+), Gender Equality Club Head, Senior Class President, Indoor Committee (event planing).
Review

Description

Pitzer College

The tight knit community is a really rare quality at high schools in general but especially boarding schools. The relationships with teachers and students is so close and the fact that there is very few. . .

University of Montana

The horse department at Thacher is both unique and outstanding. Unique because the school strives to keep the cowboy culture alive with over 100 horses and a fully outfitted western riding center. It is outstanding. . .

Yale

I loved Thacher because of the deep, respectful, and genuine connections in the community. Students, faculty, and staff were all so supportive to ensure I was the happiest and most challenged I could be. During. . .

Yale University

You cannot mention Thacher without talking about the horse program; each freshman is required to take care of and ride a horse for the first year of high school. I rode all four years and. . .

Dartmouth College

One thing that makes Thacher unique are the opportunities to form close, meaningful relationships with teachers and its commitment to helping students grow personally as well as academically. Whether it's out in the Domelands wilderness. . .

Show more reviews

(20

reviews)
April 20, 2018
Actually, there is no secret to getting your child into boarding school. Just a lot of hard work and a heavy commitment of time.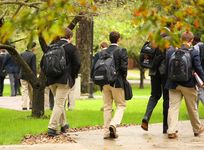 March 22, 2018
Some cynics think single-sex education is old-fashioned. The Kiski School shows how educating boys in a single-sex school is successful.
March 08, 2018
The wide range of fine academic, athletic, and other facilities found in boarding schools underscores the determination of schools to provide the very best for their students.