Reflections and Advice:
1.) What do you think makes your school unique relative to other boarding schools?
The amazing student-faculty relationships definitely made Blair special for me; the faculty are not only your teachers but also your coaches and mentors and dorm-parents, and all of that inter-relatedness allows the students and faculty to truly know each other as whole, multi-faceted people. And the faculty really care about the students; they remember birthdays and names of siblings and always have open doors.
2.) What was the best thing that happened to you in boarding school?
My friends (from Blair) and I were recently talking about how we feel Blair builds really special friendships. You just get to know your classmates to such a high degree, because it's such a small close community and everyone knows each other. Blair absolutely made me who I am today. It encourages students to be involved and considerate and figure things out, while always offering a helping hand or a safety net.
3.) What might you have done differently during your boarding school experience?
Just soak it all in, but give everything a dose of perspective. Boarding school can certainly be a super insulating bubble and it can feel like that campus is the whole world. That's perfectly fine, and amazing when things are going well, but remember that there's a big world out there too.
4.) What did you like most about your school?
I love the fact that I am still ecstatic to be on campus. Even after graduating, all of your teachers still know you and want to catch up and hear about your life and your family and your interests. Amazing lifetime connections are made. Once a Blair Buc, always a Blair Buc.
5.) Do you have any final words of wisdom for visiting or incoming students to your school?
The top floor of the library is a great place for a cool view of campus and some peace and quiet. Definitely try a Bodini Bagel or chocolate chip pancakes at the Can. Make sure to make the most of relationships with faculty members, and all of the other amazing parts of your time at Blair.
Academics:
1.) Describe the academics at your school - what did you like most about it?
The academics were rigorous but definitely manageable, and I liked that the academic environment was incredibly collaborative and not at all cut-throat. Another great thing is that Blair is constantly looking for ways to expand and diversify and better their classes; in just the 2 years since I graduated the Computer Science program has greatly expanded, a new building has been constructed for the arts, engineering, and collaboration, and the structure of senior English classes changed to engage more students and offer a broader variety of subjects. I also liked that you were encouraged to try new things with the (minimal) art, theater, and religion requirements. I ended up taking far more classes than I needed to in those areas.
Athletics:
1.) Describe the athletics at your school - what did you like most about it?
Blair values sportsmanship and team camaraderie above all, which is a wonderful athletic environment to be in. Students are required to participate in an after-school activity each semester-- this doesn't have to be a sport: yoga, newspaper, theater, and managing teams were among the other options while I was there. I can't imagine my time at Blair without my teams though; I tried 2 entirely new sports in my time there and stuck with one (crew) for all 4 years and now row in college. Blair is certainly academics-first, but athletics are incredibly supported and the school spirit surrounding big basketball games and Peddie Day is amazing. We're competitive in our league and routinely produce college-recruited athletes, our gym facilities are better than those at some colleges and an entirely new turf was just put in, and all of the sports that you would expect are available.
Art, Music, and Theatre:
1.) Describe the arts program at your school - what did you like most about it?
The best part about the Arts and Theater programs at Blair is that anyone can try them out. I took photography, painting, Theater 1, and ceramics in my time there and all of them were well-instructed and high-quality classes that allowed a nice break from the more "academic" classes while still holding huge importance at the school. There are art shows every month where students and artists outside Blair have work shown in our art gallery, and there are also consistent concerts by the amazing orchestra and band ensembles. My grandparents listen to the Blair Orchestra's CD on repeat. And the theater program is really well-developed. Anyone can audition, and the shows are always incredible.
Extracurricular Opportunities:
1.) Describe the extracurriculars offered at your school - what did you like most about it?
A great thing at Blair was the ease of starting a new club or extracurricular activity if there's student interest. The entire school engages in volunteer opportunities on Blair Day of Service. There is a myriad of student organizations and students at Blair are really involved-- everyone does something. The class councils are a really special way to be involved in the school. Each year, your class will elect representatives to serve as the class council, and the representatives act as class leaders. The Senior Class Council leads school meeting (where the whole school gathers for announcements) each Friday and they bring their own character and humor to it, so it's a great leadership opportunity on campus.
Dorm Life:
1.) Describe the dorm life in your school - what did you like most about it?
I was a day student at Blair, and it was great. Blair is mostly boarders, and the dorms are really nice and everything you need is provided for you. The students form great bonds with the faculty members on duty and with their prefects. I stayed a night every once in a while just because it was so much fun to be in the dorms.
Dining:
1.) Describe the dining arrangements at your school.
The Blair dining hall is better than most college dining halls. It's an all-you-can eat buffet style, except for Tuesday and Thursday nights, when boarding students have Formal dinner and eat family-style at mixed tables. Other than formal dinners, there is no assigned seating. The food was relatively diverse-- definitely chicken and pasta as staples- but definitely quality. And if you didn't like the main hot meal for that day, there was always a sandwich bar and panini maker, a salad bar, cereal, and other options.
Social and Town Life:
1.) Describe the school's town and surrounding area.
Blairstown is an idyllic little place-- not much is going on but it was just a short walk down the hill from campus and was a great place to grab a meal outside of the dining hall. Gourmet Gallery is a favorite for gelato and great sandwiches. So much is going on on campus that students don't have much cause to leave, but my favorite part of the surrounding area was Blairstown Dairy- a short drive away for an ice cream fix- and the many trails and lakes in the area for a fun adventure.
2.) Describe the social life at your school - what did you like most about it?
Amazing friendships will be made at Blair. After classes and practices, people often take a break from homework to hang out in The Can- the student center on campus that offers late night food options and really good breakfast sandwiches. Free blocks in your schedule are also a great time to hang out on the main quad with friends or go chat with a teacher. Blair schedules a lot of (optional) activities on weekends, so there's always something to do, including trips to local places or NYC. My best friends are still my Blair friends, and we hang out every opportunity we get on breaks.
Daily Schedule:
Weekday
4:00 PM
Everyone goes to their extracurricular activity at this time, after classes and before dinner.
Weekend
8:00 AM
There are Saturday classes but you get used to it in about 2 seconds.
Blair's emphasis on community made it stand out. For me, that started on my tour, when everyone seemed to know everyone else as we walked around the 400-acre campus. The friendly atmosphere and. . .
Consistent with its relatively small student body as compared to many other boarding schools, Blair is a place that knows the value of both its community and the relationships cultivated therein. From the moment I. . .
The amazing student-faculty relationships definitely made Blair special for me; the faculty are not only your teachers but also your coaches and mentors and dorm-parents, and all of that inter-relatedness allows the students and faculty. . .
Show more reviews (

6 reviews

)
Mastering the Boarding School Selection Process: A 5-Step Guide
Discover the ultimate 5-step guide to choosing the perfect boarding school for your child. Explore essential factors, such as academics, campus facilities, extracurricular activities, and more. Make an informed decision to provide your child with an enriching and transformative educational experience. Read now!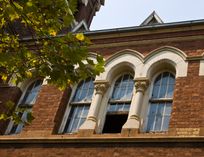 5 Founders and Their Boarding Schools
What prompts somebody to start a boarding school? The motives range from idealism to munificence right on through to capitalism. The common thread seems to be ample capital and a vision of what education can do.