Reflections and Advice:
1.) What do you think makes your school unique relative to other boarding schools?
Quaker school. We had church twice a week where we sat in silence, observing the Quaker ways of worship. As an atheist, I was initially quite unwilling to attend, but ended up loving the hour of meditation and the way I felt accepted by the local community. This feeling of acceptance was felt all throughout my school life. The school has wonderful facilities - sports and theater, dorms, classrooms. A lot of the faculty lives on campus and is extremely helpful in times of personal hardship, even outside of school hours. Small school feels like family. I still cherish the friendships I made there.
2.) What was the best thing that happened to you in boarding school?
I discovered my artistic spark! My grades were good enough that I could spend my afternoons outside the dorm and study out in the open, or go to the theater building and play around on the instruments or draw/paint. I feel like I became an adult with freedoms and responsibilities at Westtown. I would not change that experience for the world.
3.) What might you have done differently during your boarding school experience?
I would have taken every advantage of the freedom of choice of subjects, so that I could go deeper into the subjects that really interested me. I would probably have taken part in more volunteer opportunities as well.
4.) What did you like most about your school?
I liked everything about Westtown. The teachers were intelligent and friendly, the students were generally great, mature kids, the surrounding scenery was inspiring, and the academics were stimulating.
5.) Do you have any final words of wisdom for visiting or incoming students to your school?
Check out the lake, hopefully the swans still live there. On the way you'll get a good look at the old, shady woods, and you will see half the campus. If you are interested in theater and music, check out the theater building. It's really something.
Academics:
1.) Describe the academics at your school - what did you like most about it?
The freedom to choose my major subjects felt amazing. I chose subjects I was interested in, which boosted my confidence a lot. The class discussions were stimulating. Classes were small and teachers were approachable. We called them by Teacher and first name.
Athletics:
1.) Describe the athletics at your school - what did you like most about it?
I liked the fact that there were athletic programs for everybody - both beginners and advanced athletes. We all participated in sports every day and there were programs like yoga, swimming, and all kinds of team sports. I did not feel like our school was very competitive, but then again, I was never personally at any level where I could truly compete and win.
Art, Music, and Theatre:
1.) Describe the arts program at your school - what did you like most about it?
Westtown had a wonderful art and theater building with insulated music rooms, great band instruments and practice facilities. There were art rooms and a theater where plays took place a few times a year. Some of those were really good.
Extracurricular Opportunities:
1.) Describe the extracurriculars offered at your school - what did you like most about it?
There were plenty of extracurricular activities going on at the school. However, coming from a post-communist background, I was felt extracurricular activities to be something one only did under pressure and I never attended any. I realize now how foolish I was. I did participate in one activity where students of our school repaired a woman's home. It was extremely satisfying work.
Dorm Life:
1.) Describe the dorm life in your school - what did you like most about it?
The rooms were fine, two people per room, and I was lucky to have a great roommate. Boys' and girls' dormitories were separate and the separation was strict. We had to be in bed by a certain hour. Life was peaceful and pleasant.
Dining:
1.) Describe the dining arrangements at your school.
The cafeteria was nice, with a variety of choices at every meal. Seating was free, not assigned.
Social and Town Life:
1.) Describe the school's town and surrounding area.
The school had a large campus, away from the nearest town. We had use transportation to go to town, but there were often organized trips for various activities. My host family would come get me if I needed to go somewhere. I LOVED the fact that the school had its own land with a lake and corn fields, faculty housing, and a bunch of sports fields around. It felt safe and peaceful.
2.) Describe the social life at your school - what did you like most about it?
There was a relaxed atmosphere about Westtown. We all hung out together so friendships formed naturally. Students hung out in hallways and outside under trees, or in trees, we could create together, play music or sports together, help each-other with our studies, it was very hippie-like and cooperative.
Westtown has a beautiful campus. It was beautiful and especially safe to walk around any time of day. Also the style of teaching is very hands on and has small classes, usually with. . .
Small Quaker school, tight group, not so much focused on strong academics as much as creating good individuals in society.. . .
Extremely beautiful campus. It is a Quaker boarding school with wonderful teachers. They require a senior project where students can travel the world. Also encourages volunteer work and has a campus farm. . .
Show more reviews (

41 reviews

)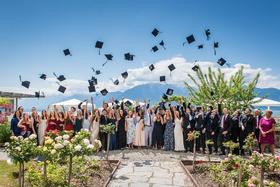 Nurturing Futures: A Journey through Boarding at Haut-Lac School in Switzerland
Nestled in the hills overlooking Lake Geneva in the French-speaking part of Switzerland lies an educational gem that embodies a unique blend of academic excellence, cultural richness and a profound sense of community. Founded over 30 years ago, Haut-Lac International Bilingual Day and Boarding School is now home to both 600 day students and a maximum of 30 boarders from around the world.
What To Wear at Your Job Interview
Navigating job interviews can be stressful, but knowing what to wear shouldn't be. Our comprehensive guide covers the essential dress code tips for men and women interviewing at boarding schools. Make your first impression count with style and professionalism.
Navigating the Modern Maze: Emerging Challenges for Boarding Schools
Explore the pressing challenges facing boarding schools, from marketing difficulties and rising insurance costs to facility maintenance and recruitment of competent trustees and teachers. This article delves into these complex issues and proposes innovative strategies to overcome them.