Reflections and Advice:
1.) What do you think makes your school unique relative to other boarding schools?
Proctor's use of experiential learning really sets it apart from other boarding schools. I took wildlife science and forestry, and we were out in the field many days. As well, I participated in Proctor's Ocean Classroom, spending a trimester sailing aboard a schooner all the way down to the Caribbean. Experiential learning helps you engage in learning in a personal way. These experiences are precious to me.
2.) What was the best thing that happened to you in boarding school?
The best thing that happened to me at boarding school was I found out so much about myself! I discovered passions, made lifelong friends, and have been forever changed. I can really say that going to boarding school has been the prolific experience in my life so far. It helped me become prepared for college. Going into college, I felt I had a huge leg up compared to my peers.
3.) What might you have done differently during your boarding school experience?
I was homesick a lot my freshman year, and this disabled me. My advice would be that being homesick is normal, but don't let it cripple you. You will miss your experience when it is gone.
4.) What did you like most about your school?
I loved everything about Proctor. I truly believe that it is the most special boarding school out there. There is no other place that has the sense of community, natural resources, level of facilities, and virtue of faculty. It is a place that is so special, that you really have to go to truly appreciate it. If I had to choose one thing, it is the relationship I had with my advisor. He was my baseball coach, teacher, mentor, and now friend. The advisee group you have really helps you create a support system.
5.) Do you have any final words of wisdom for visiting or incoming students to your school?
Study abroad! Proctor's abroad opportunities are incredible. My time spend on Ocean Classroom was amazing, and I hope everyone can experience this!
Academics:
1.) Describe the academics at your school - what did you like most about it?
The academics were challenging, but you had support. Part of the beauty of boarding school is that you can fall on your face, but you have mentors to pick you up quickly. Proctor has a broad range of students, some with learning disabilities, and class difficulty varies. It is not an incredibly competitive school, but you can challenge yourself. What has helped me so much in college after going to Proctor is that I feel responsible for my learning. This is crucial, as you need to understand that you are the master of your own fate. The teachers are all incredibly kind, devoted, and willing to help you in any way they can.
Athletics:
1.) Describe the athletics at your school - what did you like most about it?
As an underclassmen, you have to participate in two sports activities over two trimesters, and one club during the other trimester. Many people just play three sports. As an upperclassmen, you have to play at least one sport, and do two clubs. You are always involved in some sort of extracurricular activity, and this is beneficial in the long run. You learn to manage time more effectively. There are a large array of sports you can participate in, like rock climbing and skiing. Proctor has recently renovated their field house since I went there, and it looks fantastic. They have turf fields, a beautiful baseball field, and a grass football field. As well, night football games are played on the turf and there is an electric atmosphere.
Art, Music, and Theatre:
1.) Describe the arts program at your school - what did you like most about it?
I played in the jazz rock ensemble for three years. Proctor has a fantastic music building; there is a recording studio and recital room upstairs, and practice rooms in the basement. The head of the music department is an eccentric guy who encouraged my friends and I to practice outside of our ensemble, and gave us opportunities to perform. There is a large artistic presence at Proctor, and they have demonstrated their commitment to the arts with the facilities they have available.
Extracurricular Opportunities:
1.) Describe the extracurriculars offered at your school - what did you like most about it?
There is a strong environmental group on campus that has their own dorm. This is probably the biggest group on campus, but there are also ample volunteer opportunities to travel to places like Haiti. There is some mandatory volunteer work that is rewarding. On Martin Luther King Jr. Day I traveled to a retirement community and discussed the significance of the day with residents.
Dorm Life:
1.) Describe the dorm life in your school - what did you like most about it?
I was a day student at Proctor for two years. My first two years I lived in a dorm that has since burned down, and another generic large dorm. Room selection happens in person, with each grade having their own night. You and your roommate put your names in, and based upon grades and social standing, get picked in order. All the dorms are relatively nice, and some are unique. A couple dorms have wood stoves, and one is off campus by a pond.
Dining:
1.) Describe the dining arrangements at your school.
Proctor has since built a new dining hall since I attended. The old one has much left to desire, but the new one seems to be magnificent. You can always grab a snack at the dining hall, and there is a large selection of food. I was a vegetarian, and always had enough to eat.
Social and Town Life:
1.) Describe the school's town and surrounding area.
Proctor is situated in a small village. There is not much to walk to besides a pizza shop and a gas station. That being said, this creates a strong community. Proctor has thousands of acres of forests to explore. As well, there are ski areas nearby that can become your playground if you join one of the ski teams or clubs.
2.) Describe the social life at your school - what did you like most about it?
I enjoyed how small the school was. My group of friends became incredibly close. We still talk to each other almost every week. Also, even if someone isn't your good friend, you will inevitably know them. Everyone says hi to each other, and it is incredibly welcoming.
Proctor is a unique school due to the experiential learning model. This includes a variety of off-campus programs including programs in Spain, France, Costa Rica, and Ocean classroom and mountain classroom. Proctor also owns over. . .
The off-campus programs that Proctor has to offer make it particularly unique in relation to other boarding schools. I was lucky enough to participate in Ocean Classroom, which is an off-campus program where we sail. . .
Proctor is unique in way too many ways to describe, but I will name a few. First, you get the opportunity to go abroad in high school! A four year student can have the opportunity. . .
Show more reviews (

9 reviews

)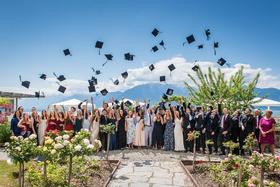 Nurturing Futures: A Journey through Boarding at Haut-Lac School in Switzerland
Nestled in the hills overlooking Lake Geneva in the French-speaking part of Switzerland lies an educational gem that embodies a unique blend of academic excellence, cultural richness and a profound sense of community. Founded over 30 years ago, Haut-Lac International Bilingual Day and Boarding School is now home to both 600 day students and a maximum of 30 boarders from around the world.
What To Wear at Your Job Interview
Navigating job interviews can be stressful, but knowing what to wear shouldn't be. Our comprehensive guide covers the essential dress code tips for men and women interviewing at boarding schools. Make your first impression count with style and professionalism.
Navigating the Modern Maze: Emerging Challenges for Boarding Schools
Explore the pressing challenges facing boarding schools, from marketing difficulties and rising insurance costs to facility maintenance and recruitment of competent trustees and teachers. This article delves into these complex issues and proposes innovative strategies to overcome them.