Reflections and Advice:
1.) What do you think makes your school unique relative to other boarding schools?
North Cedar Academy gave me an opportunity to improve my English very well and meet new friends from all over the world. I am enjoying to be here. Also, North Cedar Academy gives you an opportunity to get a associate degree and a high school diploma within 2 years. Every weekend we are having fun in the dorms and outside the dorms. There some really fun activities on the weekends, like swimming, skating, watching movies and etc.
2.) What was the best thing that happened to you in boarding school?
I improved my English, it became better than it was before. Since I am learning English just for 1.5 years. My English teacher helped me a lot at school. English classes are extremely interesting. For those who speak a little English or does not speak English at all, NCA offers English as a second language classes.I learned how to be independent. Since you are not at home, you are responsible for yourself. If at home mom does your laundry, here you do it by yourself. You have specific duties that you need to do. This will help me a lot in the future since I became independent at the age of 15.These are the main things that's happened to me at NCA. Of course, there other things but, this ones are significant ones.
3.) What might you have done differently during your boarding school experience?
The first thing I did when I arrived here was meeting head RA and then I settled in my room. My advice for kids going to boarding school is to simply keep your room clean in order to stay organized. Also, make some researches about tips for dorms like how to save space in your room, how to stay organized and etc.
4.) What did you like most about your school?
One thing that makes this school unique is early university pathway. It saves a lot of time and money. The academics at school is awesome, this is the most thing I liked at NCA. The way teachers teach is just amazing. You will always get support if you are struggling, always!The staff members are doing their job very well. Also, if you want to take tests like AP, TOEFL, IELTS, ACT, SAT or any others, NCA offers it too!
5.) Do you have any final words of wisdom for visiting or incoming students to your school?
International students will arrive at MSP international airport that is located in Twin Cities, Minnesota. I would highly recommend to go and see the two cities that are in Minnesota, Saint Paul and Minneapolis. Go to museums and of course shopping. I would also recommend to go and see the Mall of America (the biggest mall in the U.S.), It is a lot of fun!I would HIGHLY recommend NCA for everyone. A lot of opportunities.
Academics:
1.) Describe the academics at your school - what did you like most about it?
Teacher at NCA are just amazing! They will help you if you have any difficulties with your studies. We have study hall every day from 7 PM to 8 PM. Study hall is when you need to study and stop having fun. It is very helpful for students since it helps you to stay organized.If your grades get lower, you will be moved to structured study hall that lasts from 7 PM to 9 PM. It is not that fun since you are not free but, it will motivate you to improve your grades and get out of this structured study hall.
Athletics:
1.) Describe the athletics at your school - what did you like most about it?
Sports here (as I mentioned earlier) are amazing. Sports are available as after school activities and also we can play basketball/soccer on the weekends (not mandatory). Also, sometimes we are playing against other schools.
Art, Music, and Theatre:
1.) Describe the arts program at your school - what did you like most about it?
I did not attend Visual Art or Theater classes. However, I did attend music classes. Let me describe what was going on there and how was it.One of the classes is called band. Band is so helpful if you want to learn how to play a musical instrument. In my case it was guitar. This class helped me a lot, I learned how to read notes and how to play them. My instructor is amazing. He helps you if you have questions and also he is very sociable person, he has very good sense of humor.The second class is called World Music. This class teaches you about music and culture from all over the world. I got a lot of information about different countries like Turkey, Russia, Ethiopia, Vietnam, China, Italy and a lot more.The third and final class is Music Appreciation. In this class we were learning about music from older times (14th to 20th century). In this course I learned a lot about great composers like Beethoven, Mozart, Stravinsky and etc. This class also helped me to read notes.
Extracurricular Opportunities:
1.) Describe the extracurriculars offered at your school - what did you like most about it?
There are a lot of volunteering opportunities at NCA. They range from volunteering in hospital to volunteering at school. They are very important for college because it is going to make your application stronger if you did any volunteering.
Dorm Life:
1.) Describe the dorm life in your school - what did you like most about it?
Dorm life is good. Almost everyone has roommate. There are 2 people in one room. The rooms are divided into two parts: right and left. Having a roommate is awesome especially if he is not from your country. There are a lot of advantages.First advantage is that you can improve your English language skills by communicating to each other.The second one is that if your roommate is not from your country, you can learn about his country, about his culture, language and etc.The third one is that you can share your knowledge with each other. For example you can help your roommate if he is struggling with mathematics, then he can help you with Chinese class.Some people do not have roommates. Usually these people are seniors. They don't have a roommate because they need more time and space to study.If you have any problems in the dorms, you can ask an RA (Resident Assistant) to help you. Some of the RA's are really good and funny to communicate with. Some of them are not but, this is not significant thing.
Dining:
1.) Describe the dining arrangements at your school.
The food here is amazing. You have different choices. The food ranges from vegetables and fruits to burgers, french fries and etc. The head chief works so well, he is really sociable person and a good listener.Cafeteria has always been clean. After people done with eating, the chief is cleaning the cafeteria. When we have dinner, students clean the cafeteria (when they have dish duties) instead of the chief.Breakfast is at 7:30 AM, lunch is at 12:20 AM and dinner is at 5 PM.
Social and Town Life:
1.) Describe the school's town and surrounding area.
The town in small and calm. Walmart is 10 minutes walk away from the school. We have pretty much everything we need in the town including banks, swimming pool, bowling, restaurants and etc. If you do not want to walk, you can ask an RA to take you to specific place in the town or outside the town if you need to.
2.) Describe the social life at your school - what did you like most about it?
Everyone at NCA is sociable. Including teachers, principal, chiefs, RA's and of course students. People at NCA are kind and if you have problems or something you want to share, you can because pretty much everyone will listen to you and they will try to support you.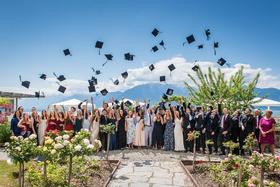 Nurturing Futures: A Journey through Boarding at Haut-Lac School in Switzerland
Nestled in the hills overlooking Lake Geneva in the French-speaking part of Switzerland lies an educational gem that embodies a unique blend of academic excellence, cultural richness and a profound sense of community. Founded over 30 years ago, Haut-Lac International Bilingual Day and Boarding School is now home to both 600 day students and a maximum of 30 boarders from around the world.
What To Wear at Your Job Interview
Navigating job interviews can be stressful, but knowing what to wear shouldn't be. Our comprehensive guide covers the essential dress code tips for men and women interviewing at boarding schools. Make your first impression count with style and professionalism.
Navigating the Modern Maze: Emerging Challenges for Boarding Schools
Explore the pressing challenges facing boarding schools, from marketing difficulties and rising insurance costs to facility maintenance and recruitment of competent trustees and teachers. This article delves into these complex issues and proposes innovative strategies to overcome them.