Reflections and Advice:
1.) What do you think makes your school unique relative to other boarding schools?
North Cedar Academy prides itself on the dual enrollment program, which allows students to obtain their Associates of Arts & Sciences degrees upon their high school graduation. This is certainly a unique opportunity, but what is often overlooked is the intense academic setting that the opportunity creates. Fortunately, North Cedar Academy prioritizes balance.From their wide array of extra-curricular activities to weekend karaoke nights and mall trips, North Cedar Academy teaches students how to fit entertainment into busy schedules. There is a mandatory study hall on weeknights—trust me, you'll have work to do—but this helps students learn to set time aside. While I tired of the obligatory structure during my senior year, I carried the skills from NCA to my freshman year in college, where I felt that I could balance intense academic pressure and crazy adventures around the city.
2.) What was the best thing that happened to you in boarding school?
Not really one to brag, but I will say that North Cedar Academy helped me develop quite a few invaluable skills, from time management to independency to general academic reasoning. After completing my first year at Occidental, I can definitely say I was well-prepared.
3.) What might you have done differently during your boarding school experience?
I would have just gotten involved more and held fewer reservations. Between my first and second year, I realized that people don't care about pride. Just let your personality shine.
4.) What did you like most about your school?
The North Cedar Academy community is close. It was my first time away from home, but they quickly became my family.
5.) Do you have any final words of wisdom for visiting or incoming students to your school?
I'd say just get involved with whatever you can, whether that means engaging with peers or joining clubs. You'll be happier.
Academics:
1.) Describe the academics at your school - what did you like most about it?
The academics at North Cedar Academy were really up to the student. I was in the dual enrollment program, so managing a full college workload, especially when I was still taking high school classes part time, was pretty intense and stressful. Having access to the college classes really created unparalleled depth and diversity of classes available. Even in the intense academic setting, I was thankful for NCA because they granted me an opportunity to truly explore my passions.Moreover, NCA is a very tight-knit community. The teachers at the high school truly want to see the students succeed and often go out of their way to help the students learn. The environment is not competitive at all—everyone really just roots for everyone.
Athletics:
1.) Describe the athletics at your school - what did you like most about it?
The athletics program was relatively new when I attended North Cedar Academy. It was mostly for recreation and pretty isolated. I think it is growing now, however, so my word may not be very good.
Art, Music, and Theatre:
1.) Describe the arts program at your school - what did you like most about it?
I wasn't overly involved in the arts programs, but they would perform now and then. I joined choir when they needed new members, and I was impressed by the student leadership that the director allowed. Again, because it's still growing, I may not be the best person to provide insight.
Extracurricular Opportunities:
1.) Describe the extracurriculars offered at your school - what did you like most about it?
I don't think there is really a system for students to start clubs, so student organizations are somewhat lacking. There is a wide array of faculty-led clubs, from the arts to athletics to test prep. As for volunteer opportunities, students often need to seek out opportunities that appeal to them. If a student finds an opportunity, however, NCA will work to support them in their endeavor.
Dorm Life:
1.) Describe the dorm life in your school - what did you like most about it?
Dorm life is fun, especially if you try to embrace the activities. I reckon it's pretty standard.Students are kind of left out of room selection. Staff try to ensure everyone will be happy where they are, and if it doesn't work out, staff will typically try to work something out. As I mentioned earlier, there is a curfew.
Dining:
1.) Describe the dining arrangements at your school.
The food was a kind of hit-or-miss. Sometimes it was really great, and sometimes not so great. NCA had set mealtimes, so a lot of students kept food in their rooms. I mostly kept tea.
Social and Town Life:
1.) Describe the school's town and surrounding area.
Imma be really honest here: Ladysmith is not the greatest. There is so little to do that we used to go walk around Walmart for entertainment. North Cedar Academy is good at providing internal entertainment, however, so it is less noticeable.
2.) Describe the social life at your school - what did you like most about it?
North Cedar Academy is a really small school, so the student body really becomes a family. The vibe was usually pretty low-key when I was there. Of course, that's not to say that there won't be excitement on any given day. NCA students have got personality! There is a curfew at around 10 or 11, but the common rooms can otherwise get pretty lively. Sometimes folks sneak out which can also be pretty exciting.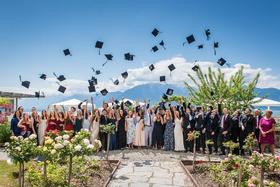 Nurturing Futures: A Journey through Boarding at Haut-Lac School in Switzerland
Nestled in the hills overlooking Lake Geneva in the French-speaking part of Switzerland lies an educational gem that embodies a unique blend of academic excellence, cultural richness and a profound sense of community. Founded over 30 years ago, Haut-Lac International Bilingual Day and Boarding School is now home to both 600 day students and a maximum of 30 boarders from around the world.
What To Wear at Your Job Interview
Navigating job interviews can be stressful, but knowing what to wear shouldn't be. Our comprehensive guide covers the essential dress code tips for men and women interviewing at boarding schools. Make your first impression count with style and professionalism.
Navigating the Modern Maze: Emerging Challenges for Boarding Schools
Explore the pressing challenges facing boarding schools, from marketing difficulties and rising insurance costs to facility maintenance and recruitment of competent trustees and teachers. This article delves into these complex issues and proposes innovative strategies to overcome them.