Reflections and Advice:
1.) What do you think makes your school unique relative to other boarding schools?
North Cedar Academy dual enrollment with UW Eau Claire-Barron County that had gotten further my education path and made me ready for University. North Cedar Academy give me incredible opportunities in terms of volunteer work with the Rusk County Memorial Hospital, Nursing Shelter, Leading art classes at Toad house, lots of clubs provided inside the school the vest my knowledge and connected me with the community.
2.) What was the best thing that happened to you in boarding school?
I think the friendship that I made; I believe it will last forever.
3.) What might you have done differently during your boarding school experience?
I wish I were a more interactive and active person from the first day of school.
4.) What did you like most about your school?
I can not specify since there are so many things; teachers, students, staff, everything about that school was amazing to experience.
5.) Do you have any final words of wisdom for visiting or incoming students to your school?
I would say they should enjoy from each moment and try to have fun.
Academics:
1.) Describe the academics at your school - what did you like most about it?
I like that of North Cedar Academy has AP programs and excellent extracurricular activities for everyone to be involved in. Generally, my academic experience at North Cedar Academy has been phenomenal. I have pushed to my best ability not only by my parents but my teachers and fantastic friends that I would never forget them. I love the environment of North cedar academy;It always challenges me.
Athletics:
1.) Describe the athletics at your school - what did you like most about it?
North Cedar Academy provides a variety of sports, such as basketball, soccer, outdoor activities, kayaking, and so on with a phenomenal preceptor. I was a member of the Soccer and basketball team, and I have a memorable moment from it.
Art, Music, and Theatre:
1.) Describe the arts program at your school - what did you like most about it?
North Cedar Academy has Music Band, which students can practice anytime with their preceptors and play in their paste. North Cedar Academy has a Choir team too that they usually perform with the community choirs.
Extracurricular Opportunities:
1.) Describe the extracurriculars offered at your school - what did you like most about it?
I love everything about North Cedar Academy words can not explain the beautiful moments that I spend. I love my culture and connected with the students and community made me share my learning with them and learn their culture.
Dorm Life:
1.) Describe the dorm life in your school - what did you like most about it?
Beautiful campus, both for boys and girls, with a respectful RA's that is always with you and treat students like a family member. North Cedar Academy is a safe place I spend my four academic years, and I can say from my experience that you will love and miss everyone that you spend time in a dorm or school.
Dining:
1.) Describe the dining arrangements at your school.
We had chiefs that provide a variety of food from different countries.
Social and Town Life:
1.) Describe the school's town and surrounding area.
It is beautiful to ride a bike or walk around town its small but classic.
2.) Describe the social life at your school - what did you like most about it?
As I said I had a great time with everyone.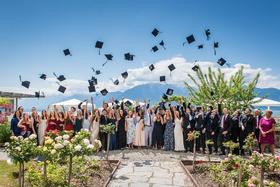 Nurturing Futures: A Journey through Boarding at Haut-Lac School in Switzerland
Nestled in the hills overlooking Lake Geneva in the French-speaking part of Switzerland lies an educational gem that embodies a unique blend of academic excellence, cultural richness and a profound sense of community. Founded over 30 years ago, Haut-Lac International Bilingual Day and Boarding School is now home to both 600 day students and a maximum of 30 boarders from around the world.
Navigating the Modern Maze: Emerging Challenges for Boarding Schools
Explore the pressing challenges facing boarding schools, from marketing difficulties and rising insurance costs to facility maintenance and recruitment of competent trustees and teachers. This article delves into these complex issues and proposes innovative strategies to overcome them.
What To Wear at Your Job Interview
Navigating job interviews can be stressful, but knowing what to wear shouldn't be. Our comprehensive guide covers the essential dress code tips for men and women interviewing at boarding schools. Make your first impression count with style and professionalism.