Reflections and Advice:
1.) What do you think makes your school unique relative to other boarding schools?
I just graduated from the Delphian School. I used to go to school in China, and I started my high school education here three years ago. I am so lucky that I chose Delphian and it chose me as well.The Delphian school is special because although everyone has his individual program, our purpose is the same. We learn from each other, practice to become more competent leaders, and to find out who we really are. We work hard for ourselves, not for anyone else.
2.) What was the best thing that happened to you in boarding school?
I found so many intelligent and hardworking people at the school. I thought I was good in many areas before I came to the Delphian School, but I have seen students who are outstanding. I saw the gap between those people and me, and it encouraged me to work harder.
3.) What might you have done differently during your boarding school experience?
Become more outgoing and get to know more people.
4.) What did you like most about your school?
It has a very special program for student's study. And the school really cares about each student.
5.) Do you have any final words of wisdom for visiting or incoming students to your school?
The Delphian School helped me learn to take higher responsibility, use myself as the resource to solve problems, lead others, keep my integrity and show my integrity. I am grateful for all my experiences here. The Delphian School has provided me opportunities to fail, to learn about myself and to restart. I used to believe that a school only focuses on its top students, but Delphian totally changed that idea. Everyone at the school loves every student, and students truly care about each other.
Academics:
1.) Describe the academics at your school - what did you like most about it?
Students are very competitive here. They all have opportunities and resources to explore the areas they are interested in. They work hard and help each other improve all the time. Everyone has his own program and pace so that he won't be compared to any other students. This is very helpful for students to really understand the subjects they are learning.
Athletics:
1.) Describe the athletics at your school - what did you like most about it?
Students here are very active in sports program. There are soccer, basketball, volleyball, tennis, cross country, cheer leading, track and softball teams in this school. Students learned a lot from them.
Art, Music, and Theatre:
1.) Describe the arts program at your school - what did you like most about it?
We have so many students who are talented in art and music area. They spend much time working on it. We provide different levels of seminars and slots to help them improve their skills. We have two big plays every year.
Extracurricular Opportunities:
1.) Describe the extracurriculars offered at your school - what did you like most about it?
Every student is required to do a lot of projects in the school. This helps them improve their communication skills, leadership and responsibility. Every graduate in this school is very capable to handle any problem.
Dorm Life:
1.) Describe the dorm life in your school - what did you like most about it?
Since it's a boarding school, students are connected very closely. We enjoy our dorm life a lot.
Dining:
1.) Describe the dining arrangements at your school.
It's a cafeteria which includes breakfast, lunch and dinner. There are food from different countries so that people can always find their choices here.
Social and Town Life:
1.) Describe the school's town and surrounding area.
It's very quiet and safe for students to focus on studying and enjoying the beautiful view here.
2.) Describe the social life at your school - what did you like most about it?
Everyone cares about each other. They are so helpful and friendly. It's never hard to make good friends here. There are also many activities to gather students together.
What made my school different from other boarding schools was that I was able to move through my program at my own pace. I didn't have to worry about catching up with my class because. . .
The fact that we study for real world application rather than just trying to spit things back out on an exam. This makes the education 10 times more valuable than any other school I have. . .
Here at the Delphian School, all the exams are done one-on-one, where the examiner will ensure that all the student's questions regarding the subject they just studied are solved and answered to satisfaction.The Delphian. . .
Show more reviews (

21 reviews

)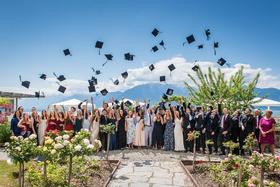 Nurturing Futures: A Journey through Boarding at Haut-Lac School in Switzerland
Nestled in the hills overlooking Lake Geneva in the French-speaking part of Switzerland lies an educational gem that embodies a unique blend of academic excellence, cultural richness and a profound sense of community. Founded over 30 years ago, Haut-Lac International Bilingual Day and Boarding School is now home to both 600 day students and a maximum of 30 boarders from around the world.
What To Wear at Your Job Interview
Navigating job interviews can be stressful, but knowing what to wear shouldn't be. Our comprehensive guide covers the essential dress code tips for men and women interviewing at boarding schools. Make your first impression count with style and professionalism.
Navigating the Modern Maze: Emerging Challenges for Boarding Schools
Explore the pressing challenges facing boarding schools, from marketing difficulties and rising insurance costs to facility maintenance and recruitment of competent trustees and teachers. This article delves into these complex issues and proposes innovative strategies to overcome them.