Reflections and Advice:
1.) What do you think makes your school unique relative to other boarding schools?
While studying in Choate you learn one valuable lesson that will lead you through your life -- you are never alone. The school has amazing spirit of community and it makes impossible for you to dissolve among it. You inevitably become a part of it and, whether you want it or not, you will fall in love with a school.
2.) What was the best thing that happened to you in boarding school?
The best thing that happen to me in Choate was right after my first arrival to school as a student. I decided to join the soccer team, despite the fact that I have never played it before. In "athletics" I described it in more details.
3.) What might you have done differently during your boarding school experience?
Even though I am not the arty soul, I'd probably took at least one art or music related class, just for sake of experience. Who knows, I might ended up loving it.
4.) What did you like most about your school?
Without any hesitations its community! Of course I should also mention the unlimited support from the school and enormous amount of resources, that you won't find anywhere else.
5.) Do you have any final words of wisdom for visiting or incoming students to your school?
If you can play any music instrument, do not hesitate bringing it to the dorm. You'd find a great audience there!
Academics:
1.) Describe the academics at your school - what did you like most about it?
Choate is famous for its amount of courses. In fact, it was always a challenge for me to choose in summer what I want to study next year. From my own experience, I would say that you should take as much from school as possible. Try at least one advanced class per trimester. When you set a high bar, you make yourself to work more productively and harder. Furthermore, if you happen to have any problems with a subjects, no worries, because Choate always has a group of excellent students, who would happily help you with any class.
Athletics:
1.) Describe the athletics at your school - what did you like most about it?
Even if you are not a sportsman and have absolutely no experience in any sport, just like I did, I still recommend you to pick at least one, while you are studying here. When I came to Choate, I treated sport like something boding and tiring, yet my roommate, who was in a soccer team, convinced me to try soccer. My attitude towards sport completely changed after the first game with Deerfield, where we won. The school spirit was so strong that it made me to fall in love with soccer. I have also to add that Mr. Honks was incredible coach and I do in-debt him all my victories!
Art, Music, and Theatre:
1.) Describe the arts program at your school - what did you like most about it?
I am not much of the art person. However, I always enjoyed visiting school's art gallery. I really liked that it was always changing. You would probably never see gallery twice the same. In addition, while looking on the paintings, you do gain the understanding that everybody in Choate is an individual with his or her own vision.
Extracurricular Opportunities:
1.) Describe the extracurriculars offered at your school - what did you like most about it?
I was a captain of Green Team, a small club that was created by my friends and me. To be honest it did not existed for a long time after my graduation, however, during my stay Green Team was a very active organization that was mostly working in Kohler Environmental Center. What I really liked about this experience is that Choate was VERY supportive and was ready to help with all financial questions regarding every project.
Dorm Life:
1.) Describe the dorm life in your school - what did you like most about it?
I dorm I was living in the room for two with a girl from China. We had a large room with two beds, two writing tables and enough personal space. I really like that Choate allows you to bring as much changes to the room design, as you want (as long as you do not cause any damage for property and would be able to bring room to the previous state after your graduation). To add there is no better place than dorm to feel the taste of community. I really liked evenings, when the whole dorm was gathering in the "living room" to watch a movie, to play boarding games or just to hang out.
Dining:
1.) Describe the dining arrangements at your school.
I discovered almost all of my favorite food during my stay in Choate. Breakfasts at Choate are the best, honestly. Despite the fact that you have to wake up really early to get access to all of the dishes without standing in the lines, I do not regret it.
Social and Town Life:
1.) Describe the school's town and surrounding area.
Even though it might seem that school is in the middle of nowhere, at first, it is not like that at all. If you need a haircut or anything to buy it would take you only several minutes to get to Wallingford. Also it is really great that school is not that far from NYC either. However, what I really liked about Choate location is that it is not far away from other prep-schools. Having a lot of friends in Taft and NMH, it was always great to hangout with them on weekends.
2.) Describe the social life at your school - what did you like most about it?
I have been mentioning a lot about it during my review, but the best thing about social life in Choate is its community. You literally have a whole school of friends. In addition, you have to keep in mind that these are not just "schoolmates", mostly, these are lifelong connections. I graduated 10 years ago and I still keep in touch with most of my friends from Choate.
At Choate, I felt that the faculty and administration really cared about my wellbeing and growth. Classes were mostly organized to allow for discussion and office hours were easy to attend and allowed for personal. . .
Choate has a diverse and interesting study body from all around the world. While it is an old and prestigious boarding school, I found Choate to be less traditional than some of its peer schools. . .
The community is definitely Choate's greatest asset, and the admissions folk do a great job of picking students. We're a pretty chill bunch, so you won't find much of the cut-throat competitiveness that usually accompanies. . .
Show more reviews (

27 reviews

)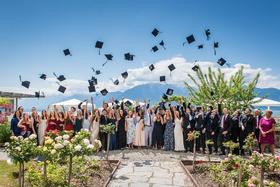 Nurturing Futures: A Journey through Boarding at Haut-Lac School in Switzerland
Nestled in the hills overlooking Lake Geneva in the French-speaking part of Switzerland lies an educational gem that embodies a unique blend of academic excellence, cultural richness and a profound sense of community. Founded over 30 years ago, Haut-Lac International Bilingual Day and Boarding School is now home to both 600 day students and a maximum of 30 boarders from around the world.
What To Wear at Your Job Interview
Navigating job interviews can be stressful, but knowing what to wear shouldn't be. Our comprehensive guide covers the essential dress code tips for men and women interviewing at boarding schools. Make your first impression count with style and professionalism.
Navigating the Modern Maze: Emerging Challenges for Boarding Schools
Explore the pressing challenges facing boarding schools, from marketing difficulties and rising insurance costs to facility maintenance and recruitment of competent trustees and teachers. This article delves into these complex issues and proposes innovative strategies to overcome them.