Reflections and Advice:
1.) What do you think makes your school unique relative to other boarding schools?
It's educational philosophy and school culture. The school emphasizes learning for oneself, not for a test, a grade, or for someone else. It also structures its curriculum around learning for mastery (meaning for knowledge, again, not for a test). The school culture reflects this love of knowledge and genuine student growth. The staff and students are very kind. The campus is beautiful, and there's many acres of woodland to explore if one likes hiking.
2.) What was the best thing that happened to you in boarding school?
I feel like accomplishing the academic program, with all its projects, seminars and reading is a really great experience. The mastery-based program helps you love what your learning because you develop a purpose for your education, and if you have a goal to achieve, the steps you take to get there become fun and not drudgery.
3.) What might you have done differently during your boarding school experience?
My advice would be to become friends with staff and students. Both groups here are nice and friendly, and all want you to feel at home at Delphian. Don't be afraid to ask for help in academics or campus-life. All it takes is a little communication!
4.) What did you like most about your school?
For me, it's a tie between the friendliness and kindness of the staff and students and the mastery-based learning system. Mastery-based curricula really enables students to figure out that their education can help them in their life, and if they have the information, they can live better. It also can help them decide what they need to know instead of memorizing facts for a test.
5.) Do you have any final words of wisdom for visiting or incoming students to your school?
The more you love to learn, the more you'll receive from a Delphian education. Seems like a no-brainer, but the more seminars you attend, books you read, etc. the more you take on, more you'll enjoy academics.
Academics:
1.) Describe the academics at your school - what did you like most about it?
The entire system is geared towards students having a full understanding of what they study. That doesn't translate into memorizing. It means being able to assimilate information for practical use. If you study aerospace with intent to be an engineer, the end goal would be for the student to design good planes or rockets. Mastery-based curricula really enables students to figure out that their education can help them in their life, and if they have the information, they can live better. It also can help them decide what they need to know for life instead of for a test. Another component is the students moving at their own pace. A student can take as long or short a time on a course of learning as they want, so long as they understand all the material. It's another way in which students are empowered to take control of their education.
Athletics:
1.) Describe the athletics at your school - what did you like most about it?
I really liked the supporting atmosphere. A lot of students at the school are great athletes, and some of the major fall events are cheering on the soccer team as they play their States games. When I participated in Softball, everyone who was on the team wanted to be there. We encouraged and cheered for each other during games and practices until we lost our voices!
Art, Music, and Theatre:
1.) Describe the arts program at your school - what did you like most about it?
I loved that so many students get involved with different arts. There's a lot of students in choir, plays, art classes, etc. at all levels of interest in the arts. There are also opportunities for more serious art students (like AP) if they want to coordinate with an art teacher. Students can also incorporate their artistic skills in projects if they want. For example, two students collaborated on a three-piece canvas mural for the newly renovated Recreation Room, and they were able to count it as a project for their academic programs!
Extracurricular Opportunities:
1.) Describe the extracurriculars offered at your school - what did you like most about it?
Student Council is one of the major student organizations at the school. The council gives responsibility to students in different areas of the school. The Yearbook Team is under the umbrella of Student Council, for example. There are students who make sure spaces are clean, clubs are meeting, the weekend activities are fun, etc. It's huge and a big part of the Delphian experience. I think it was very valuable as experience working in a team and, eventually, leading a team.
Dorm Life:
1.) Describe the dorm life in your school - what did you like most about it?
I don't know if my experience applies to this question since I was a day student. However, if you're looking to become a day student, I recommend that you utilize the locker you can reserve for yourself. Keep some basic supplies in there: toothbrush, change of clothes, blanket, etc. in case of need.
Dining:
1.) Describe the dining arrangements at your school.
I liked the variety of dishes that the company cooks. They also have donuts on the weekends!
Social and Town Life:
1.) Describe the school's town and surrounding area.
It's a beautiful view and landscape. It's pastoral, and if you like nature you'll love it here. I'm a nature-lover, and the vistas here are fabulous. There's the really small town of Sheridan in the valley, and the nearest big town is McMinnville which is thirty minutes away. Salem, the capital of Oregon, is forty minutes away. Portland is an hour and twenty minutes away.
2.) Describe the social life at your school - what did you like most about it?
I enjoyed knowing everyone. Even if you never talk to everyone, you're acquaintances simply from the smallness of the student body. There's also to opportunity to join any clubs or start any clubs where you can hang-out and trade ideas with people with a similar interests, like Debate Club, Youth for Human Rights Club, Writer's Club, etc.
What made my school different from other boarding schools was that I was able to move through my program at my own pace. I didn't have to worry about catching up with my class because. . .
The fact that we study for real world application rather than just trying to spit things back out on an exam. This makes the education 10 times more valuable than any other school I have. . .
Here at the Delphian School, all the exams are done one-on-one, where the examiner will ensure that all the student's questions regarding the subject they just studied are solved and answered to satisfaction.The Delphian. . .
Show more reviews (

21 reviews

)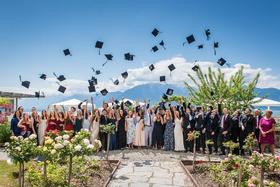 Nurturing Futures: A Journey through Boarding at Haut-Lac School in Switzerland
Nestled in the hills overlooking Lake Geneva in the French-speaking part of Switzerland lies an educational gem that embodies a unique blend of academic excellence, cultural richness and a profound sense of community. Founded over 30 years ago, Haut-Lac International Bilingual Day and Boarding School is now home to both 600 day students and a maximum of 30 boarders from around the world.
What To Wear at Your Job Interview
Navigating job interviews can be stressful, but knowing what to wear shouldn't be. Our comprehensive guide covers the essential dress code tips for men and women interviewing at boarding schools. Make your first impression count with style and professionalism.
Navigating the Modern Maze: Emerging Challenges for Boarding Schools
Explore the pressing challenges facing boarding schools, from marketing difficulties and rising insurance costs to facility maintenance and recruitment of competent trustees and teachers. This article delves into these complex issues and proposes innovative strategies to overcome them.