Reflections and Advice:
1.) What do you think makes your school unique relative to other boarding schools?
Choate encourages every student to strive for self actualization within a challenging yet nurturing environment. Throughout my four years here, I received through instruction in literary classics, as well ancient and modern languages. I believe that this foundation in language and literature has helped me to become a better writer and storyteller, a skill I hope to exercise in college and beyond.
2.) What was the best thing that happened to you in boarding school?
Choate has helped me grow into the woman I am today. I owe so many of my personal and career goals to what I discovered at Choate, and intend to remain involved with the school as an alumni long after I graduate.
3.) What might you have done differently during your boarding school experience?
I would have made an effort to be more outgoing. Moving to a new place can be frightening, but having friends to talk to makes it much easier.
4.) What did you like most about your school?
I had fantastic teachers, caring friends, and a fantastic academic environment to explore. I am so grateful for my time here.
5.) Do you have any final words of wisdom for visiting or incoming students to your school?
Choate is a fantastic school with so much to offer. Though adjusting to being away from home can be difficult, make an effort to reach out to the students around you!
Academics:
1.) Describe the academics at your school - what did you like most about it?
Although the academic climate at Choate is rigorous and competitive, there is still enough room to explore and discover new subject areas.
Athletics:
1.) Describe the athletics at your school - what did you like most about it?
I truly enjoy how Choate offers multiple levels to their athletic programs. I felt free to explore many different sports teams and programs, and learned invaluable lessons about teamwork through the programs.
Art, Music, and Theatre:
1.) Describe the arts program at your school - what did you like most about it?
Choate has a fantastic music program that couples individual instruction with ensemble performance. I have grown so much as a musician during my four years at Choate.
Extracurricular Opportunities:
1.) Describe the extracurriculars offered at your school - what did you like most about it?
The array of clubs offered may seem dizzying at first, but there is truly a club for everyone at Choate. I forged so many great friendships through these clubs, and found that they were a great way to meet new people.
Dorm Life:
1.) Describe the dorm life in your school - what did you like most about it?
I loved living in the Choate dorms, and have made some of my best friends through the residencial program. I feel that living in the dorms helped me to become much more independent in my studies and personal life.
Dining:
1.) Describe the dining arrangements at your school.
The cafeteria is fantastic and provides plenty of options for students. As a vegetarian, the buffet option was especially appreciated.
Social and Town Life:
1.) Describe the school's town and surrounding area.
Wallingford is a great town, with parks, restaurants, and a movie theater all within walking distance.
2.) Describe the social life at your school - what did you like most about it?
I feel that living in the dorms really helped me to develop long lasting and close relationships with my advisers (adult resident assistants who supervise the dorms) and still look up to them as mentors and friends.
Daily Schedule:
Weekday
7:00 PM
Dinner/Study Group
Weekend
12:00 AM
Lunch with friends
4:00 PM
Hanging out in town/downtime
At Choate, I felt that the faculty and administration really cared about my wellbeing and growth. Classes were mostly organized to allow for discussion and office hours were easy to attend and allowed for personal. . .
Choate has a diverse and interesting study body from all around the world. While it is an old and prestigious boarding school, I found Choate to be less traditional than some of its peer schools. . .
The community is definitely Choate's greatest asset, and the admissions folk do a great job of picking students. We're a pretty chill bunch, so you won't find much of the cut-throat competitiveness that usually accompanies. . .
Show more reviews (

27 reviews

)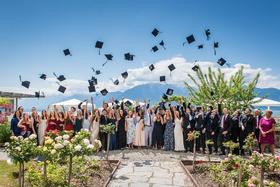 Nurturing Futures: A Journey through Boarding at Haut-Lac School in Switzerland
Nestled in the hills overlooking Lake Geneva in the French-speaking part of Switzerland lies an educational gem that embodies a unique blend of academic excellence, cultural richness and a profound sense of community. Founded over 30 years ago, Haut-Lac International Bilingual Day and Boarding School is now home to both 600 day students and a maximum of 30 boarders from around the world.
What To Wear at Your Job Interview
Navigating job interviews can be stressful, but knowing what to wear shouldn't be. Our comprehensive guide covers the essential dress code tips for men and women interviewing at boarding schools. Make your first impression count with style and professionalism.
Navigating the Modern Maze: Emerging Challenges for Boarding Schools
Explore the pressing challenges facing boarding schools, from marketing difficulties and rising insurance costs to facility maintenance and recruitment of competent trustees and teachers. This article delves into these complex issues and proposes innovative strategies to overcome them.