Reflections and Advice:
1.) What do you think makes your school unique relative to other boarding schools?
There are two main things that are extremely unique about Delphian. First, is the use of Study Technology. This teaches students how to study, and help them be able to move faster and actually understand what they're studying. The use of this technology helps students understand that they are actually learning the data to be able to use it one day, and not just for the exam. At Delphian, you are gaining knowledge on a subject, and then you are able to go out and practice what you know and do different practical applications. Secondly, Delphian uses a proficiency-based program. This means that the student learning and understanding the material is more important than the clock. Some staff spend extra time with a student to help them understand what they're doing simply because they care.
2.) What was the best thing that happened to you in boarding school?
I was able to grow and find myself as a person through my independence. Being without my parents for four years, I had to discipline myself and learn how to fully care for myself. By doing this, I gained more control over my life and my living habits. I found that I matured a lot faster than my friends back home and now I'm not as scared for after high school as I would have been if I stayed at home.I also made life-long friends at this school and this school is my second home. It isn't just a normal high school, it was my home for four years and just the whole environment is so welcoming, I just want to be there always. Because we all lived with together, everyone was generally very open with each other. This helped me with my shyness, and now I'm 100x more outgoing than I was before attending Delphian.
3.) What might you have done differently during your boarding school experience?
I think just being yourself right away and not trying to impress others. I was so used to trying to make up different ways for people to like me so I could make it through school with some friends. About two weeks into my first year at Delphi, I realized it's just best to be yourself and everyone will love you for that. You will gain so many more friends if you're just honest and open with everyone. You don't necessarily become best friends with everyone, but you always know that you can sit with anyone in the dining room and they won't judge you and will talk to you like you've been friends for years.
4.) What did you like most about your school?
I loved the environment, the people, the education, everything. Like any normal teenager, you go through some trouble, but at this school, you learn how to handle your own problems and to improve the situation for yourself and even others around you. The tools that you gain from this school are absolutely amazing and indescribable.
5.) Do you have any final words of wisdom for visiting or incoming students to your school?
This may seem biased as I was the Choir President, but I really think everyone should join choir. Choir was looked at as "nerdy" at my old school, but that's not how it was at Delphi.You learn team building skills, how to sing, how to read music, and more. The choir family is big and everyone loves everyone. We're all sharing a common love for music. You don't even have to be good at singing, but you just have to like music to be in choir. Everyone starts out in Concert Choir and then if you want more of a challenge, then you can audition for Varsity. Overall, it's a very fun group to be a part of and you never really know if you like it until you try. Usually, at the beginning of the year, the choir has a two week trial period and a small performance of the Star Spangled Banner at a home game. If you like it, you can stay. If you don't, you can leave without a hassle. Choir was one of the best things that I did at Delphi and I'll never forget it.
Academics:
1.) Describe the academics at your school - what did you like most about it?
At Delphian, the classes are small which makes it more one-on-one with the teacher. Because Delphian is a proficiency based school, students can work at their own pace. The student learning and understanding the material is more important than the clock. Some staff spend extra time with a student to help them understand what they're doing simply because they care. You can also personalize your learning experience by aligning your program to your future career interests. For example, I wanted to pursue art and writing, so I was able to add these courses to my program. The program gives you the information to be able to understand a subject, but then they also provide you with ways that you can practice it. For example, the school helped me get internships in the arts.
Athletics:
1.) Describe the athletics at your school - what did you like most about it?
Delphian has sports running all year. We do not have a football team, but we do have a boys soccer team. This team usually makes it to State and the "normal public school energy" around football, is mainly around soccer at Delphian. Our fall sports are cross country, boys soccer and girls volleyball. Then, in the winter, we have girls competitive cheer and boys/girls basketball. In the spring, we have track and field, softball, and boys and girls tennis.
Art, Music, and Theatre:
1.) Describe the arts program at your school - what did you like most about it?
Throughout my time at Delphian, I rekindled my love for the arts. I was involved in multiple theater productions, in the choir, and art classes.With the theater, there are three productions per year. In the fall, there is the Thanksgiving Play, which is usually a small and short drama, or comedy. In the past, we have done the plays "Sabrina Fair" and "That's The Spirit." In the winter, there is the Student Run Production, which is another short play that is fully directed by a student. At the end of the year, there is our large production which can either be a musical or just a normal play. In past years, we have done multiple Shakespearian plays, and the musicals "Anything Goes" and "Bye, Bye Birdie!".At Delphian, the "thing" to do is to be in choir. A lot of the students are in choir. We have a Varsity Choir and Concert Choir. In Concert Choir, you sing a lot of easy, pop songs. You also are in every choir festival that the school puts on. You have to audition to get into Varsity Choir, and this is were you do more classical music and you compete. You sing songs in different languages (i.e. Chinese, Latin, Polynesian, German, etc.), learn how to read music, and more. Our choir has gone to the state competition for over 20 years, and has placed in the top three for the past 7 years (we placed first in 2014).For visual arts, the school offers AP Art, normal art class, ceramics, and photography. In AP art, there is an assignment that you have to follow to get the credit. In the other three classes, you can use your own imagination and if needed, the teacher can help you with anything. Mainly, what you create is up to you and your own mind.
Extracurricular Opportunities:
1.) Describe the extracurriculars offered at your school - what did you like most about it?
There are always community service opportunities. There is someone that is actually in-charge of organizing this, so you can always talk to them if you want to volunteer in our local community. You can also set-up and organize volunteer projects yourself in the local community, or around the world. There are also two school-wide community service days per year that you can be involved in.Aside from volunteer work, there are a lot of in-school extracurriculars you can take. This includes choir, sports teams, PE (this is a required class, but you have a wide variety of options including dance, yoga, cross fit, etc. being on a sports team counts for your PE.), pottery, art class, photography, etc.
Dorm Life:
1.) Describe the dorm life in your school - what did you like most about it?
When living in a dorm, students become very close with each other. Because the student body is already so small, the whole Delphian community is like a family. But then, the dorm is an even more tight-knit group. It's rare to have a single room, and most people have roommates. If you have a roommate or not, you end up becoming very close with the whole dorm.You are required to keep your room clean every day and you do a deep-cleaning every Sunday (i.e. sweeping and mopping, taking out trash, organizing drawers, etc.). This really helps with keeps students in check and more aware of their living surroundings. When I went home for breaks, it got me in the habit of keeping my room clean, which made my parents happy.
Dining:
1.) Describe the dining arrangements at your school.
The hours of the dining room are made to work with people's schedules. The dinging room is also very large, so it makes it easier to mix and mingle with your peers. The food is buffet style, and there is something new every day. There are also stable foods like chicken, rice, vegetables, a sandwich bar and a salad bar. There is food for everyone to enjoy and if you have any dietary restrictions (i.e. religious reasons, vegan/vegetarian, etc.), the kitchen can usually help with accommodating with that, at least in my experience.
Social and Town Life:
1.) Describe the school's town and surrounding area.
The school is located on a hill in Sheridan, Oregon. The city is pretty small and there isn't a lot that happens. You can easily get off the hill, but most students don't leave every day. Usually, people go off campus 1-2 times a month. In Sheridan and Willamina (both about 10 mins driving from the school), they have small markets, but no big restaurants or attractions. McMinnville (a larger city) is about 30 mins driving from the school. Most students go here to eat nice breakfast, go grocery shopping, etc. Salem (Oregon's capital) is about an hour away and Portland (the big city) is about 1.5 hours away.Delphian does have a Recreational Room (Rec Room) where you can buy food after the dining room closes as well as any personal care products (shampoo, feminine hygiene, toothpaste, etc.). The Rec Room doesn't always provide everything a student may need, so you can go to any of those cities listed above (your best bet is McMinnville) to do this shopping. I had some dietary restrictions, so I would go grocery shopping about once a month with a staff member in McMinnville.
2.) Describe the social life at your school - what did you like most about it?
Everyone knows everyone, so it's really nice and easy to make friends. Also, you're living with all of your friends, which is probably something a lot of people wish they could do. The whole Delphian community is like a family. The staff and students are on a first-name basis, which makes everything a little more personal. The staff seem more like your friends instead of your superiors. Also, the campus is absolutely beautiful during anytime of the year. There are all-school activities throughout the year including barbecues and bonfires. Everyone seems to get along and there truly is a zero tolerance for bullying (and everyone follows it). If there is bullying found, it is handled right away, and it's truly just a very positive and "homey" environment.
What made my school different from other boarding schools was that I was able to move through my program at my own pace. I didn't have to worry about catching up with my class because. . .
The fact that we study for real world application rather than just trying to spit things back out on an exam. This makes the education 10 times more valuable than any other school I have. . .
Here at the Delphian School, all the exams are done one-on-one, where the examiner will ensure that all the student's questions regarding the subject they just studied are solved and answered to satisfaction.The Delphian. . .
Show more reviews (

21 reviews

)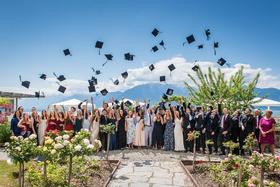 Nurturing Futures: A Journey through Boarding at Haut-Lac School in Switzerland
Nestled in the hills overlooking Lake Geneva in the French-speaking part of Switzerland lies an educational gem that embodies a unique blend of academic excellence, cultural richness and a profound sense of community. Founded over 30 years ago, Haut-Lac International Bilingual Day and Boarding School is now home to both 600 day students and a maximum of 30 boarders from around the world.
What To Wear at Your Job Interview
Navigating job interviews can be stressful, but knowing what to wear shouldn't be. Our comprehensive guide covers the essential dress code tips for men and women interviewing at boarding schools. Make your first impression count with style and professionalism.
Navigating the Modern Maze: Emerging Challenges for Boarding Schools
Explore the pressing challenges facing boarding schools, from marketing difficulties and rising insurance costs to facility maintenance and recruitment of competent trustees and teachers. This article delves into these complex issues and proposes innovative strategies to overcome them.