Reflections and Advice:
1.) What do you think makes your school unique relative to other boarding schools?
GDA has a beautiful campus lay-out; classroom buildings are separated nicely from the dorms. The volunteer work requirements really bring the students together into a close community. The school has a lot to offer culturally, socially and academically.
2.) What was the best thing that happened to you in boarding school?
The best thing that happened to me in boarding school was just going. It changed my life and opened my eyes to a whole new world outside of NY. I see people from my old neighborhood in Queens and they are stuck there. I have done a ton of traveling, studied at one of America's top prep schools, and have a newfound openness to adventure, new places, people and things.
3.) What might you have done differently during your boarding school experience?
I would say don't keep your guard up when meeting new friends - before you know it, you will be graduating and hoping it won't end. And then, you are off to college and the real world. So take a step back, enjoy the life that you have there and it will reward you in many ways.
4.) What did you like most about your school?
I loved everything about GDA and would recommend the institution to anyone. The school is one of the top prep academies in the nation.
5.) Do you have any final words of wisdom for visiting or incoming students to your school?
Have a grilled cheese and vanilla milk shake in the Student Center - they are the best during those cold New England nights. Also check out the new library (it is enormous) and the new athletic facility (it is beautiful).
Academics:
1.) Describe the academics at your school - what did you like most about it?
I liked the individual attention. I came from an inner city high school in New York city and never felt the one-on-one interaction that I felt at GDA. The classes are challenging, but at the same time very rewarding. Much of what I learned in GDA has been put to use in my adult life.
Athletics:
1.) Describe the athletics at your school - what did you like most about it?
I was an all star varsity football, baseball and basketball player. GDA is a great opportunity to stand out and shine in a smaller school (I ended up playing basketball in college). In comparison with the other ISL schools, GDA is at the top. Their hockey program is second-to-none and the football team recently won the championship. Their basketball program produced such stars as Dan Gadzuric (who played at UCLA and is now in the NBA).
Art, Music, and Theatre:
1.) Describe the arts program at your school - what did you like most about it?
The theater program was exceptional. Also, each month we would have a trip to Boston to see different plays and musicals. I never thought I would like such experiences, but it was very rewarding.
Extracurricular Opportunities:
1.) Describe the extracurriculars offered at your school - what did you like most about it?
I volunteered with the Special Olympics; it was a very rewarding experience. I really took a lot out of the charitable fund raisers that GDA gave to the community. The free time was also great, just to wander the woods and relax.
Dorm Life:
1.) Describe the dorm life in your school - what did you like most about it?
Dorm life was great - you get to know people from all over the USA, as well as the world. The dorm parents are there for you whenever you need them, and the dorms were sort of my sanctuary from classes. I could go back, relax, listen to music, and chat with friends (with whom I still remain close).
Dining:
1.) Describe the dining arrangements at your school.
The food was excellent; they try to make different dishes so you do not become tired of the same-old same-old. You have a chance to sit with your friends or sit with professors - everyone is one big family there.
Social and Town Life:
1.) Describe the school's town and surrounding area.
Closest town with life is Newburyport - it is a cute little harbor town with a ton of stuff to do. We used to go into town every chance we could get.
2.) Describe the social life at your school - what did you like most about it?
At first, since I came from a city neighborhood in NYC, I was somewhat against the way everyone spoke, dressed and even acted - but once I put my guard down I realized that we are all the same inside (even though I sounded a bit different with my NY slang). Everyone accepted me; I was even voted most popular, had a beautiful girlfriend, and a ton of friends that I still keep in touch with more than 10 years later.
Daily Schedule:
Weekday
10:00 AM
first class english
11:00 AM
second class math
1:00 PM
free period to study
7:00 PM
relax with friends in dorm for an hour or so
8:00 PM
study hours in library
10:00 PM
lights out for a long day has ended
Weekend
8:00 AM
wake up for breakfast see who wants to join me
9:00 AM
hang out in commons room watch some t.v
10:00 AM
go to the gym for a quick workout
11:00 AM
go back to dorm and shower
1:00 PM
travel with friends to town for a couple of hours
2:00 PM
go to movies in town
3:00 PM
head back to camus for a couple of hours of studying in my room or the library
5:00 PM
dinner with friends
The Governor´s Academy was known as Governor Dummer Academy when I applied, and it was still known that way for part of my time as a student there. As such, my classmates and I. . .
One of the main things is that it has a block schedule, which makes it more like a college schedule while you are still in high school. Instead of having. . .
GDA has many unique experiences to offer its students. However, I would say that the best thing about this small school is the people. In the dorms you not only live with your classmates, but. . .
Show more reviews (

5 reviews

)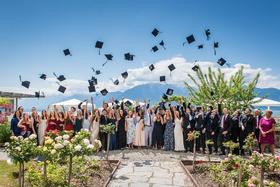 Nurturing Futures: A Journey through Boarding at Haut-Lac School in Switzerland
Nestled in the hills overlooking Lake Geneva in the French-speaking part of Switzerland lies an educational gem that embodies a unique blend of academic excellence, cultural richness and a profound sense of community. Founded over 30 years ago, Haut-Lac International Bilingual Day and Boarding School is now home to both 600 day students and a maximum of 30 boarders from around the world.
What To Wear at Your Job Interview
Navigating job interviews can be stressful, but knowing what to wear shouldn't be. Our comprehensive guide covers the essential dress code tips for men and women interviewing at boarding schools. Make your first impression count with style and professionalism.
Navigating the Modern Maze: Emerging Challenges for Boarding Schools
Explore the pressing challenges facing boarding schools, from marketing difficulties and rising insurance costs to facility maintenance and recruitment of competent trustees and teachers. This article delves into these complex issues and proposes innovative strategies to overcome them.