Reflections and Advice:
1.) What do you think makes your school unique relative to other boarding schools?
Idyllwild Arts Academy is immediately set apart; not by being one of few art boarding schools in the country, but by the glorious mountain scenery the school is actually a part of. A love for nature and for respect of the earth and all the living things in it is clear in the basic attitude by every person on campus. The staff/student relationships are developed through mutual respect, not demanded by authority. This school helped me to become the best version of myself. Once a week I would hear "Remember who you are and what you stand for" said by the entire student body, and those words have had such a powerful impact on my life.
2.) What was the best thing that happened to you in boarding school?
Idyllwild Arts Academy completely changed me as a person for the better. My parents chose to send me to boarding school after a series of events made it clear that the environment I was in was not a positive one - and this school absolutely altered my course in life. I am forever grateful to IAA for helping me to become comfortable in my own skin, confident in myself as an artist and creator, and creating a better human out of me.
3.) What might you have done differently during your boarding school experience?
I would have visited the campus in advance! I went to Idyllwild "blind", and while I was happily and pleasantly surprised, it turns out I had brought certain things I wouldn't need and other things that I did need I had to get! Visiting the school before hand will 1. confirm that you are making the right decision for yourself, and 2. will allow to see exactly what your school life will look like, so you can be better prepared! (Or I would've gone back in time to go for all 4 years of high school!)
4.) What did you like most about your school?
Overall, I loved everything. It was a truly magical experience - I recommend this school to anyone that is an artist outdoorsy child or anyone that has an artist outdoorsy child.
5.) Do you have any final words of wisdom for visiting or incoming students to your school?
Definitely go on a hike to the Point and the Gorge! (With supervision, of course ;)) And Husch Dorm is the best dorm! Although dorms are divided by gender and age, so...
Academics:
1.) Describe the academics at your school - what did you like most about it?
While IAA is focused on the arts, the academics do not suffer in the slightest. Each year there were many options within each subject, so that students were able to better find classes that interested in them. I was never particularly strong in math, and one of my professors junior year recommended that I take Advanced Math Topics my senior year. I thought he had me confused - but no! The class was unlike any other high school math class I had been in, and I excelled! This is just one of many examples of how incredibly involved the staff is. They are truly invested in the education of the students, and they do everything they can to support the students creativity and individuality - which makes it easier for artistic minds to learn the typical academics!
Athletics:
1.) Describe the athletics at your school - what did you like most about it?
Athletics are more student driven, as that is not the focus of the school. However, the PE class works its way through every sport played not only in the United States, but those found in the home countries of many of the international students! As the school is set high up in the mountains, physical activity happens just on the walk/hike to some of the classes!
Art, Music, and Theatre:
1.) Describe the arts program at your school - what did you like most about it?
I loved all of the performances put on! I wish that the real world offered so many incredible visual, music, and theatric performances for free! My best friend was a Visual Arts major, and she absolutely loved all the unique and interesting classes that were available - pottery to screen printing and everything in between. My roommate was a Music Major, and the level of commitment to excellence within that department is nearly unparalleled.
Extracurricular Opportunities:
1.) Describe the extracurriculars offered at your school - what did you like most about it?
Idyllwild Arts Academy encouraged the students to join or start any student organization or community volunteer event that we wanted (within reason, of course!). There were so many clubs - about movies or tv shows or book series, for sports or other outdoor activities (hiking, swimming in the mountain river, group meditation on the sacred Native American grounds), community events such as clean ups or other volunteer opportunities that the students wanted to create. I loved how open all the groups were, and how you could find ways to be involved in an activity with nearly every student.
Dorm Life:
1.) Describe the dorm life in your school - what did you like most about it?
Truthfully, the thing I liked the most about my dorm life was my roommate. We were randomly paired together junior year, chose to live together again senior year, and are still friends 7 years later. When it comes to the actual dorms, I liked that each room had it's own restroom, that you could move about the dorm after curfew (you just couldn't leave!), and that our common room had so many super comfy couches!
Dining:
1.) Describe the dining arrangements at your school.
The cafeteria is nearly always open. The food is by far the best "cafeteria" fare I've had, although with the build your own omelet/pancake bar on the weekends, and a different dinner every night (including a once a month burger night, all you can eat pizzas, taco bars, made to order quesadillas, and more!), and such a large variety of options available for every meal.
Social and Town Life:
1.) Describe the school's town and surrounding area.
Idyllwild is hands down the most adorable town I have ever been in! The community is so wonderful and incredible. Very "hippie" artistic, a very outdoors community. The small mountain 'highway' that runs through the town is one of the most popular routes for motorcycle riders, bicycling tours, and has many long-route hiking trails going through it. There are quite a few wonderful restaurants even though it is such a small town! It really is an artist's sanctuary.
2.) Describe the social life at your school - what did you like most about it?
The school population is not large, which leads to a very close knit community at the school. Not everyone is friends, but you will recognize every face and learn most people's names! The closeness of the school dissipates any of the potential competitiveness you might expect at a small elite arts school - students are extremely supportive of one another and you will find no shortage of collaborations!
Daily Schedule:
Weekday
1:00 AM
Schedules differ depending on class requirements and credits.
Weekend
1:00 AM
Some students have classes Saturday mornings, and others have the full weekend!
Idyllwild Arts Academy is renowned for its dedication to providing a comprehensive arts education. The school serves pupils in grades 9 through 12 and provides a wide variety of artistic disciplines, such as music, dance. . .
Comprehensive Arts Education: Idyllwild Arts Academy's dedication to providing a comprehensive arts education is one of its standout features. The academy offers a wide variety of artistic disciplines, including music, dance, visual arts, drama, film. . .
The academy lays a lot of emphasis on encouraging its students' creativity, focus, and artistic expression. A strong academic program is combined with a demanding arts curriculum to give children a well-rounded education. Students are. . .
Show more reviews (

21 reviews

)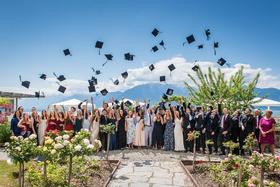 Nurturing Futures: A Journey through Boarding at Haut-Lac School in Switzerland
Nestled in the hills overlooking Lake Geneva in the French-speaking part of Switzerland lies an educational gem that embodies a unique blend of academic excellence, cultural richness and a profound sense of community. Founded over 30 years ago, Haut-Lac International Bilingual Day and Boarding School is now home to both 600 day students and a maximum of 30 boarders from around the world.
What To Wear at Your Job Interview
Navigating job interviews can be stressful, but knowing what to wear shouldn't be. Our comprehensive guide covers the essential dress code tips for men and women interviewing at boarding schools. Make your first impression count with style and professionalism.
Navigating the Modern Maze: Emerging Challenges for Boarding Schools
Explore the pressing challenges facing boarding schools, from marketing difficulties and rising insurance costs to facility maintenance and recruitment of competent trustees and teachers. This article delves into these complex issues and proposes innovative strategies to overcome them.