Reflections and Advice:
1.) What do you think makes your school unique relative to other boarding schools?
Choate is unique in many aspects, but their commitment to signature academic programs was the one that I remember most. Students (myself included) were able to pursue their academic interests by living and studying at the Kohler Environmental Center, or by conducting college-level research through our Science Research Program.
2.) What was the best thing that happened to you in boarding school?
I was always a nerdy kid (and I'm currently a nerdy adult!), but when I was at Choate I felt totally comfortable being myself because it was a place where academic excellence was encouraged, rather than mocked. My friends from Choate are still the closest friends I have, and I left school with a self confidence that I couldn't have imagined when I was a freshman. It was a transformative experience for me, and I wouldn't trade it for anything.
3.) What might you have done differently during your boarding school experience?
I would advise freshmen to get out of their comfort zone, and explore everything the school has to offer. For me, I was overwhelmed by all the opportunities that Choate presented, and it took me a while before I started to try things out. You're only there for four years, and they blow by, so make them count!
4.) What did you like most about your school?
More than anything I liked the people at Choate. The vast majority of students and faculty there is nice, smart, and interesting. To the extent that a school can be measured by the people that go there, it's no surprise that Choate consistently ranks so highly.
5.) Do you have any final words of wisdom for visiting or incoming students to your school?
If you go to Choate, make sure you live in East Cottage during your senior year. The rooms are huge!
Academics:
1.) Describe the academics at your school - what did you like most about it?
Choate's academics were second to none. I was able to take AP and other college-level courses in math, physics, english, and almost any other subject. The opportunity to learn from incredible teachers (often teachers with Masters' Degrees of PhD's) and pursue academics with college-level rigor while in high school was an integral part of my success in college and beyond.
Athletics:
1.) Describe the athletics at your school - what did you like most about it?
Choate's Athletics department fields excellent teams a wide variety of sports, but also offers everyone the opportunity to play a sport if they so choose. The amount of Intramural and non-varsity sports that Choate offers ensures that everyone can play the sports they want to, at the level they want to.
Art, Music, and Theatre:
1.) Describe the arts program at your school - what did you like most about it?
While I never participated in any of the shows or orchestral performances that were offered, I attended frequently to support friends, and I can tell you that if their performance is any indication, Choate has a phenomenal arts program.
Extracurricular Opportunities:
1.) Describe the extracurriculars offered at your school - what did you like most about it?
Choate allows students to participate in over 100 different after-school clubs, and provides funding for those clubs to pursue their interests. It's also easy to start a club, so if you're like me and there isn't already a club that offers what you're looking for, you can just start one.
Dorm Life:
1.) Describe the dorm life in your school - what did you like most about it?
While not unique to Choate, dorm life was one of the best parts about attending a boarding school. Choate offered a safe and fun dorm environment where students could hang out and study.
Dining:
1.) Describe the dining arrangements at your school.
The food was good, but what I remember most about Choate was eating at big tables with lots of people I didn't necessarily know. The culture of the dining hall was very open and friendly, and it was a great way for students to get to know one another even if they didn't share classes or live in the same dorm.
Social and Town Life:
1.) Describe the school's town and surrounding area.
Choate is unique among boarding schools in that it's situated in a large town. There was easy walking access to restaurants, coffee shops, a Wal-Mart, and lots of other fun places.
2.) Describe the social life at your school - what did you like most about it?
I loved how open the social scene was. You could be friends with just about anyone. Also, kids at Choate were generally very smart and interesting people, so the friendships that I made there were of much higher quality than those I could have forged at my local high school.
Daily Schedule:
Weekday
7:00 PM
Hang out with friends in town
10:00 PM
Back to campus for check in
Weekend
1:00 PM
Relax with friends
7:00 PM
Homework / Get ready for the week
At Choate, I felt that the faculty and administration really cared about my wellbeing and growth. Classes were mostly organized to allow for discussion and office hours were easy to attend and allowed for personal. . .
Choate has a diverse and interesting study body from all around the world. While it is an old and prestigious boarding school, I found Choate to be less traditional than some of its peer schools. . .
The community is definitely Choate's greatest asset, and the admissions folk do a great job of picking students. We're a pretty chill bunch, so you won't find much of the cut-throat competitiveness that usually accompanies. . .
Show more reviews (

27 reviews

)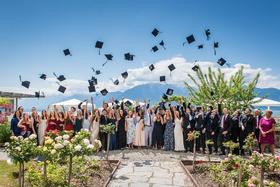 Nurturing Futures: A Journey through Boarding at Haut-Lac School in Switzerland
Nestled in the hills overlooking Lake Geneva in the French-speaking part of Switzerland lies an educational gem that embodies a unique blend of academic excellence, cultural richness and a profound sense of community. Founded over 30 years ago, Haut-Lac International Bilingual Day and Boarding School is now home to both 600 day students and a maximum of 30 boarders from around the world.
What To Wear at Your Job Interview
Navigating job interviews can be stressful, but knowing what to wear shouldn't be. Our comprehensive guide covers the essential dress code tips for men and women interviewing at boarding schools. Make your first impression count with style and professionalism.
Navigating the Modern Maze: Emerging Challenges for Boarding Schools
Explore the pressing challenges facing boarding schools, from marketing difficulties and rising insurance costs to facility maintenance and recruitment of competent trustees and teachers. This article delves into these complex issues and proposes innovative strategies to overcome them.