Reflections and Advice:
1.) What do you think makes your school unique relative to other boarding schools?
Choate is quite simply one of the best schools in America and my years there count among the happiest of my life. Obviously, is not just the beautiful campus and the pedigree of excellence that make Choate such a wonderful place. It is the people: the fabulously interesting, nurturing teachers; the brilliant, talented, motivated students.
2.) What was the best thing that happened to you in boarding school?
I feel I've always been the same person since I was a kid, but Choate helped me realize what only a potential before. All my interests and experiences culminated in the form I took at Choate - a place where I finally felt real belonging.
3.) What might you have done differently during your boarding school experience?
I made some of my best friends in the first week of school - perhaps I was very lucky. But I would say that everyone is new, everyone is open, and everyone is looking to belong, so don't be afraid to introduce yourself, put yourself out there, and make new friends.
4.) What did you like most about your school?
The other students, who became my colleagues and friends, and gave me a sense of belonging.
5.) Do you have any final words of wisdom for visiting or incoming students to your school?
Take advantage of the countryside as well as the school. It's such a beautiful place to explore.
Academics:
1.) Describe the academics at your school - what did you like most about it?
Classes are taught in the Harkness Method, like at most boarding schools - seminars, essentially. The workload was heavy, with readings and weekly essays in most classes. But what was most satisfying was the high quality of conversation and debate had during class. Every student had something to add, and every student wanted to add something.
Athletics:
1.) Describe the athletics at your school - what did you like most about it?
There were dozens of athletic options, with students encouraged to participate in new ones as well as developing their talents in sports they already played. Participation was mandatory 2/3 trimesters.
Art, Music, and Theatre:
1.) Describe the arts program at your school - what did you like most about it?
Choate has an exceptional art and performance program. Bands and orchestras, a capella groups, painting and pottery, theater, theater tech, and art history were all popular programs.I performed in several plays, but playwrighting and teching were equally popular.
Extracurricular Opportunities:
1.) Describe the extracurriculars offered at your school - what did you like most about it?
There were dozens of clubs to participate in. I enjoyed political ones like Young Democrats and Model UN especially, but others provided the legendary Daily News, or volunteering organizations like Big Brother/Big Sister.
Dorm Life:
1.) Describe the dorm life in your school - what did you like most about it?
Dorm life was congenial. Prefects were the enforcers of rules, the leaders in hi-jinx, and the dorms I lived always felt like home.
Dining:
1.) Describe the dining arrangements at your school.
The dining hall had good food (better than my college food). We had sit down meals on Wednesday lunch. Thirty years before, there had been sit down dinners every weeknight.
Social and Town Life:
1.) Describe the school's town and surrounding area.
To the north, Wallingford was a grungy rust-belt town, although there was a very nice street by the school, with cafes and bars. To the south, it was the woods and fields and direct access to truly beautiful New England scenery.
2.) Describe the social life at your school - what did you like most about it?
Everyone was friendly, tolerant, and there was never any bullying or hazing to my knowledge - certainly not any that I observed. It was a politically a very liberal school to me. Coming from a conservative rural region, it was a wonderful relief.
Daily Schedule:
Weekday
8:00 AM
Go to class (switch every hour)
Weekend
11:00 AM
hike, play a game, watch a movie
7:00 PM
order pizza/chinese/sushi
One thing about Choate I really believed made it so unique was the variety of classroom experiences one could have in just ONE academic day. Many schools utilize the classic classroom set up where the. . .
The community is definitely Choate's greatest asset, and the admissions folk do a great job of picking students. We're a pretty chill bunch, so you won't find much of the cut-throat competitiveness that usually accompanies. . .
Choate was unique in that during my junior year, they did away with AP labels on courses in order to let the teachers have more power over the curriculum. This created a culture in which. . .
Show more reviews (

27 reviews

)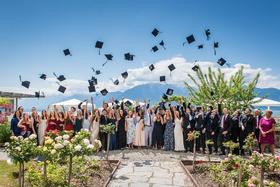 Nurturing Futures: A Journey through Boarding at Haut-Lac School in Switzerland
Nestled in the hills overlooking Lake Geneva in the French-speaking part of Switzerland lies an educational gem that embodies a unique blend of academic excellence, cultural richness and a profound sense of community. Founded over 30 years ago, Haut-Lac International Bilingual Day and Boarding School is now home to both 600 day students and a maximum of 30 boarders from around the world.
Navigating the Modern Maze: Emerging Challenges for Boarding Schools
Explore the pressing challenges facing boarding schools, from marketing difficulties and rising insurance costs to facility maintenance and recruitment of competent trustees and teachers. This article delves into these complex issues and proposes innovative strategies to overcome them.
What To Wear at Your Job Interview
Navigating job interviews can be stressful, but knowing what to wear shouldn't be. Our comprehensive guide covers the essential dress code tips for men and women interviewing at boarding schools. Make your first impression count with style and professionalism.