Reflections and Advice:
1.) What do you think makes your school unique relative to other boarding schools?
What stood out to me were that classes were capped at 15 people, which allowed for lots of classroom participation and individual attention from teachers. There was also a huge emphasis on extra-curricular activities, which led to a holistic experience.
2.) What was the best thing that happened to you in boarding school?
So many things - the lifelong friendships, the incredible education, and the unique experiences that come from living with peers and teachers.
3.) What might you have done differently during your boarding school experience?
I would have spent less time studying and more time enjoying everything that Choate had to offer. I would have worried less about getting into college and "achievements", and more on experiences. Advice: say yes, soak up all that boarding school has to offer, because it's a unique experience that won't really be replicated.
4.) What did you like most about your school?
The people really made the experience for me.
5.) Do you have any final words of wisdom for visiting or incoming students to your school?
Breakfast sandwiches are delicious if you can wake up in time for them!
Academics:
1.) Describe the academics at your school - what did you like most about it?
Rigorous - students were brilliant and pushed me to think and work harder Creative, hands-on teaching - my Biology teacher took us to a farm to observe animals in their natural habitat
Athletics:
1.) Describe the athletics at your school - what did you like most about it?
Meritocratic - try-outs were fair and rigorous Competition with other boarding schools - one of the highlights was traveling to different boarding schools to play tennis. It was great fun meeting other people, exploring other campuses, and just traveling with teams.
Art, Music, and Theatre:
1.) Describe the arts program at your school - what did you like most about it?
I enjoyed watching many of the musicals and plays that the school produced.
Extracurricular Opportunities:
1.) Describe the extracurriculars offered at your school - what did you like most about it?
There was a wide range of extracurricular activities to choose from, to address almost every interest. There was also flexibility to create your own program if one didn't exist.
Dorm Life:
1.) Describe the dorm life in your school - what did you like most about it?
Safe and fun. We had a lot of wholesome fun baking together, watching TV, playing videogames, preparing for holiday parties, and just chatting.
Dining:
1.) Describe the dining arrangements at your school.
There was a lot of choice and the food was always delicious.
Social and Town Life:
1.) Describe the school's town and surrounding area.
There wasn't much in Wallingford.
2.) Describe the social life at your school - what did you like most about it?
I loved the diversity of people and of thought. It was easy to connect with people through extracurriculars, dorm life, and classes.
One thing about Choate I really believed made it so unique was the variety of classroom experiences one could have in just ONE academic day. Many schools utilize the classic classroom set up where the. . .
The community is definitely Choate's greatest asset, and the admissions folk do a great job of picking students. We're a pretty chill bunch, so you won't find much of the cut-throat competitiveness that usually accompanies. . .
Choate was unique in that during my junior year, they did away with AP labels on courses in order to let the teachers have more power over the curriculum. This created a culture in which. . .
Show more reviews (

27 reviews

)
Mastering the Boarding School Selection Process: A 5-Step Guide
Discover the ultimate 5-step guide to choosing the perfect boarding school for your child. Explore essential factors, such as academics, campus facilities, extracurricular activities, and more. Make an informed decision to provide your child with an enriching and transformative educational experience. Read now!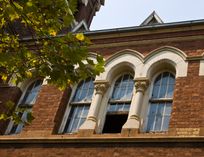 5 Founders and Their Boarding Schools
What prompts somebody to start a boarding school? The motives range from idealism to munificence right on through to capitalism. The common thread seems to be ample capital and a vision of what education can do.