Reflections and Advice:
1.) What do you think makes your school unique relative to other boarding schools?
At A+ World Academy students are put together in a tight knit community while sailing the world. Our campus is the ship itself and students have to live, work and study together in this small environment. This allows for the most incredible relationships to be formed and fosters a sense of closeness and community. It also allows for students to travel the world together and gain a hands on experience for culture and history.
2.) What was the best thing that happened to you in boarding school?
The best thing that happened to me was probably getting the opportunity to meet so many likeminded people in one year. I made friends that I know I will have for the rest of my life and for that, I am eternally grateful. The year at A+ has changed me so much as a person but also has taught me so much about others as well. It allowed for me so much insight into the world around us and really gave me a different perspective of what life was like away from the traditional world.I'm currently on a gap year now and am deferred from Northeastern. But the year at A+ taught me that the world is so huge and there is so much more of it to explore.
3.) What might you have done differently during your boarding school experience?
My advice for others would be to not be afraid to reach out to people and have real conversations with people. It would change you and your perspective of others so much.
4.) What did you like most about your school?
I liked that I was away from the outside world and living in our own community bubble for periods at a time. Away from the internet and really being able to speak to people and have these conversations with people not hindered by restraints of modern technology.
5.) Do you have any final words of wisdom for visiting or incoming students to your school?
Enjoy your time on board because it really will fly by so much quicker than you'd expect it to.
Academics:
1.) Describe the academics at your school - what did you like most about it?
My favorite part regarding academics on board were the small class sizes. My AP Calc class had only 6 students and we were situated in a small "classroom" that allowed for the teacher to give us individual help. In addition, due to the nature of our school, it was extremely easy to ask peers for help as well.One problem that I was faced with was the lack of diversity regarding the class choices. Though all major subjects were covered, some of the more niche classes obviously wasn't offered.
Athletics:
1.) Describe the athletics at your school - what did you like most about it?
Athletics on board the ship is extremely up to the individual student. Workouts are available almost daily (if weather permits) on the deck that is mainly centered around cardio based aerobics. And sailing also makes up a huge part of our time on board. Students are required to keep watch for 4 hours a day (2 of which are during the night time). And all students have the option of matriculating to matros lærling (sailing certification).But due to the nature of living on board a ship, there aren't interscholastic sports or a lot of facilities for athletics.
Art, Music, and Theatre:
1.) Describe the arts program at your school - what did you like most about it?
Not applicable. There was not a huge visual arts/music/theatre program available. Clubs could probably have been formed if there was the interest for it.
Extracurricular Opportunities:
1.) Describe the extracurriculars offered at your school - what did you like most about it?
Extra-curricular activities were organized by students for the students. For example, during my year on board, we had the baking club, holiday club and student council etc. If there is interest for a particular club, students can have the option of forming it and running meetings.Volunteer opportunities are often incorporated into the school's field studies program. It occurs when we are ashore. For example, during out time in Praia, Cape Verde we had the lovely opportunity to visit a local school and interact with the students and also got the opportunity to paint murals with the locals.
Dorm Life:
1.) Describe the dorm life in your school - what did you like most about it?
Student "dorms" would be what we called the banjer. It is essentially where students eat, sleep and have their classes. Most students sleep in hammocks (there are a couple of bunks available as well) that are packed away during the day.I loved the fact that we were in such a close environment but it can be of an issue for some students who are not used to living together with lots of people.
Dining:
1.) Describe the dining arrangements at your school.
There are three meals a day provided and always offer a balanced selection of foods. The chef and chief steward do an excellent job of making sure there are always new things to try and good food. There is also a snack break at 3 o'clock each day and students are welcome to keep their personal snacks in designated lockers.We also have a family dinner every Sunday where all the crew/teachers and students enjoy a meal together.
Social and Town Life:
1.) Describe the school's town and surrounding area.
You're surrounded by the big blue ocean most of the time at sea and the ports that we go to during the school year are always amazing. And at sea, we get to see tons of new and exciting marine life (dolphins, whales, etc.!).
2.) Describe the social life at your school - what did you like most about it?
Social life is what you make of it. It's an extremely close knit community so the friends that you have, you know you will have for life. And I found that everyone formed a bond so quickly that all of us got along most of the time with no issues. I loved being able to form friendships with people I might not traditionally get to know in a regular school.
Daily Schedule:
Weekday
7:00 AM
Wake ups / breakfast at 7:30
8:00 AM
Colors (all students muster on the main deck). Cleaning starts
9:00 AM
Classes start and run until 6:00pm. 2 hours of day watch also occur during this time.
8:00 PM
Study hall/ free time/ night watches start
A + World Academy is an Unique School which allows you to grow as a person. It offers a program combining normal classes With Field studies all around the world, allowing you to Discover new. . .
The biggest difference from other schools is that all the students live on a ship while sailing the world. That experience is something you can carry for the rest of your life.Another aspect of. . .
The moats unique thing about A+ World Academy is the fact that it's a school on a tall ship. You're not only attending the school, you're also working as a crew member on the ship. . .
Show more reviews (

5 reviews

)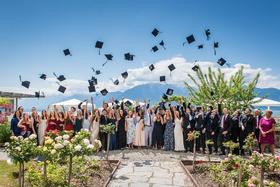 Nurturing Futures: A Journey through Boarding at Haut-Lac School in Switzerland
Nestled in the hills overlooking Lake Geneva in the French-speaking part of Switzerland lies an educational gem that embodies a unique blend of academic excellence, cultural richness and a profound sense of community. Founded over 30 years ago, Haut-Lac International Bilingual Day and Boarding School is now home to both 600 day students and a maximum of 30 boarders from around the world.
Navigating the Modern Maze: Emerging Challenges for Boarding Schools
Explore the pressing challenges facing boarding schools, from marketing difficulties and rising insurance costs to facility maintenance and recruitment of competent trustees and teachers. This article delves into these complex issues and proposes innovative strategies to overcome them.
What To Wear at Your Job Interview
Navigating job interviews can be stressful, but knowing what to wear shouldn't be. Our comprehensive guide covers the essential dress code tips for men and women interviewing at boarding schools. Make your first impression count with style and professionalism.