Reflections and Advice:
1.) What do you think makes your school unique relative to other boarding schools?
Choate was unique in that during my junior year, they did away with AP labels on courses in order to let the teachers have more power over the curriculum. This created a culture in which students weren't focused on filling up their course load with advanced classes, but rather had the freedom to take classes they wanted, finding faith in knowing that any Choate class they'll take is academically rigorous. Colleges knew this and as far as I know, admissions statistics into top schools were not affected.
2.) What was the best thing that happened to you in boarding school?
I was selected to train with the national team after my senior year and I don't think that I would have been able to do that had I not gone to Choate. The school transformed me into an athlete, singer, and a serious academic. I was the captain of the rowing team and a president in acapella. I was fulfilled in almost every aspect of my life. I really can't recommend a place better than Choate.
3.) What might you have done differently during your boarding school experience?
My advice for kids going to boarding school is to get involved. It's far too easy to sit back and watch the experiences pass you by, but they'll be over before you even know it. I was heavily involved in crew at Choate, but part of me wishes I had committed more time to art. Whatever it is you're interested in, there will be opportunity for you. Go out and get involved; the people there will be more than happy to have more people participate.
4.) What did you like most about your school?
The community is what made Choate for me. The people I spent time with taught me as much if not more than the classes I was in. I was stimulated by every aspect of the school and will be forever grateful to the teachers and friends I had there. Through thick and thin, there were people who stuck by your side and guided you. I still talk to a lot of my friends from Choate as well as teachers and coaches.
5.) Do you have any final words of wisdom for visiting or incoming students to your school?
Definitely visit the school's cafe and get a dirty chai and get potstickers from the snack bar. I think what's most important at a boarding school is talking to the students. By taking in the energy and attitude of your peers, you'll be able to make a good decision on whether or not this is the place for you.
Academics:
1.) Describe the academics at your school - what did you like most about it?
I really liked how involved the teachers were in the student's academic career. The largest class I think I ever had at Choate was 15 kids. Each class was diverse, having a good proportion of students of color and students from various socioeconomic backgrounds and family situations. Having taken a PG year at Kent, I realized how lucky I was to be at Choate. Everyone participated in class discussion and had something interesting and unique to say. If I had to say what I liked most about the academics at Choate, it would be a tie between how willing students were to disagree and challenge professors and how satisfied I was with each teacher I had. There were more classes than I could hope to take in four years, almost all of which seemed very interesting to me. The SRP and Capstone programs are unique to Choate in the fact that they allow students to "major" in Science or any subject of their choosing. The Science Research Program allows students to conduct original research which culminates in a 20-30 page paper and presentation. The Capstone program allows students to opt out of one of their classes to work with an advisor in order to study an issue of their choosing in depth, culminating in a 20-30 page paper and video presentation in the spring .
Athletics:
1.) Describe the athletics at your school - what did you like most about it?
The athletics at Choate were very strong. The football team has been undefeated for five years and the Hockey and Lacrosse team are consistently competitive. I found a large, welcoming community on the rowing team, filled with lifelong friends and camaraderie. While our sport was a bit underfunded, we still went out every day and got after it. The competitiveness of the sport depended on team, however, there were good athletes in each group. We were required to participate in an activity each term, whether it be art of sports. A lot of my friends opted to participate in one of the plays (offered each term) and played a varsity sport. The coaching is good across the board, for some programs, the coaches are more experienced and involved and for others, the coaching staff is a bit younger and less experienced.
Art, Music, and Theatre:
1.) Describe the arts program at your school - what did you like most about it?
There are a plethora of classes in each discipline of the arts available. From visual arts to musical composition, there is opportunity for all. I was in a cappella and the select choir and I was blown away by the credentials of some of my teachers. The Paul Mellon Arts Center is going through renovations and expansions and will give even more space to students practicing the arts. We had a dancing studio in the gym, a recital hall, main stage, many practice rooms, a floor of art studios, and a gallery for hanging out and practicing. The black box theatre providing a space for acting classes and workshops and we'd take music lessons in the practice rooms. The school puts on two plays in the winter and fall and a musical in the spring as well as vocal and instrumental recitals each term. Each term, the senior acting electives put on unique shows. There is no shortage of resources for the arts program.
Extracurricular Opportunities:
1.) Describe the extracurriculars offered at your school - what did you like most about it?
Choate offers over a hundred different clubs as well as varsity sports and arts concentrations. The arts concentration allows a student to practice their craft after school in place of an athletic activity, however, they can swap out one of their terms for a sport or fitness activity. Choate also offers athlete training programs for athletes who wish to specialize in their sport and receive top tier training in the off season. Choate's robotics team is also an afternoon activity, which allows students to participate in the Vex world championships. I wasn't on the team, but it felt like every other school meeting, they were announcing another championship or victory.
Dorm Life:
1.) Describe the dorm life in your school - what did you like most about it?
I met my best friend my sophomore year of high school. His and my freshman year roommate had left the school and we ended up rooming together. Sophomores and juniors room together while freshman and seniors room alone, respectively. This creates a lot of unity within the grades during the pivotal points in their development and creates friendships that last throughout one's tenure at the school and even beyond. The part I liked most about my dorms was the community after hours. There were senior prefects assigned to every dorm that wasn't an all senior dorm. Whether you were a sophomore, junior, or senior, everyone worked together after check in in the common room. The late night grind was a sacred place where we all bonded together over long papers, projects, and homeworks. It created another subset of community that wouldn't really have been cultivated otherwise. The prefects in the dorm were your friends but also older brothers and sisters, who were there for you when you needed them, whether bored on a Saturday night or feeling down in the dumps about homesickness or a break up.
Dining:
1.) Describe the dining arrangements at your school.
SAGE dining did our catering and provided good food to us. Everyday we had a pizza and pasta bar and a salad/cold cuts bar. There were made-to-order omelets every morning and the main course changed during lunch and dinner. The hours for breakfast were 7:15-9, lunch was from 10:45-1:30, dinner was from 5-7:30. There are no formal dinners or assigned seatings. We were blessed to have different kinds of food almost every day.
Social and Town Life:
1.) Describe the school's town and surrounding area.
The town of Wallingford, CT, was just close enough to walk to but just far enough to feel as though you were off campus. No matter where you are, you'll feel the desire to get off campus, with Choate, it's easy to take a breather from the pressure of boarding school and go out to get food in town or check out the record shop. Town was a classic hang out spot frequented by students and teachers alike. With Mr. D's. Ice Cream shop down the street, it was hard to stay away.
2.) Describe the social life at your school - what did you like most about it?
Social life was great at Choate because you formed bonds through making friends in activities and classes, but it was also very easy to talk to people. My peers at Choate were all pretty friendly and easy to talk to. There wasn't always a lot to do on the weekends at Choate, so the friends you would make would find something to do. Either playing games at the student center working on the arts in the PMAC. I really liked the camaraderie that students had on their team and in their dorm. The small communities were the highlight of the social scene for me.
Daily Schedule:
Weekday
8:00 AM
The schedule changed the year I left to longer blocks, but I remember everyone liked it better
7:30 PM
Study hall for underformers
9:30 PM
Check in for all students
Weekend
10:00 AM
Wake up whenever you'd like unless you had a game
1:00 PM
From 1-3 there were usually home games and students would go out and support
5:00 PM
Dinner is open from 5-7
9:00 PM
There's usually a dance every other week
One thing about Choate I really believed made it so unique was the variety of classroom experiences one could have in just ONE academic day. Many schools utilize the classic classroom set up where the. . .
The community is definitely Choate's greatest asset, and the admissions folk do a great job of picking students. We're a pretty chill bunch, so you won't find much of the cut-throat competitiveness that usually accompanies. . .
Choate was unique in that during my junior year, they did away with AP labels on courses in order to let the teachers have more power over the curriculum. This created a culture in which. . .
Show more reviews (

27 reviews

)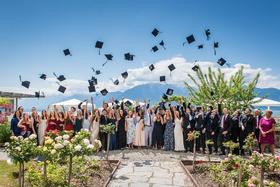 Nurturing Futures: A Journey through Boarding at Haut-Lac School in Switzerland
Nestled in the hills overlooking Lake Geneva in the French-speaking part of Switzerland lies an educational gem that embodies a unique blend of academic excellence, cultural richness and a profound sense of community. Founded over 30 years ago, Haut-Lac International Bilingual Day and Boarding School is now home to both 600 day students and a maximum of 30 boarders from around the world.
Navigating the Modern Maze: Emerging Challenges for Boarding Schools
Explore the pressing challenges facing boarding schools, from marketing difficulties and rising insurance costs to facility maintenance and recruitment of competent trustees and teachers. This article delves into these complex issues and proposes innovative strategies to overcome them.
What To Wear at Your Job Interview
Navigating job interviews can be stressful, but knowing what to wear shouldn't be. Our comprehensive guide covers the essential dress code tips for men and women interviewing at boarding schools. Make your first impression count with style and professionalism.