Reflections and Advice:
1.) What do you think makes your school unique relative to other boarding schools?
Delphi provides an education that is tailored to each student. I got to discover what I wanted to do, and then actually do courses and projects that fit with what I want to do after I graduate.
2.) What was the best thing that happened to you in boarding school?
At Delphi I learned about many things. All the things that I learned, I can use in life. All the mistakes I made became a lesson, and even when I did make mistakes I was always given the opportunity to come back from it.
3.) What might you have done differently during your boarding school experience?
I don't think I would have done anything different. The whole experience is learning process, and the best advice I can give is to experience as much as you can, and don't be afraid to step outside your comfort zone.
4.) What did you like most about your school?
There are too many things I liked and it's honestly impossible to name one thing. But a common thing that is said at Delphi is that the people are what make Delphi. And I think that is very true, because without the amazing students, Delphi would not be Delphi. And so I loved the amazing friends I made and the incredible staff I got to work with.
5.) Do you have any final words of wisdom for visiting or incoming students to your school?
I definitely recommend you go on the Bend Ski Trip. It is the most fun off campus trip, and even if you have never skied before you"ll have a fun time because this is when you make new friends you never thought to talk to before.
Academics:
1.) Describe the academics at your school - what did you like most about it?
The academics at Delphi is a good balance of practical and theory. In the classroom you are taught to actually apply the things you learn, whether that is writing an essay to explain what you just learnt or showing what you learnt using objects or with a drawing. the importance is conceptually fully understanding what you learn rather than cramming for an exam.
Athletics:
1.) Describe the athletics at your school - what did you like most about it?
I was in the cheer team and I did one year of track and field. The teams at Delphi become a very close knit group. At Delphi, the cheer team becomes very close friends. We also have very high standards on good sportsman ship so teams from other schools tend to become our friends as well. The athletic programs itself are very fun and challenging. In cheer we came second in the state both of the years I was in cheer. We work hard and are taught to have a good work ethic.
Art, Music, and Theatre:
1.) Describe the arts program at your school - what did you like most about it?
the arts are a huge part of Delphi. There are many talented students and they are all given the opportunity to grow and improve in their skills. As a dancer, although there are no dance programs, I got to choreograph almost every performance or play that had any dancing in it. I liked that everyone supports each others talent. Students painting and artworks are displayed for everyone to enjoy, and there are many performances to showcase dancing or singing.
Extracurricular Opportunities:
1.) Describe the extracurriculars offered at your school - what did you like most about it?
In my 2nd year I got to go to North Carolina and clean up after Hurricane Florence as a volunteer. It was an incredible experience. We went to different churches and houses of senior citizens to help them clean up. We moved pews, broke down moldy walls, and pulled out moldy carpets. We also moved trees that had fallen and distributed toiletries or food that people might need. Everyone we came across was amazed at how determined we were to help them, and they were all very grateful.
Dorm Life:
1.) Describe the dorm life in your school - what did you like most about it?
For one of my years I was a dorm captain and got to manage my dorm and lead my dorm members. We became the closest group and made the best memories. We would watch movies together and get food from off campus to eat together. At the same time, we cleaned our rooms and the bathrooms and took full ownership of our dorm.
Dining:
1.) Describe the dining arrangements at your school.
Sage dining caters for Delphi. Many staff and students are provided with meals and so the food isn't always the best. Although it is very good for the amount of people they have to provide for.
Social and Town Life:
1.) Describe the school's town and surrounding area.
Sheridan is very quiet and rural. What I liked most was the strawberry farms and giant lands surrounding Delphi. We have to drive quite far to get to shopping malls and other places, but the drives end up being very fun.
2.) Describe the social life at your school - what did you like most about it?
Everyone at Delphi is very friendly and open to new students. New students are welcomed, and you'll find that once you get there many many students will be curious and would want to say hi.
What made my school different from other boarding schools was that I was able to move through my program at my own pace. I didn't have to worry about catching up with my class because. . .
The fact that we study for real world application rather than just trying to spit things back out on an exam. This makes the education 10 times more valuable than any other school I have. . .
Here at the Delphian School, all the exams are done one-on-one, where the examiner will ensure that all the student's questions regarding the subject they just studied are solved and answered to satisfaction.The Delphian. . .
Show more reviews (

21 reviews

)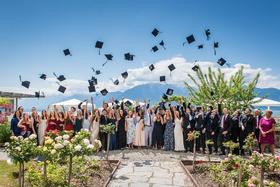 Nurturing Futures: A Journey through Boarding at Haut-Lac School in Switzerland
Nestled in the hills overlooking Lake Geneva in the French-speaking part of Switzerland lies an educational gem that embodies a unique blend of academic excellence, cultural richness and a profound sense of community. Founded over 30 years ago, Haut-Lac International Bilingual Day and Boarding School is now home to both 600 day students and a maximum of 30 boarders from around the world.
What To Wear at Your Job Interview
Navigating job interviews can be stressful, but knowing what to wear shouldn't be. Our comprehensive guide covers the essential dress code tips for men and women interviewing at boarding schools. Make your first impression count with style and professionalism.
Navigating the Modern Maze: Emerging Challenges for Boarding Schools
Explore the pressing challenges facing boarding schools, from marketing difficulties and rising insurance costs to facility maintenance and recruitment of competent trustees and teachers. This article delves into these complex issues and proposes innovative strategies to overcome them.