Reflections and Advice:
1.) What do you think makes your school unique relative to other boarding schools?
The honor code is what I think sets Episcopal apart from other high schools. Students don't think twice before leaving their bookbags in the hallway for lunch or any sort of break during the day. Everyone feels safe and protected because the honor code provides a sense of security that can be felt throughout the community. I came to Episcopal realizing that they felt strongly about their honor code, but I never could have imagined that it played such a large role in everyone's lives. I knew friends back home at other high schools that thought I was crazy when I told them I would just leave my backpack in the halls or outside the chapel, but then again they didn't have the strong honor code that Episcopal does.
2.) What was the best thing that happened to you in boarding school?
I think I really matured during my boarding school experience. I was forced to take care of myself such as doing my laundry and making sure that I studied and kept up with my classes. My parents were there for support and I could still go home if I wanted, but I was forced to operate day to day on my own. Episcopal was a great environment to experience this in because they had a netowrk of faculty that could help with any problems. I feel very fortunate in going to boarding school becuase it really helped prepare me for college.
3.) What might you have done differently during your boarding school experience?
If I had done anything differently I would have tried to participate in more activities and clubs. There are so many oppertunites, I just wish I had take advantage of them more often.
4.) What did you like most about your school?
I liked the sense of community the best at Episcopal. The way everyone knew each other and such a strong bond with everyone including the faculty.
5.) Do you have any final words of wisdom for visiting or incoming students to your school?
One thing I have really missed since graduating is the breakfast bagel from the snack bar. They are worth their weight in gold.
Academics:
1.) Describe the academics at your school - what did you like most about it?
One thing that I loved about Episcopal was the strong bond that formed between the students and the faculty. Most of the faculty lives on campus with the students so they are always easy to reach in case you have a question about class or you just want to hang out. Another aspect of Episcopal that encourages this bond is the small class sizes. This enables students and teachers to have in depth conversations about the day's topic that results in a deeper learning of the subject. The teacher and student interact well in this environment and are able to from a strong bond that lasts even outside of the classroom. Faculty members also coach the atheletic teams and orgainze other afternoon activities so students are able to get to know their teachers even better. During the weekends teachers are never far either as they live on campus and many of them take students to movies, into DC, and other nearby attractions. I formed a very strong bond with my teachers and even after graduating I still remain in contact with many of them.
Athletics:
1.) Describe the athletics at your school - what did you like most about it?
Episcopal has so many different oppertunites for everyone. My first year at Episcopal I ended up playing three sports that I had never played before. I had always played soccer but when I got to Episcopal I chose to switch to football and was fortunate to play all four years. I was even able to play in The Game against Woodberry Forest, the oldest continuous Southern high school football rivalry. In the spring I decided to play lacrosse, a sport that I had never even heard of before coming to Episcopal. The most important thing that I got out of all my athletic activities was that I got to meet so many people, both students and teachers.
Art, Music, and Theatre:
1.) Describe the arts program at your school - what did you like most about it?
Every incoming freshman is required to take a semester of arts and by the time of graduation you must have completed another semester in some arts program. There are numerous areas of study and the facilities are fabulous with the new state of the art performing arts center. There are even numerous oppertunities in the arts outside of the class room. There are student bands, private lessons in many different instruments (I was a four year piano student), and many students paint or draw in their spare time in the arts department.
Extracurricular Opportunities:
1.) Describe the extracurriculars offered at your school - what did you like most about it?
The extra-curricular activies at Episcopal are endless. The community service program is huge, as everyone is required to volunteer one day in the fall and many participate in the program throughout the year, going to shelters and providing food and clothing for those in need. There are also dozens of clubs that students are able to join. I personally was a member of the It's Academic team, a competition very similar to quiz bowl, and was editor and writer for the school newspaper. Whatever your interests are, there is a club or activity for you, and if not, you can always help organize it.
Dorm Life:
1.) Describe the dorm life in your school - what did you like most about it?
I don't even know how to describe how great dorm life was. I loved having my best friends a few feet away, in case I had a question about class or I just wanted to hang out. Another great feature about the dorms is that there are faculty members on the dorm in case you have any problems or questions. Everyone was dealing with many of the same issues so there is always help if you have any problems. Overall I loved dorm life, and feel very fortunate to have that experience.
Dining:
1.) Describe the dining arrangements at your school.
There are four seated meals a week, meaning you sit in your assigned seat with 6 other students and a faculty member and student waiters (a paid position) serve food to every table. These seating arrangements change every few weeks enabling you to meet other people. The rest of the meals are buffet style which gives the students the freedom to eat when it fits their schedule after practices or games and before study hall.
Social and Town Life:
1.) Describe the school's town and surrounding area.
Episcopal's location was one of the main things that made my decision to come a lot easier. Coming from a small town I loved the fact that I could be in the nation's capital within minutes and could easily access many other of the cities attractions. Just a few miles away is Old Town Alexandria, which is a popular place for students as there are numerous shops and restaurants on the waterfront.
2.) Describe the social life at your school - what did you like most about it?
I made many lasting friendships at Episcopal. I still keep in touch with many of my high school friends. One of the reasons for such great friendships is that everyone lives together on dorm and the community is so small that everyone knows everyone.
Daily Schedule:
Weekday
8:00 AM
First period starts
12:00 AM
Chapel or Community meeting
3:00 PM
Tutorial - students can meet with teachers and ask questions about class
3:30 PM
Afternoon Activity
Weekend
11:00 AM
Hangout on dorm or campus
1:00 PM
Lunch at dining hall or nearby restaurant
5:15 PM
Go to DC or Old Town Alexandria - see movies, shop, or just go sight seeing
One aspect of Episcopal that is unique is the fact that is 100% boarding. Since there is not this divide in the community, the sense of community at EHS is quite strong. Everyone is there. . .
I think what sets Episcopal apart from other comparable boarding schools is its unique location. Situated right outside the nation's capital, EHS students are constantly exposed to the world beyond just the high school. Very. . .
Episcopal is unique in the boarding school world in that 100% of the students are boarders. While the school advertises this statistic heavily, I personally do not think that it could be said too. . .
Show more reviews (

9 reviews

)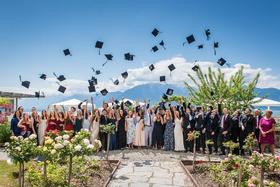 Nurturing Futures: A Journey through Boarding at Haut-Lac School in Switzerland
Nestled in the hills overlooking Lake Geneva in the French-speaking part of Switzerland lies an educational gem that embodies a unique blend of academic excellence, cultural richness and a profound sense of community. Founded over 30 years ago, Haut-Lac International Bilingual Day and Boarding School is now home to both 600 day students and a maximum of 30 boarders from around the world.
Navigating the Modern Maze: Emerging Challenges for Boarding Schools
Explore the pressing challenges facing boarding schools, from marketing difficulties and rising insurance costs to facility maintenance and recruitment of competent trustees and teachers. This article delves into these complex issues and proposes innovative strategies to overcome them.
What To Wear at Your Job Interview
Navigating job interviews can be stressful, but knowing what to wear shouldn't be. Our comprehensive guide covers the essential dress code tips for men and women interviewing at boarding schools. Make your first impression count with style and professionalism.