Reflections and Advice:
1.) What do you think makes your school unique relative to other boarding schools?
I attended The Masters School for four years, and one of the unique qualities that I noticed is the extreme sense of community that it offers to its students, faculty, and the families of the students and faculty. I believe this sense of community is a result of many different aspects of the school such as, the teaching style, community involvement and activities, extracurricular, diversity, and boarding life as a whole. The teaching style is unique for two reasons: the Harkness method and the faculty. The Harkness method is a method of teaching that allows maximum interaction between all of the students in the class and the teacher. It allows everyone to be at the same level of participation and enables discussions to be taken to another level. The faculty at The Masters School are also amazing during classes and on campus. A lot of faculty live on campus which allows you, the student, to get to know them on a more personal level and also gives you access to them not only during the academic day, but afterwards as well. For example, being a boarding student, you are usually active in the community, which means that after school, there is no time to go for extra help, or to simply ask some questions to your teacher. Instead, you can talk to your teacher and ask them if they will be available for evening study hall, and often you can meet with them then. I can't recall how many times I went to my teachers' apartments or offices to get review help before a test, or help on a paper, and usually you aren't alone! A lot of boarders find out if their teacher is available and that way a few of you from class meet with the teacher at the same time, which is a great way to learn the material better, I believe. The activities, which I will get into later, are another aspect that further builds upon this tight-knit community. There are always things that students can get involved with ranging from recycling to playing sports, every student has an opportunity to get involved if desired. Because of the wide range of activities and interests within school, this allows us all to learn from each other and get others involved. The diversity within the school is another aspect that I really love about Masters. I came from a city where I was not exposed to the different cultures and traditions from people who are all types of ethnicities. Because of boarding life, I was directly immersed in a community where everyone was learning about each others backgrounds and cultures, and a lot of times, everyone was trying new things, whether it be eating and cooking some type of food, dancing differently, or merely just learning about the culture and school where the person is from. This diversity is a huge part of the composition of the community that is present there today.
2.) What was the best thing that happened to you in boarding school?
I think one of the biggest things that Masters helped me to realize was how the real world works in terms of the types of people you meet, the responsibilities you encounter and the freedom you receive. When you are a boarder there are rules that you need to follow, and they aren't ridiculous restrictions, and this is where the freedom and responsibilities come in. I was exposed to so many different cultures, experiences, and opportunities that I would not have been exposed to if I wasn't at Masters. I have grown as a person by being able to adapt to a different and changing environment, because of the different teaching style and living away from home.
3.) What might you have done differently during your boarding school experience?
The only advice I would have would be to go into it with an open mind and to get involved. A lot of people don't do anything their first year, but getting involved in different things lets you meet new people and helps in your transition into boarding life, especially if you haven't gone to boarding school before.
4.) What did you like most about your school?
I liked the feel of the community the best. I liked being able to know everyone and meet knew people and the entire welcoming atmosphere that the school provides. I also liked being able to get to know the teachers very well and being able to build a strong relationship with them, especially the dorm parents and my advisor. These are the people that basically become your parents away from home.
5.) Do you have any final words of wisdom for visiting or incoming students to your school?
I think all of the dorms are great, I lived in FORD dorm all four years, because I loved it there, but everyone usually likes their dorm, so either way you should be fine. My only advice is to get to know as many people as you can and get involved with the things that you are interested in. There is no reason for you not to be involved in things happening around campus. Just take all the opportunities you can, because there will be a lot of them!
Academics:
1.) Describe the academics at your school - what did you like most about it?
The thing I liked the most about the academics at school was the personalized attention I received as a result of small classes. In middle school, I was used to classes with about 30 people in it at a time. When I came to Masters, my biggest class was about 14, if even that many. This allows the teacher and the student to get to know each other better and allows the teacher to adapt their teaching style towards their students. I also like the variety of classes and options besides the required courses. For example I took classes in Economics, Directing, Acting Workshop, and computer networking classes as well. The workload is a lot, it is true. Boarding life at the Masters school is completely and entirely about time management. It is common that for each class there is about 40 minutes of homework. This, of course, fluctuates, but if you know what's best for you, you will spend that entire forty minutes on the assignments, because it will pay off in the end. The workload is tough, but not impossible. It just takes time management in order to get it all done.
Athletics:
1.) Describe the athletics at your school - what did you like most about it?
The athletics at the school are very good I think. The teams in which I played on were VERY good teams that were in the top three in our league. I was co-captain of the varsity volleyball team my senior year, and played varsity tennis as well. Both teams did extremely well during the seasons and this was because of practice and coaches. Volleyball is my favorite of the two because I really enjoyed it and the coach was amazing. At Masters, extracurriculars are required, ones that are for PE credit are two hours long after the academic day, others are about 1 hour I believe, unless a theatre production is the activity, then the time fluctuates. Our league is pretty competitive in most of the sports, I can only really speak of volleyball and tennis, which were both pretty competitive. The coaching is a big part of the team spirit and level of skill. The coach for volleyball was amazing enough to bring us all together and make us a very good team that enabled us to be highly ranked.
Art, Music, and Theatre:
1.) Describe the arts program at your school - what did you like most about it?
I LOVE the visual arts, music and theater department. Whether you are taking lessons, taking an art class, participating in a theatre production, all of these programs are amazing. I participated in private lessons for flute and voice, and also in the theatre programs. I liked the private lessons because there were always opportunities to perform and of course the one on one attention from the teacher. I was fortunate enough to have an amazing flute and voice teacher. I have participated in all of the theatre classes, as well as two musical productions during my four years. The instruction and direction is at a high level that motivates students to do their best. Though I have never participated in the arts program, the art studio is beautiful with students always working on something. There are usually displays of the students' work, if they are in an art class, in the hallways and in front of the theatre. Judging by the art and the amount of students that participate in those types of classes, I would have to say that the art program is popular, unique, and has some of the most talented teachers and students I have seen.
Extracurricular Opportunities:
1.) Describe the extracurriculars offered at your school - what did you like most about it?
Because I was involved with so much, I can sum up the extracurricular activities. THERE IS ALWAYS SOMETHING TO GET INVOLVED WITH. No matter what you are interested in, there is always something to get involved in and to enjoy. Community service, dance, step, acting, singing, languages, recycling, anything of interest is available. And if, by some chance, you cannot find the thing that interests you, you can create your own with a group of students. Many of the clubs on campus were created not very long ago, because some students felt it was something of interest that was not available on campus. The thing I liked most was the simple fact that I could get involved in any and everything that I was interested in, and I did!
Dorm Life:
1.) Describe the dorm life in your school - what did you like most about it?
I really enjoyed dorm life because it basically gave you the opportunities to be around your friends all the time, and there was no hassle getting to school in the morning. The rooms are set up differently for the boys and the girls. Each girl basically has a single room, but some of them have a sliding door on one of the walls, which is the door to your roommate's room, while some just have plain singles. The rooms are pretty big, especially compared to dorm rooms in college. The boys' rooms are actual double rooms with your roommate living in the same room as you. There are a few singles, but not many. I liked being able to leave my room and go and watch a movie or something, and hang out with friends, but just having to make sure that I was back for check in on the weekends. I was a proctor in the dorms, which is similar to an RA in college, we checked people in for study hall, for check in at night, and basically was a person for the girls to talk to if they wanted to and made them feel comfortable when they arrived. I liked this part of dorm life the most because I always became close friends with my proctors - they knew everything about the school, and they helped me transition into boarding life.
Dining:
1.) Describe the dining arrangements at your school.
The dining arrangements at school are okay, and it is only okay because after 4 years, you get tired of it. When I first arrived, the food was great because I was used to cold school lunch that was basically horrible. The only thing that takes a while getting used to is the time schedule, but once you are used to it, it isn't a problem. The dining hall shuts down during certain hours, so you basically have to eat during the times of breakfast, lunch, brunch, and dinner. The dining hall staff is also very friendly and willing to help with anything special needed.
Social and Town Life:
1.) Describe the school's town and surrounding area.
Well the town life, is, in a word, small. Dobbs Ferry isn't one of the most exciting towns around, but the good thing is that it isn't very far from those areas! For example the train is very close if we wanted to go to New York City for the day or go shopping or anything. It isn't far from other cities and towns, which allows us access to many different places.
2.) Describe the social life at your school - what did you like most about it?
The best thing about the social life is being able to be with your friends whenever you want to. the required activities on campus enable the entire boarding community to be together, and weekends give us further opportunities to hang out and be together. I also liked learning so much from the people I lived with in the dorm, because you are living together, you get to know each other even more than if you were a day student.
Daily Schedule:
Weekday
1:45 PM
Advanced Computer Networking/Independent Study
Weekend
11:00 AM
Brunch and Social Time
1:00 PM
Begin doing some school work or practice for groups/performances
11:00 PM
Check in in the dorms
12:00 PM
Hanging out in the dorms!
The Masters School can be quickly distinguished from other schools by the style of teaching that takes place. After a quick tour of classes, one will notice that there are no desks. Instead, each classroom. . .
The Masters School prides itself on using the Harkness method of teaching. Rather than sit at individual desks, students face each other around a large table. This style prompts discussion and keeps each. . .
One unique aspect of the Masters School for which I was personally very grateful was our Morning Meeting. This was a gathering of the entire upper school and faculty in the theater, three times weekly. . .
Show more reviews (

5 reviews

)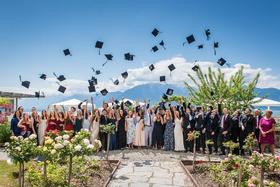 Nurturing Futures: A Journey through Boarding at Haut-Lac School in Switzerland
Nestled in the hills overlooking Lake Geneva in the French-speaking part of Switzerland lies an educational gem that embodies a unique blend of academic excellence, cultural richness and a profound sense of community. Founded over 30 years ago, Haut-Lac International Bilingual Day and Boarding School is now home to both 600 day students and a maximum of 30 boarders from around the world.
Navigating the Modern Maze: Emerging Challenges for Boarding Schools
Explore the pressing challenges facing boarding schools, from marketing difficulties and rising insurance costs to facility maintenance and recruitment of competent trustees and teachers. This article delves into these complex issues and proposes innovative strategies to overcome them.
What To Wear at Your Job Interview
Navigating job interviews can be stressful, but knowing what to wear shouldn't be. Our comprehensive guide covers the essential dress code tips for men and women interviewing at boarding schools. Make your first impression count with style and professionalism.