Reflections and Advice:
1.) What do you think makes your school unique relative to other boarding schools?
Episcopal benefits from its unique location within such a metropolitan area. The city in which Episcopal is located, Alexandria, Virginia, offers plenty to do for students, including malls, movie theaters and Old Town Alexandria, a historic shopping district with many good restaurants. Not to mention that Washington, DC is only a five minute drive from campus and offers incredible opportunities both for academics and fun. During orientation week Episcopal organizes a huge scavenger hunt that takes groups of students all over DC and from that day it became home. I was able to take field trips to the National Museum of Art, The Kennedy Center, The Library of Congress, The State Department, political think tanks, The Folger Shakespeare Theater and more. Also, my friends and I would go to the Mall during nice weather or spend an afternoon in Georgetown on the weekends. Because public transportation is so cheap and easy to use it is no problem for students to go anywhere in northern Virginia or Washington, DC, although the school does often provide transportation on weekends. That said, for those who do not like the feeling of a busy city, fear not. Since Episcopal has such a succinct campus and all students and most teachers live on campus, it is a very tight community that feels like it could just as easily be in the country side as in the middle of a city, and that balance is one of the best and most unique aspects of Episcopal.
2.) What was the best thing that happened to you in boarding school?
Episcopal forced me to grow up faster in many ways than I ever could have at home. Living with a roommate taught me how to be a better friend. Living without parents, spending my own money, doing my own laundry, etc. forced me to act more like an adult and prepared me for college. A heavy workload and busy schedule made me learn to be organized and efficient. The opportunity for leadership made me question my beliefs challenged me to act maturely. Episcopal's honor code and southern tradition instilled a very strong sense of right and wrong. In all, my increased maturity far exceeded the three brief years I spent at EHS.
3.) What might you have done differently during your boarding school experience?
The only thing I would have done differently would be to have attended for all four years. There is a sense of pride and accomplishment associated with being there from beginning to end. That said, it was not difficult arriving as a sophomore and for anyone who would prefer to wait a year or two before applying to boarding school that may be what's best for you.
4.) What did you like most about your school?
No doubt the best part of a small school like Episcopal is the community. As I've mentioned over and over everyone students and faculty alike were very close. Also, the sense of pride that most everyone has for Episcopal was one of its best aspects. When people like where they are and take pride in what they do the quality of work, the amount of involvement, and the fulfillment of the experience increases dramatically.
5.) Do you have any final words of wisdom for visiting or incoming students to your school?
When considering schools definitely visit in person. When you are there people are obviously going to try and "sell" their school to you. Remember this, though. All schools are different and none are perfect. Find the one that feels best for you, not for your parents or grandparents or brothers and sisters, but for you because ultimately it is your experience and you will get the most out of it if you enjoy the school you choose.
Academics:
1.) Describe the academics at your school - what did you like most about it?
The academics at Episcopal were demanding, but never overwhelming. While on one hand we were always challenged in the classroom, on the other the teachers always wanted us to succeed and they were always available and willing to help if needed. Classes were small and relied on group discussion, which kept class interesting and forced students to think and learn on their own at all times. Also, now that I am in college, I appreciate the amount of writing EHS demanded of its students. I definitely wrote more than any other students I know, but because of it I have a definite advantage over many of my peers at Duke. I should mention our schedule. Three days a week include all seven periods and 45 minute classes. Students usually take 5 or 6 classes so that leaves one or two periods free. Two days a week break up the seven periods into 70 minute periods which allows classes to end at noon on the second day. That extra afternoon is devoted to field trips, or "tours" as we call them, into DC.
Athletics:
1.) Describe the athletics at your school - what did you like most about it?
Episcopal students take pride in their school- and that most definitely includes athletics. Fans are almost always present at games, especially football and basketball games which most of the student body attends. Because of afternoon activity requirements almost all students participate in sports, which keeps students involved in and aware of most athletic programs as well as allows Episcopal to field many teams for a small school. Episcopal'steams are in very competitive leagues and even when they are not successful they are still another medium for enforcing the strong community at EHS, bringing teachers (who also coach) together with students outside of the classroom.
Art, Music, and Theatre:
1.) Describe the arts program at your school - what did you like most about it?
The arts department at Episcopal saw an incredible improvement in just the three years I attended. A brand new art center complete with a digital photography lab and professional recording studio was finished, as was a complete renovation of Pendleton Theater. Students are required to take two semester-long art courses during their time at EHS, but because the new facilities are so nice and the faculty so engaging, the requirement is no burden at all- in fact I found a new talent in photography. Episcopal boasts three a capella groups and a choir that travels each year to NYC to perform. Also, the theater department puts on three shows annually. Along with the new facility and wonderful faculty, EHS has shown a strong commitment to the arts now and in its future.
Extracurricular Opportunities:
1.) Describe the extracurriculars offered at your school - what did you like most about it?
There were a plethora of extra-curricular activities available at Episcopal. From acting in one of the plays, to cleaning up local parks with the Environmental Club, to hosting speakers with the Young Republicans Club (one of the largest of its kind in the country), to writing for or editing one of many student publications, or even playing a game with the Ultimate Frisbee Club, there were more activities than one student could be involved in. Extra-curriculars usually met in the evenings, between sports practice and study hall, and involvement could be as intense as any student wished.
Dorm Life:
1.) Describe the dorm life in your school - what did you like most about it?
The dorm is the foundation of the Episcopal community and it is the place where best friends and unforgettable memories were made on a daily basis. Dorms usually housed between 45 and 75 students, so they were small enough that everyone knew everyone else very well. Also, a faculty apartment connected to each hall of every dorm and faculty were always on duty during the evenings to make sure study hall was quiet and that students went to bed at a decent hour. Being able to see your teachers' homes, enjoy dinner with them, or watch a good baseball game with them while arguing about school policy offered a very different mode of interaction from the classroom and allowed me to form great friendships with some of my teachers. It wasn't unusual to see teachers and students or student and students helping each other with work on dorm, or to see 45 boys enjoying hot dogs together at 10:30 at night thanks to a loving faculty member. In the end, the dorm was our home, and our dormmates our family and it was an experience that will never be replaced.
Dining:
1.) Describe the dining arrangements at your school.
It is difficult to brag about the food at EHS. But that said, let me note that food does not define one's experience during high school. What our dining plan was good for was increased interaction and another way to build community. Four lunches and one dinner a week were considered "seated" meals, which means students sit with either their advisee group or with a randomly assigned group at round tables that seat about 10 while they are served food by student waiters. Advisee groups consist of about 8 students and one faculty member and are a mini-family at school. Advisors get students grades and discipline reports and take students out to dinners or other group activities. All other meals during the week are buffet style.
Social and Town Life:
1.) Describe the school's town and surrounding area.
See above.
2.) Describe the social life at your school - what did you like most about it?
The community at EHS was incredibly close. All students board and almost all teachers live on campus. Students and teachers attend class together, eat meals together, go to sports practice together, and live on dorm together. The friendships I forged at Episcopal will last a life time, I'm sure. At school it meant that there were always familiar faces around, and any needed support was always available.
Daily Schedule:
Weekday
7:30 AM
Grab some breakfast.
11:30 AM
Break for chapel service or community meeting.
3:45 PM
Athletic practice for two hours.
7:30 PM
Study Hall for two hours
9:30 PM
Catch up with friends for thirty minutes before being back on dorm by 10:00
Weekend
11:00 AM
Wake up and go to brunch- the best meal of the week.
2:00 PM
Throw the frisbee with friends.
5:00 PM
Catch dinner and a movie.
9:00 PM
See the band that is performing in the student center.
11:30 PM
Sign in on dorm for the night.
One aspect of Episcopal that is unique is the fact that is 100% boarding. Since there is not this divide in the community, the sense of community at EHS is quite strong. Everyone is there. . .
I think what sets Episcopal apart from other comparable boarding schools is its unique location. Situated right outside the nation's capital, EHS students are constantly exposed to the world beyond just the high school. Very. . .
Episcopal is unique in the boarding school world in that 100% of the students are boarders. While the school advertises this statistic heavily, I personally do not think that it could be said too. . .
Show more reviews (

9 reviews

)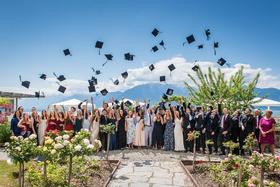 Nurturing Futures: A Journey through Boarding at Haut-Lac School in Switzerland
Nestled in the hills overlooking Lake Geneva in the French-speaking part of Switzerland lies an educational gem that embodies a unique blend of academic excellence, cultural richness and a profound sense of community. Founded over 30 years ago, Haut-Lac International Bilingual Day and Boarding School is now home to both 600 day students and a maximum of 30 boarders from around the world.
What To Wear at Your Job Interview
Navigating job interviews can be stressful, but knowing what to wear shouldn't be. Our comprehensive guide covers the essential dress code tips for men and women interviewing at boarding schools. Make your first impression count with style and professionalism.
Navigating the Modern Maze: Emerging Challenges for Boarding Schools
Explore the pressing challenges facing boarding schools, from marketing difficulties and rising insurance costs to facility maintenance and recruitment of competent trustees and teachers. This article delves into these complex issues and proposes innovative strategies to overcome them.